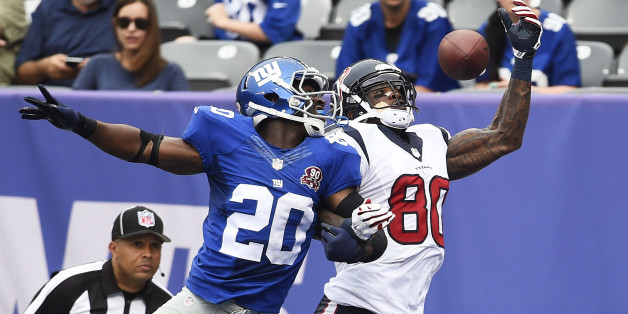 Maybe intimacy is the key to better football.
Giants cornerback Prince Amukamara, 25, is playing more aggressively now that he's lost his virginity, teammates reportedly said.
Amukamara, who was abstaining before marriage for religious reasons, got hitched in the off-season.
"There are a lot of things different about Prince. For one, he's married, so he's (enjoying some things that he wasn't experiencing before he's married)," fellow defensive back Antrel Rolle told NJ.com. "For a man, that could definitely help him out. For a man ... I'm just being honest ... it's helping him out. He walks around with a little more swagger, which is something that we need, which is something that we love."
Receiver Victor Cruz said he didn't know if sex was the reason for Amukamara's more assertive play, but still told the New York Post, "I guess you can credit that to his wife."
Amukamara wasn't buying it. "I wouldn't see how me being with a woman could give me swagger," he told the tabloid.
Rolle, however, wouldn't back down. "That's the only reason," he said, per the Post.
Whatever the root of the cornerback's performance, the stats bear out. Amukamara already has two interceptions this season, after collecting a total of just three in his three previous seasons. He also has 25 tackles, a pace that would leave him with 100 at the end of the season.
While there have been many who believe that sex hurts sports performance, some athletes perhaps embraced too passionately the theory that sex helped. The late soccer great George Best once told a journalist he made love to a woman at halftime.