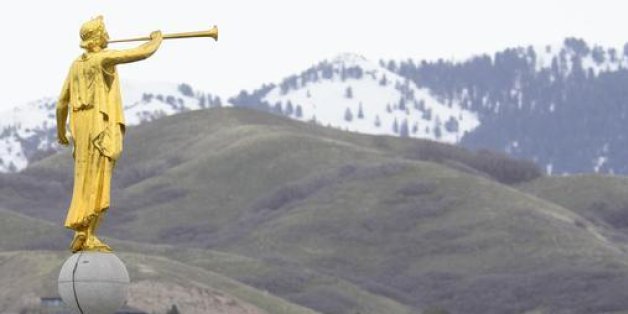 The Angel Moroni cuts a striking figure in the history of the Church of Jesus Christ of Latter Day Saints.
From his perch atop the steeples of LDS temples around the world, statues of the Angel hold trumpets to their lips and stride steadfastly towards the east in anticipation of the second coming of Christ.
Mormons see Moroni as a symbol of the "Restored" Gospel of Jesus Christ that was revealed to Joseph Smith. The faithful believe the angel is the heavenly being the disciple John referred to in Revelations 14:6.
"And I saw another angel fly in the midst of heaven, having the everlasting gospel to preach unto them that dwell on the earth."
Moroni has appeared on top of LDS temples since 1893, at the dedication of the Utah's Salt Lake Temple. The idea for the sculpture was actually conceived by Cyrus Dallin, an artist who was not part of the Mormon church.
Asked by former church President Wilford Woodruff to create a piece that would grace the highest spire of the temple, Dallin combed through LDS scriptures and chose Moroni to represent the spreading of the gospel.
Several different versions of the statue have emerged since then, Deseret News reports, with some holding golden plates.
There are currently 143 operating temples around the world and Moroni makes an appearance at all but seven. Thirteen temples are currently under construction, with 14 more announced.
As the LDS church continues to send missionaries abroad and build new temples, the Angel is finding homes all over the globe.
CORRECTION: This article initially used the terms "church" and "temple" interchangeably to refer to LDS temples. The church uses the terms to refer to different sites. We regret the confusion.
BEFORE YOU GO
PHOTO GALLERY
Angel Moroni In The Most Unusual Places In The World