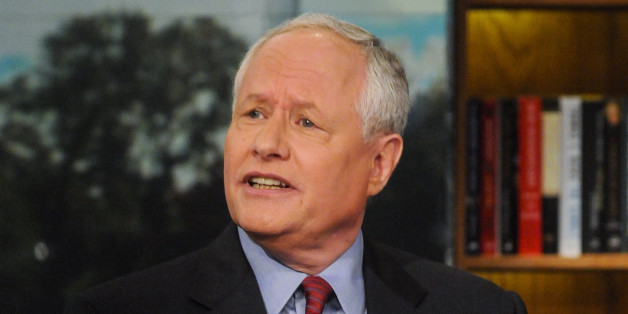 The Weekly Standard's Bill Kristol ... well, he has this reputation of "faulty predictions" and "bad advice" and being "consistently wrong" about everything. And he could do a lot to help take control of that reputation, by just chilling out and dialing things back a notch. It would be so easy!
But the man just can't help himself. Here's his latest humdinger, courtesy of the New Jersey Senate race:
The new Quinnipiac poll of the New Jersey Senate contest shows Jeff Bell only 11 points down to Cory Booker, 51 to 40 percent, among likely voters. It goes without saying that a race can move a dozen points in the final five weeks of a campaign -- especially when a little known challenger (but one who's well-regarded by those who do know of him) is taking on a pro-Obama incumbent who's barely above 50 percent in an anti-Obama, anti-incumbent year. (Obama's approval in New Jersey is hovering around 41 percent.)

But take a further look at the poll results. Booker leads Bell, 51-40. Seventy-six percent of Booker supporters and 84 percent of Bell supporters say their mind is made up. Do the math. Among those whose mind is made up, Booker leads Bell 39 to 34 percent.
Kristol takes from this the notion that Booker's "hard lead" -- whatever that is! -- is "a mere five points," and that the cited Quinnipiac poll is likely to be Jeff Bell's "fire bell in the night."
O-kay, well, let's flash forward to Monday morning's Monmouth poll of the race:
New Jersey Senator Cory Booker holds a 15 point lead in his re-election bid according to the Monmouth University Poll. The poll of likely voters found that few know GOP challenger Jeff Bell or see any benefits in his main campaign plank of returning U.S. currency to a gold standard.

Among Garden State voters likely to cast a ballot in next month's election, incumbent Democrat Cory Booker garners 53% support and Republican nominee Jeff Bell holds 38%. Another 2% say they will vote for a third party candidate and 7% are undecided.
Meanwhile, the HuffPost Pollster polling average, which combines all publicly available polling data, finds Booker ahead of Bell 51.1 to 37.3 percent as of Monday, after factoring in both the Quinnipiac and Monmouth University polls.
I'm prepared to be wrong about this and I'll happily pre-draft a post titled, "Hallelujah, Bill Kristol Was Right About New Jersey" right now. But I really don't understand why Kristol can't content himself with more reasonable predictions, like, "The Republicans are likely to take over the Senate," or "Daylight saving time is going to end soon." Just keep things simple and notch a few gimmes. It's just this idea I had.
Would you like to follow me on Twitter? Because why not?
BEFORE YOU GO
PHOTO GALLERY
Senate Seats Up For Grabs In 2014