The value of Bitcoin plummeted nearly 20 percent over the weekend.
The cryptocurrency was trading around $286 -- its lowest price of the year -- on Sunday but rallied back to roughly $325 Monday morning. Prices are down 73 percent from an all-time high of $1,147 hit on December 4, 2013, according to CNBC.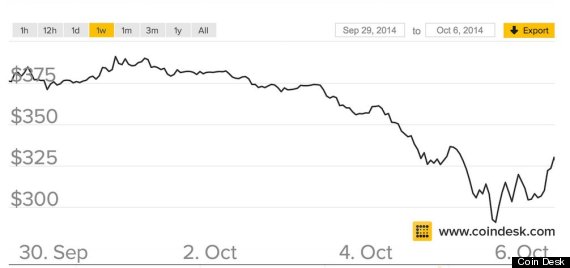 Over the last year and a half, Bitcoin has traded on average at $337, according to Coin Desk, a Bitcoin news organization.
Some Bitcoin supporters argue that the currency is bound to fluctuate wildly in price until its broader adoption but others are nervous about a potential crash. Bitcoin has gained significant traction recently as merchants like PayPal, Expedia and Overstock have begun accepting the digital currency.
"I think the price is really irrelevant to the technology," David Moskowitz, director of Bitcoin trading firm Coin Republic, told CNBC. "Obviously it hurts investors when the price goes down but most people who are buyers are in it as long term investors and can withstand the short term gyrations."
But this hasn't stopped many in the Bitcoin community from fretting over the currency's recent roller coaster ride.
"As the price is going down, some of us are under immense psychological stress," a Reddit user posted on Sunday, according to the New York Times. "Please share how you cope with it."