Deryck Todd's BowieBall is back for its ninth inception since 2006, bringing together some of the biggest performers and promoters in New York City nightlife. This annual charity event not only celebrates the iconic David Bowie but raises money for God's Love We Deliver, an organization that improves the lives of people living with HIV/AIDS, cancer and other serious illness by providing food and alleviating malnutrition.
This fusion of music, art, fashion and entertainment will take place on Sunday, Oct. 12 at Le Poisson Rouge in the heart of the West Village. The event is slated with a massive line-up of performers, including Tony award winner Lena Hall, Shannon Conley of "Hedwig" fame, burlesque bombshell Dirty Martini, Untitled Queen, Eric Schmalenberger of House of Yes, Lady Simon and Cher Noble.
Westgay's Frankie Sharp will be DJing the event, along with NYC favorite Miss Guy. Hosts include HuffPost Gay Voices Associate Editor James Nichols, Sway's Pebbles Russell and Sam Jones.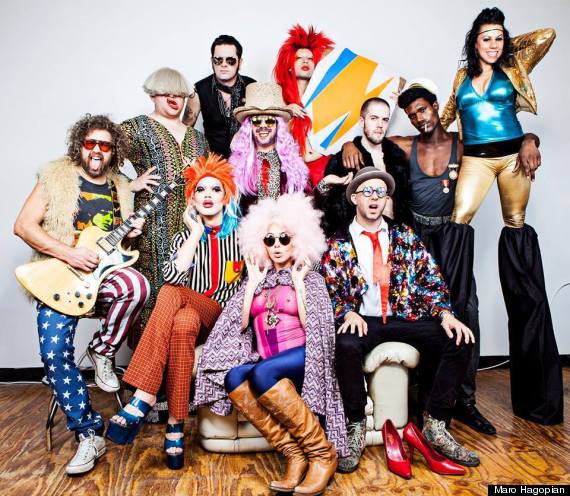 "BowieBall is an important event because it revers an icon who celebrates individuality -- the kid who feels like an alien, an outsider, a geek, the freaks, the strange rock n' rollers who danced in front of the mirror in middle school with a t-shirt wrapped around their head pretending it was a vermilion mullet, lip syncing to their favorite Space Oddity song, wondering if they belong," event producer Deryck Todd told The Huffington Post. "Well, BowieBall is a place for you to revel in that special, deep and strange individuality -- that was me and this is my legacy."
Tickets for the BowieBall can be purchased here. Tickets are $20 until Oct. 11 and $25 after -- but use the code "BOWIEBALL2014" (case sensitive) to get $5 off your ticket.