This story is one in a series of four profiles on unknown American artists, selected for an exhibit at the Crystal Bridges Museum of American Art (click here to explore the full series). Crystal Bridges president Don Bacigalupi and curator Chad Alligood split a map of the U.S. into four regions before setting off on a journey to find the best artists currently working in America. Each artist profiled here hails from one of the following regions:
***

Hiromi Mizugai Moneyhun, 37
When she was a girl in Japan, Hiromi Mizugai Moneyhun fell in love with the paper-cut illustrations in the children's books of the time. But it wasn't until she moved halfway across the world, to Jacksonville Beach, Florida, that she tried her hand at the intricate art form herself.
Moneyhun, a self-taught paper artist, is one of the subjects we picked from State of the Art, an unprecedented exhibit featuring contemporary art from across the country. For nearly a year, two staffers of the Crystal Bridges museum in Bentonville, Arkansas — president Don Bacigalupi and curator Chad Alligood — traveled thousands of miles in search of great American artists based outside of New York City's art-world epicenter. It was a curatorial adventure unlike any that's come before, and Moneyhun was one of 102 people to make the final cut.
Her enormous works do not sacrifice detail for size. She cuts the mythical-looking creatures and oversized faces with an X-Acto knife, in her living room. Seen in person, the shadows are as mesmerizing as the pieces themselves, playing on the gallery wall like a scene from a Balinese puppet show. Below, Moneyhun tells us about the simple appeal of what she does.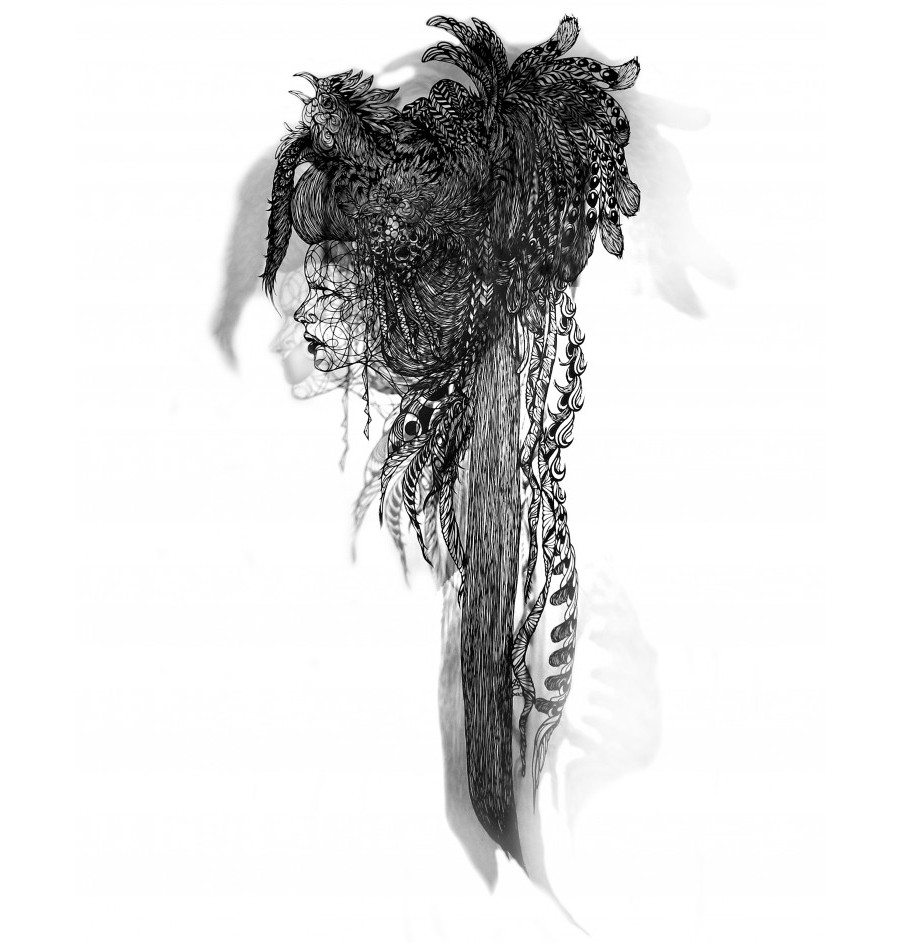 What is your artistic background?
I've been drawing since I was a child, and I've done a little bit of tattooing. About four years ago, I had a lot of free time. My husband's mom had a stroke. My husband was working, and I had to stay home to care of her. It was hard. So I thought, I have to do something for myself, something fun.
I had always thought I wanted to try paper cutting because I grew up reading children's books with paper-cut illustrations. It's not an uncommon medium. So one day I just tried cutting out paper.
What were your materials?
Regular paper. At first it was a hobby, and I just used whatever was lying around the house. I had an X-Acto knife already, so I used that and I'm still using it today. My supplies haven't really changed. But as time passed, my figures became more intricate. At the very beginning, it was simple, only outlines. Now, it's a lot of line patterns. My figurative images are all of my daughter. She's 10 now, but I use images of her when she was a baby.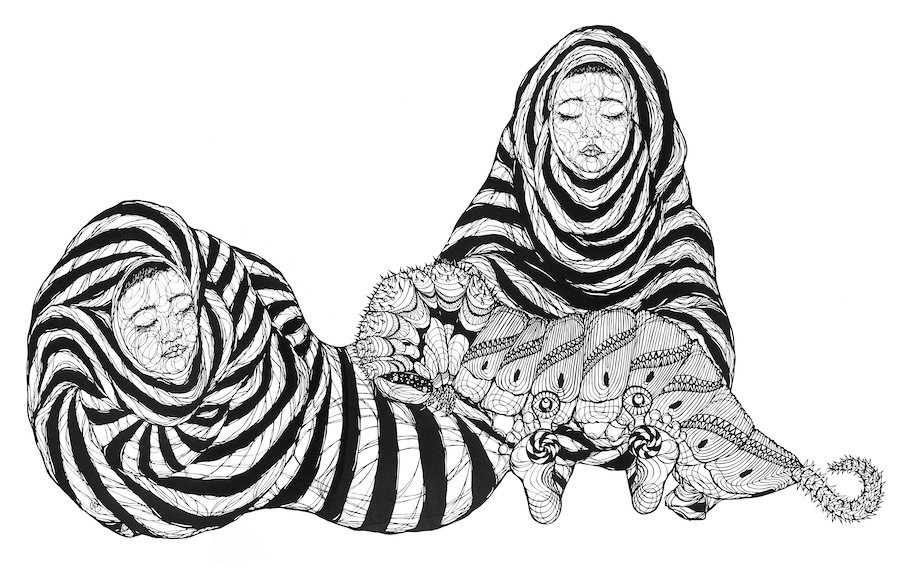 What drives you?
Of course, it's fun. I really can't stop doing it, as I'm always getting more and more ideas. I start with a subject, and then I have some kind of message for each subject, each series.
How did Crystal Bridges come to know of you?
The curator of my local museum, MOCA Jacksonville, put my name on their list of artists. He had been familiar with my work ever since I had a group show in Jacksonville, and he kind of supported my art. He give me advice, and told me he couldn't really take my art to the museum yet because I was a new artist. But he said to keep showing my work.
And now you've made it to a museum.
To tell you the truth, the day Don and Chad came to see my work, I wasn't sure what they were doing there, who they were and what Crystal Bridges Museum was. Because it's in Arkansas, I just hadn't done much research at that time. But when they came, I could tell they were serious art people. I just did my best explain my work to them. I didn't really think about it until a few months after their visit. It was kind of a long few months to me, and I thought, OK, I'm not in this exhibition.
When did you start to understand the scope of Crystal Bridges?
After their visit, I kept researching and getting more information from articles. I found a New York Times article. So I started to understand little by little that, wow, this a big deal. Showing at a museum is an artist's dream, and Crystal Bridges is really a beautiful museum.
Has anything changed for you in how you think about yourself as an artist, having seen your work in a museum?
I feel other people take me seriously for my art, so that's changing, but as for myself, I feel no change. I just want to keep on making progress.