This story is one in a series of four profiles on unknown American artists, selected for an exhibit at the Crystal Bridges Museum of American Art (click here to explore the full series). Crystal Bridges president Don Bacigalupi and curator Chad Alligood split a map of the U.S. into four regions before setting off on a journey to find the best artists currently working in America. Each artist profiled here hails from one of the following regions:
***

Vanessa L. German, 38
In an abandoned house in Pittsburgh, kids gather after school to turn the day's frustrations and joys into artwork. They call the space the Art House, and they owe its existence to a woman named Vanessa L. German.
An artist, German is one of the subjects we picked from State of the Art, an unprecedented exhibit featuring contemporary art from across the country. For nearly a year, two staffers of the Crystal Bridges museum in Arkansas — president Don Bacigalupi and curator Chad Alligood — traveled thousands of miles in search of great American artists based outside of New York City's art-world epicenter. It was a curatorial adventure unlike any that's come before, and German was one of 102 people to make the final cut.
Working out of her house in Pittsburgh, German crafts beguiling sculptures she's dubbed "power dolls," from items otherwise doomed for a trash heap: collections of spoons, for instance, or the old, glittery high heels of a drag queen. She also acts as a sort of den mother for the neighborhood kids, whose constant visits to her porch to watch her work led her to establish an after-school studio down the street. As with the three other artists in our series, she's new to the national stage. Below, we chat about her enduring faith in the unexplainable.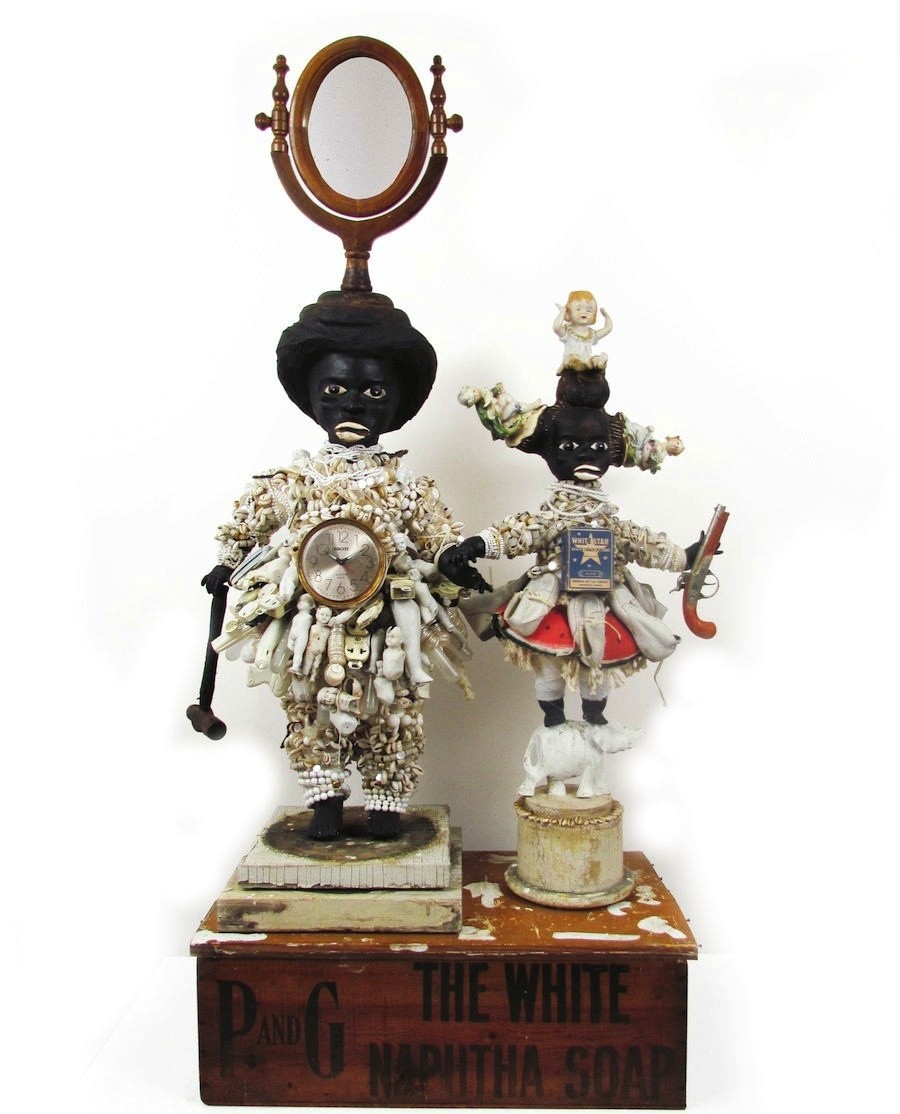 How did you get into art-making?
Me and my family...we were just always making things. My mom was a fiber artist, she did costumes. She was the kind of person who could take materials and turn them into something together that you could never believe. I just thought, that's the way you live. We didn't have a whole lot of money, and there were five kids in the family. If we wanted something — new toys, new books...what my mom would tell us is, "You're going to have to make that yourself." What I found when I was young is it felt really good to make things.
And now you make dolls for the children in your neighborhood.
As a kid we didn't have a lot of dolls to play with. Dolls were expensive, and so they were always literally special things. The figures [I make] are not all just [for] children. Some of them are about protecting the spirit of imagination. I just have a sense of magic, and I always have.
But I will make figures for anything. I have friends … I call them ghost mothers, because they're women who you think are childless, but really their kids have been murdered. They don't talk about them. I've made some power figures for them, really ensconced and weighted with a slew of blue things. I make those figures for the grief to be lifted off their hearts, so they are not paralyzed by their grief, but able to honor their experience.
Where do you find materials?
I live in the 'hood. People do renovations and literally dump everything in the alleyway, so I can find great materials off the street. People are always dropping things off at my front porch. Somebody's grandma died and she collected those travel spoons, and they gave me her collection. Somebody else, his partner was a drag queen and she left all her drag shoes. Huge, beautiful, glittery, stacked drag queen shoes.

How did the kids in the neighborhood become a part of your art practice?
I work in a small basement in my house. The basement ceiling is what they call a Pittsburgh basement … too low for some of those sculptures. I have to pull them out to my front porch [to work]. I live at an intersection where there are buses and people would stop and say, "What are you doing? Is it art? Will people pay you for that?" Kids would say the same thing, but they would want to help me. "Miss Vanessa, can we help you?" I'd say, "No, I'm working right now. Your mom works at a hotel; this is my work." I'd say, "You can watch, but you have to stand at the fence."
They would do the thing kids do where they would swing on the fence. They'd do that and jump over and they'd say, "Oops, Miss Vanessa, I landed in your front yard." They thought they were so cute and funny, and inch themselves until they were closer and closer, and then say, "Can I touch this flower, Miss Vanessa? Oh Miss Vanessa, you dropped a shell."
I tried letting one of the kids help on my sculpture, but I realized I have a sense of touch that allows me to work with a facility that they don't have. My girlfriend at the time was a scene designer. She'd given me this old scene design paint. So I picked up a bunch of slate from a house that got demolished down the street and let them paint. Eventually they felt really comfortable and they'd come home from school and change into play clothes, come to my house, and invite their friends walking down the street.
It was fascinating to me to see you didn't have to teach them. Just like anybody, they had things inside of them.
What's happening with the kids now?
People got evicted across the street, so I called public housing and asked if we could use that property. Eventually, they said yes. We're calling it the art house. There's a kitchen, a bathroom, a place where they can wash their hands.
They know where everything is and know what they've been working on, and we work together. I make sure the house has snacks in it. A lot of kids come home and there's nobody. They need a safe place. It's not just that people get murdered at night. It's that kids see an accumulation of things happen. There's a lot of fighting, people yelling and cursing. It builds up this history of ugliness and meanness inside of them. My goal [with the Art House] is to be consistent, and open the door when I say I'm opening the door.
It was something I'd never heard of before, Crystal Bridges. I honestly thought it sounded like the name of a country music singer."
What was it like to see your work at Crystal Bridges?
Everybody says the same thing, but it's kind of a wonder to drive in and park the car. Walking to this concrete colonnade, all of a sudden, a museum springs out beneath you. You take an elevator four levels down into a ground. It's built into a hollow over a stream.
It was something I'd never heard of before, Crystal Bridges. I honestly thought it sounded like the name of a country music singer. Of course, I Google it. Even in the research that I did do, they hadn't talked about what they were doing, just how beautiful the museum was and how there were people who really didn't appreciate [Alice Walton] buying some great American art and leaving it in Arkansas where not a lot of people from New York would get to it.
The visit from Don and Chad must have been mysterious, if you had no concept of their museum.
I had been in environments before where I was around artists who were really nervous about something called a studio visit, but I didn't understand what they were nervous about. I didn't go to art school. I had no frame of reference.
I talked to them about all the parts of the process, about how I pick objects that look like artifacts, like precious objects from 100 years ago. I think because I work in a basement and I go down to work, I have this idea that it's like my secret world. There's something about having someone there, something really affirming about it to me. You can imagine, getting visited and then getting an email that says, "We'd like you to be in this exhibition," with a link to a New York Times article.
Photo of Vanessa L. German by Brian Cohen