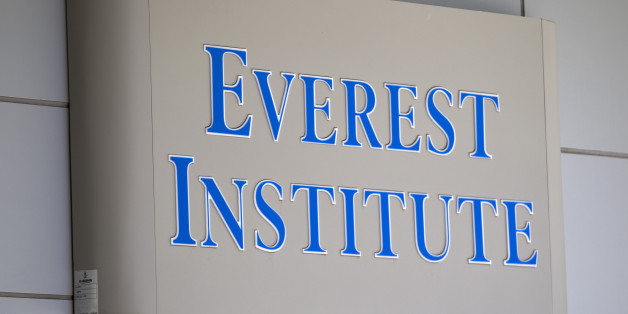 Tuition and fees at for-profit colleges averaged $15,130 in 2013-2014, according to the College Board.
Not all press is good press, especially when it comes to recent headlines about for-profit colleges.
​The Consumer Financial Protection Bureau made news when it recently sued for-profit Corinthian Colleges, which operates schools under the Everest name, among others, for predatory lending. And when Occupy Wall Street activists​ paid off $3.85 million in Corinthian College students' ​private ​student loan debt, it got the media's attention. ​
We're paying greater attention to for-profit colleges because investigations are turning up worrying borrowing levels, debt levels, default levels, and poor outcomes in general, including some cases of fraud, says Pauline Abernathy, vice president of the Institute for College Access & Success.
But bad press aside, for-profit colleges have become increasingly popular​. They account for 42 percent of postsecondary enrollment growth in the past decade, according to a study from the National Bureau of Economic Research, offering everything from nursing certificates to bachelor's degrees to primarily low-income and minority students.
[Discover the best online bachelor's degree programs.]
One one hand, for-profits appear to provide a chance at college​ for students who wouldn't otherwise get a degree. On the other, they can look like predatory debt mills that favor a corporate bottom line over students' success. ​Here's what you should know about for-profit colleges and student debt.
1. For-profits are expensive. ​Tuition and fees at for-profit colleges averaged $15,130 in the 2013-2014 academic year, according to the College Board's Trends in College Pricing.
That's compared with $3,264 at two-year public colleges for in-state students and $8,893 at four-year public colleges for in-staters. Out-of-state public students and private nonprofit students paid more, on average, than students at for-profits.
One reason for-profits charge so much: It's all in the name. "They are profit-making entities," says Abernathy.
Higher price tags mean high levels of borrowing. Nearly 90 percent of 2012 for-profit graduates had student loans​, with the average debt among for-profit college graduates who borrowed reaching nearly $40,000, according to the Institute for College Access & Success. ​
Those high costs can skyrocket for students who delay graduation, which just 31.5 percent of for-profit students manage to achieve within six years, according to federal data. That's compared with about 57 percent at public institutions​ and about 66 percent ​at nonprofit private colleges.
2. For-profit graduates struggle to find employment. Studies suggest that applicants who list for-profit college credentials on their resumes don't get ​called back by potential employers as frequently as graduates who hold other kinds of degrees​.
Applicants with business bachelor's degrees from large online for-profit institutions are about 22 percent less likely to hear back from employers than applicants with similar degrees from nonselective public schools, says the study from the National Bureau of Economic Research.
[Learn why for-profit students may earn less than their peers.]
Another study found that applicants with certificates, associate's degrees and other credentials from for-profit colleges fared no better in receiving callbacks from employers than those from much-cheaper community colleges.
"Our findings suggest that employers don't value for-profit credentials any more than public community college credentials," says Cory Koedel, an associate professor at the University of Missouri and co-author on the study. "But for-profit credentials are quite a bit more expensive."
3. For-profit borrowers default at higher rates. The likelihood of a student defaulting at a for-profit college is nearly four times higher than at a community college and more than three times higher than at a four-year public or nonprofit college, according to a news release from the Institute for College Access & Success.
Default rates may stem from the combination of high loan balances and difficulty finding employment, says David Deming, an associate professor of education and economics of Harvard Graduate School of Education ​and co-author of the NBER study. "To the extent that you have trouble finding a job when you graduate, it affects your ability to pay student loans," he says.
But despite the worrying debt statistics, succeeding in a for-profit program is largely up to you, say experts.
Approach for-profits as a savvy consumer, experts say. ​Make sure that you understand which schools offer what kinds of courses and what their prices are. Compare the costs of several schools on online net price calculators.
"Shop around," says Deming.
[Discover how to vet an online for-profit program.]
Beware if the for-profit college representative you're speaking with isn't answering your question or giving you a sense of the cost of the degree. And don't get rushed into signing up, says Abernathy, citing stories of recruiters hurrying​ prospective students by telling them that classes were filling up fast when, in reality, they weren't​.
There is a huge range among for-profits, just like there is among any other kind of school, says Abernathy. It's up to you to choose one that will get you graduated on-time and with a reasonable amount of debt.
Trying to fund your education? Get tips and more in the U.S. News Paying for College center.
BEFORE YOU GO
PHOTO GALLERY
The 10 Members Of Congress Who Owe The Most In Student Debt As Of 2011 (Plus A Few More)