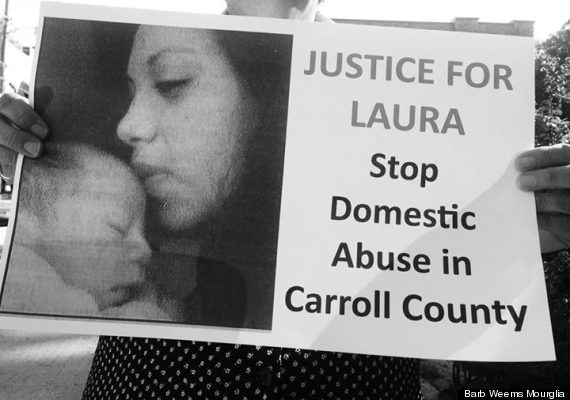 A poster of Laura Aceves, pictured with her son Jordan in 2012.
Laura Ponce waited almost two years to hear Victor Acuna-Sanchez admit that he killed her daughter.
On Monday morning, Acuna-Sanchez pleaded guilty to first-degree murder and was sentenced to 25 years in prison. Speaking in a quiet voice and with his back to the Carroll County, Arkansas, courtroom, he admitted to killing his ex-girlfriend Laura Aceves and called the act a "mistake," according to several people present.
On New Years Eve 2012, Aceves was shot in the head and left to die with her 4-month-old baby lying by her side. Her murder followed a string of reported assaults at the hands of her abusive ex-boyfriend.
After Acuna-Sanchez spoke, Ponce was given the chance to tell him what his actions did to her family.
"Victor not only tortured my daughter and killed her, he destroyed my entire family and many other people, including his own son, by not letting him have an opportunity to grow up and be with his mom," she read from a prepared statement, looking directly at Acuna-Sanchez. "Punishing Victor cannot bring my daughter back, but it can help make certain she did not die in vain. Victor always ignored the law and because of his release before now, Laura is dead. Please do not allow him to kill again."
Judge Jay Finch addressed Acuna-Sanchez, admonishing the 20-year-old for minimizing the severity of the act he committed. "Putting a gun to the back of someone's head and pulling the trigger is not a mistake, it is a brutal, heinous, selfish crime," he said, according to notes taken by a person who was in the courtroom.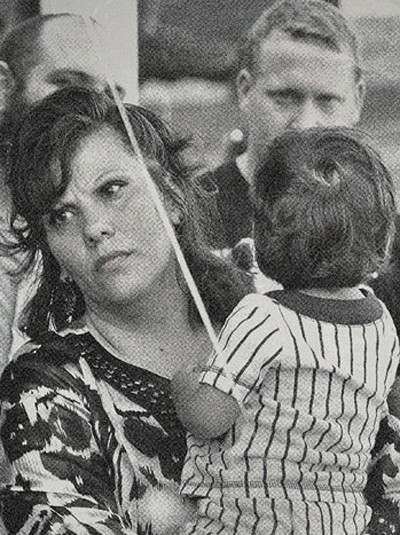 Laura Ponce, holding her grandson Jordan.
Family members and court records have detailed the extreme violence Aceves endured at the hands of Acuna-Sanchez during the last year of her life. He allegedly hurt her repeatedly: beating her with a baseball bat, dragging her behind a car, strangling her until she blacked out on the floor. According to Ponce, Acuna-Sanchez told her daughter over and over how he would kill her if she ever left him.
Acuna-Sanchez was awaiting trial for two previous alleged attacks on Aceves at the time of her death, and Aceves had a protective order against him. Three weeks before the killing, Acuna-Sanchez was arrested for violating a no-contact order with Aceves, but he was released without posting bail a day later.
An earlier story from The Huffington Post delved into Arkansas' poor record on domestic violence and asked why the justice system was unable to protect Aceves.
Acuna-Sanchez was originally charged with capital murder and was facing life in prison or the death penalty. But last week, the prosecution faced a major setback when much of their key evidence -- including the alleged murder weapon -- was suppressed and not allowed in the trial. The judge granted the motion to suppress because police didn't have a search warrant when entering the house to arrest Acuna-Sanchez, only an arrest warrant, and did not have reasonable belief that he was on the premises.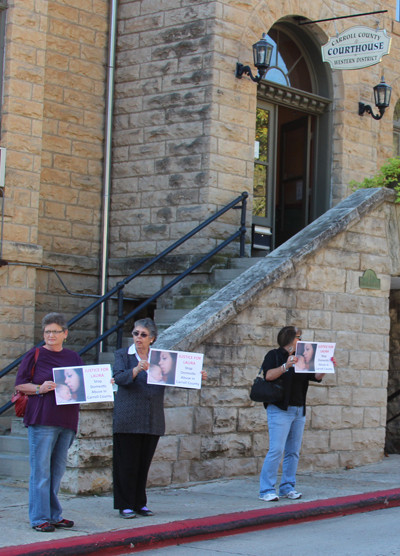 Supporters outside the courthouse on Monday morning.
The plea deal reduced the capital murder charge to first-degree murder. Prosecuting attorney Tony Rogers said the deal was the best way they could ensure that Acuna-Sanchez would serve time.

"There is no route for appeal for him now. He can't appeal to another court. The guilty plea precludes that," he told HuffPost. "He is now a convicted murderer."
Rogers said that under Arkansas state law, Acuna-Sanchez will receive credit for the almost two years he has already been held pending trial. He will not be eligible for release before at least 70 percent of his sentence is served.
Reached after the court hearing, Ponce said it was extremely painful to see Acuna-Sanchez, but she is relieved she got to tell him how she felt. When she got home from court in the middle of the day on Monday, she immediately fell asleep -- the first time she's been able to rest in nearly a week, she said.
"I feel like he should have got life in prison, but I understand the judge was just doing his job and I am so thankful," she said. "I am thankful he is going to be out for some time."
BEFORE YOU GO
PHOTO GALLERY
10 Lies From Childhood Domestic Violence