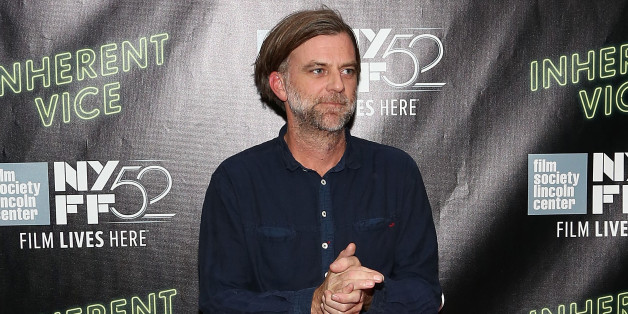 Paul Thomas Anderson's latest project, "Inherent Vice," a kaleidoscopic stoner noir film inspired by the 2009 Thomas Pynchon novel, made its world premiere Saturday at the New York Film Festival. On Sunday, the prestigious director sat down to discuss a series of films that have inspired his work. Read on for what the Oscar-nominated writer/director of "Boogie Nights," "Punch-Drunk Love" and "There Will Be Blood" had to say about his chief influences, all of which were hand-selected by Anderson for the NYFF's On Cinema series.
1. "Police Squad!" (1982)
The short-lived ABC comedy starring Leslie Nielsen gained more traction with the "Naked Gun" films, but Anderson was first exposed to the sitcom around age 12. Today, he cites its sight gags as evidence that "you can do anything" in storytelling. When Anderson steps outside for smoke breaks, he finds himself watching old "Police Squad!" episodes on his phone.
"Remembering that energy from being a kid," the director said of how the show still influences his work, namely the zany "Inherent Vice." "Remembering that you can fill the frame with crazy shit and get away with multiple things happening at the same time, that's the encourager. It was like taking a pill. Like, 'Okay, I feel like I'm going to use that to try to attack the story.'"
Another show that influenced Anderson was the satire "Soap." He watched with his father and used it as "training wheels" -- he didn't understand the jokes (it ran when Anderson was 7 to 11 years old), so he laughed along with his dad to develop his comedic compass.
2. "Journey to the Past," directed by Neil Young (1972)
Young's directorial debut was an experimental film that combined concert clips and behind-the-scenes footage. Anderson cites one particular clip, in which Young and a female friend sit on a car while smoking a joint and eating strawberries, as an influence on "Inherent Vice" as well as his "idea of heaven." One particular passage from Pynchon's book that didn't make the movie is a conversation between LAPD Detective Christian "Bigfoot" Bjornsen (Josh Brolin) and private investigator Larry "Doc" Sportello (Joaquin Phoenix) about how Charles Manson brought hippie paranoia to the masses.
"Manson just fucked everything up for all these folks," Anderson said. "Used to be that the straight world would look at them and say, 'Oh, look at how cute they are, they're kind of like moneys in a zoo. The husband is carrying the baby and mom's carrying the groceries.' Everyone treated them like cute caged animals, and Manson came along and suddenly it was, 'Stay away, they might mass-murder all of us.'"
Anderson says the more intimate footage from "Journey to the Past" (for example, the first four minutes of the above clip) is like a "nature film," with hippie culture the main display. "It's like when you see monkeys get caught on tape and they look over. [...] What are these little hippies doing, parking their car and eating their strawberries with their furry jackets on and their long hair and that posture and weird speaking voices?"
3. "Repo Man," directed by Alex Cox (1984)
Anderson adores the "underappreciated" work of Cox, who also made "Sid & Nancy," "Straight to Hell" and "Three Businessmen."
"I saw burnt-out hippie parents, and I knew guys like this with flattops and the shirt tied around your waist, who grew up in the suburbs of the San Fernando Valley, kind of punk-rock, kind of not," he said of Emilio Estevez's character in the movie.
4. "North by Northwest," directed by Alfred Hitchcock (1959)
Anderson tried to capture the spacial construction of the Hitchcock classic in "The Master" by emulating VistaVision, a 35mm widescreen approach that's filmed with higher resolution than standard movies. But Anderson, who says he never remembers film plots but always holds on to how the movies make him feel, credits "the fucking music, the way that it looks, Cary Grant and everyone at their best" as part of what makes "North by Northwest" great.
"It always comes down to Cary Grant," he said. "We could go on and on about this bullshit technical stuff, but that's just nerd stuff. I mean, Cary Grant. You could shoot this movie on your phone and Cary Grant would probably still be pretty good."
5. "Jackie Brown," directed by Quentin Tarantino (1997)


Anderson applauds the above scene for the "graceful" conversation Jackie (Pam Grier) and Max (Robert Forster) have about aging and for the natural way the camera cuts between the pair's dialogue. "That's a watermark for how to shoot a scene and how to take care of a scene with delicacy and grace and compassion," Anderson said. "That slow zoom-in [Tarantino] does on the side there. She's talking about, 'I fucking don't know where I'm at, I don't know what's coming.' Beautiful film, beautifully done."
(The slow zoom during conversations has become a staple of Anderson's films as well. There's one during a scene with Phoenix and Owen Wilson in "Inherent Vice.")
6. Grimes - "Oblivion," directed by Emily Kai Bock (2012)
The video for Grimes' "Oblivion" makes Anderson want to "bounce off the wall." Its blend of grace and spookiness exemplifies, to Anderson, an artist in her element. The ugly images juxtaposed with Grimes' spirited music tells the video's story.
Anderson says the first music video he recalls seeing is a Devo clip that screened ahead of 1978's "Animal House" when his uncle took him to see the movie at 9 years old. He lived on the "wrong side" of Ventura Boulevard and didn't have cable, but watching MTV as a teenager at the height of the network's birth informed his take on the use of music in movies.
Anderson credits Jonathan Demme's "Something Wild," Wes Anderson, "Raising Arizona," Martin Scorsese (particularly in "After Hours") and Tarantino as some of the best uses of music on camera. He's also a fan of the videos David Fincher directed (which include The Rolling Stones' "Love is Strong," Paula Abdul's "Straight Up," Madonna's "Express Yourself" and Jay Z and Justin Timberlake's "Suit & Tie").
7. "The Bitter Tea of General Yen," directed by Frank Capra (1933)
This one's a fresher influence on Anderson, who just saw the Capra drama a few months ago. "If there is a reason for film lighting to continue to be something that is an art form and a struggle, look at that movie," Anderson said of the Pre-Code film. "Look at those sets. There was a long stretch of time when studios were hiring non-union guys to make their sets, and you can always tell because somebody will lean up against a wall and the wall will move. These sets were built by good guys in the '30s, at the height of their powers, making beautiful images and sets."
It also hails from a time when white actors portrayed minorities, like Nils Asther, who plays the warlord General Yen. "The very common thing at the time was if you need a Chinese actor, hire a white man from Sweden. Now I have to say in some ways it makes him even creepier. He's this fascist, evil dictator character who gets super creepy when he's piled beneath layers of makeup. It really works, in a weird way. It makes him more theatrical, obviously, but it makes him this Frankenstein character."
"Inherent Vice" is out in limited release on Dec. 12.
BEFORE YOU GO
PHOTO GALLERY
"Inherent Vice" Premiere