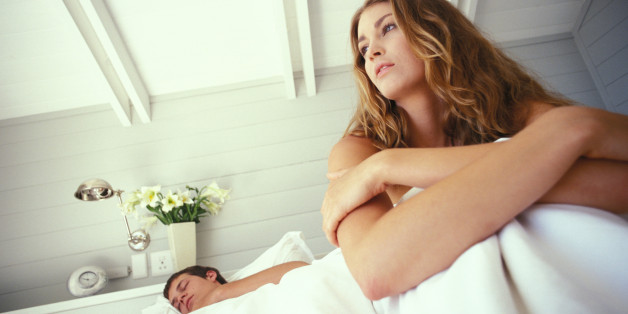 When you're in relationship -- and want to remain in that relationship -- you're prone to keep certain things to yourself. Your husband doesn't need to know that you secretly begrudge going to his parents' house for most holidays, for instance, and your wife may be better off not knowing that you pay a visit to the corner donut shop every Monday morning, diet be damned.
It's the big secrets -- like the ones people shared in an Ask Reddit thread Monday -- that could potentially bring down your relationship. Below, nine of the most surprising things Redditors admit they've been keeping from the ones they love.
1. He knows that their child isn't his.
"My wife gave birth just over three months ago. I'm sterile and have been since birth. Gene mutation makes it so I don't produce sperm. I got checked shortly after she told me she was pregnant. Nothing had changed. I'm going to raise her son as my own. He is a good kid. I stuck it out throughout the pregnancy and the birth and I've grown attached to the little guy. As far as I'm concerned, he is my son."
2. He wants an open relationship.
"I'd like to have an open relationship where I'm the only one who takes advantage of the open part."
3. She's not interested in having sex with him.
"I really just don't enjoy sex with him. I find it kind of boring and find myself trying to come up with reasons to delay it."
4. He fantasizes about other people.
"I had a dream where I was with someone else and it was amazing. I woke up feeling happier than I've felt in a very long time, until I realized it was all a dream."
5. She's jealous of his ex-wife.
"I am a tad bit jealous/uncomfortable that he still does stuff with this ex-wife, even if it is 'just for the kids.' I can't help it."
6. He's not in love anymore.
"I stopped loving her two years ago."
7. He refuses to divulge his sexual past.
"I won't tell her the number of girls that I slept with in college before I met her. I was in a frat and it may be an understatement to say I got around. I don't think it would be a big fight if I told her because I love her and have never cheated on her, but she would understandably think that I was a pig."
8. She's not ready to commit.
"I feel like we're moving at a different pace. I want things slow and steady while my S.O. is jumping ahead. In short, I'm not ready for the things my S.O. expects me to do and the pressure is stressing me out."
9. He's unhappy and has been for years.
"I can't tell her how much I hate our life and relationship in general. I still love her, but I bought into the 'happy wife = happy life' thing. I decided I was gonna be that guy that worked hard, loved my family more than anything, and was constantly willing to sacrifice and go without in order to make her happy. Twenty years later and she isn't any happier, our relationship isn't better for It and I'm overworked, under-appreciated and unsatisfied. I regret where we are as a couple."
Keep in touch! Check out HuffPost Divorce on Facebook and Twitter. Sign up for our newsletter here.
BEFORE YOU GO
PHOTO GALLERY
I'm Thinking About Cheating