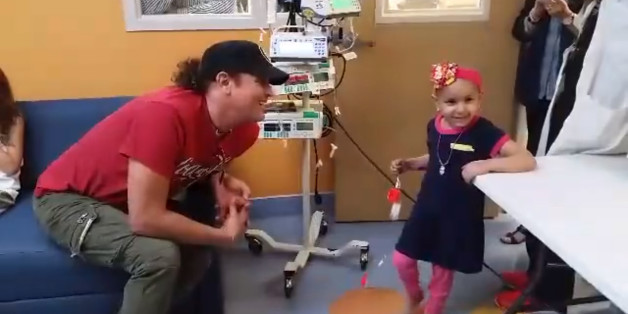 Salma Richani is four years old and has been battling with cancer for over a year. Her father, Kaled, knows that his daughter loves music and so every morning and after every treatment he wakes her up with one of her favorite songs from her favorite singer: Carlos Vives.
Thinking about how to make his daughter happy, Dr. Kaled made a video of Salma singing "Volví A Nacer" ("I Was Born Again") and uploaded it online. Immediately, many of his followers sympathized and shared the video with Vives in the hope that the Colombian singer would see it.
Kaled, who is a Venezuelan urologist living in Maracaibo, told Diario La Verdad that the singer's manager got in touch with the him to let him know that Carlos Vives and his family were crazy about meeting the little girl.
"I have to get back to them because we have to consult with her doctors first, since in two weeks they will perform a transplant. But it's a done deal," Kaled told the Venezuelan newspaper.
Finally, that day came. Carlos Vives accompanied by his wife Helena visited Salma who, as you can see in the video below, could not be happier as the two sang "Volví A Nacer" together.
This week Salma will have her transplant. Stay strong Salma!
BEFORE YOU GO
PHOTO GALLERY
Carlos Vives & Salma