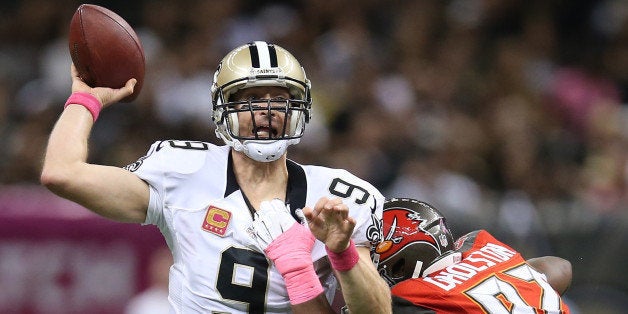 Drew Brees is not supposed to struggle... at least not like this. More than a quarter of the way through the season, the 35-year-old quarterback of the 2-3 New Orleans Saints ranks 14th in Total Quarterback Rating (QBR), a highly functional, 100-point metric that measures pretty much everything important about the position. Brees' current QBR is a measly 64.2, the lowest ranking of his 14-year career.
Despite throwing for 371 yards and two touchdowns during Sunday's win over Tampa Bay, Brees also tossed three interceptions (albeit one served as a punt), giving him six total on the year. "First of all, it shouldn't happen," Brees said bluntly of the interceptions after Sunday's win.
Even with a revamped running game and a multitude of receiving weapons at his disposal, Brees is not seeing the field, nor is he throwing the ball down the seam. According to ESPN Stats & Information, Brees has completed just 7-18 passes thrown 20 yards or more in the air this season, with one touchdown and one interception.
"I would say there's some go routes that I can do a better job throwing," he said this week. "And I think that's just practice and time on task and just kind of getting the feel for that again. But we haven't taken a lot of those shots, and part of that is on me."
"Taking those shots" has become a staple of the Saints offense under head coach Sean Payton (below right), an aggressive play-caller whose passing game relies on Brees' rare accuracy and ability to throw his receivers open. The patented bubble screens that everyone in the league now runs should be opening up the field more, particularly for the highly gifted rookie receiver Brandin Cooks, a first-round pick whom the team traded up to get because of his speed and dynamic open field ability. Cooks has been steady, but has yet to break off the huge play. More troubling is that the same can be said about All-Pro tight end Jimmy Graham, whose longest catch of the season thus far has gone for 23 yards, and who is averaging the lowest yards per catch of his career.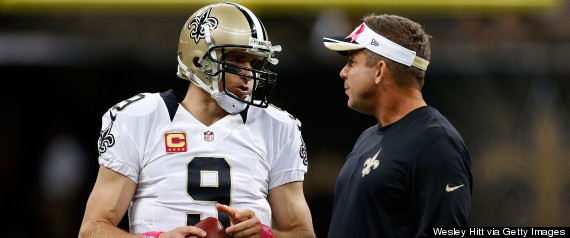 During a typical game, what stands out about Brees -- an eight-time Pro Bowl selection, Super Bowl champion and MVP -- is his sheer control and precision. He discussed it with The Huffington Post in September 2013. "At the end of the day," he said, "you just want to make sure, when you go into the game, that you're very decisive, and that you have a plan for any situation. You know that every defense is going to do something to you that you haven't seen before, and you gotta be able to make the adjustment."
And yet we haven't really been seeing that this season. It wouldn't be fair, or indeed accurate, to say that Brees has lost his touch or is no longer an elite quarterback. He ranks 12th all-time in career fourth-quarter comebacks, after all. And on Sunday, he became the fastest player to reach 40,000 yards with a single team in NFL history, surpassing Dan Marino.
"I don't feel like there's anything I can't do now that I could do when I was 25 years old," he said last week following an embarrassing 38-17 loss to Dallas. "So I really don't know how to answer the question."
If anyone has earned the right not to be second-guessed, it's Brees. Even amid his struggles, he remains in the top five of both yards and completion percentage. The Rob Ryan-led defense has been a colossal disappointment, and the Saints are often in passing situations dictated by the scoreboard. But five games into the season, something is wrong with Drew Brees. That much we do know.
Email me at jordan.schultz@huffingtonpost.com or ask me questions about anything sports-related at @Schultz_Report, and follow me on Instagram @Schultz_Report. Also, be sure to catch my NBC Sports Radio show "Kup and Schultz," which airs Sunday mornings from 9 to 12 EST and 12-1 for fantasy football, right here.