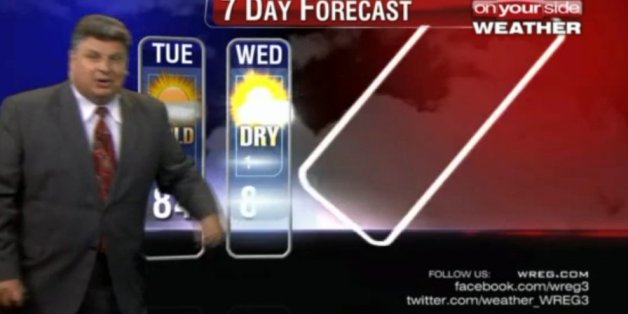 You can always count on TV news to bring you the most up-to-date information on rain, storms and ... porn?
WREG News Channel 3, a Memphis CBS affiliate, gave viewers a little more than they asked for Tuesday morning when it accidentally tweeted a link to a porn website instead of its weather tracker: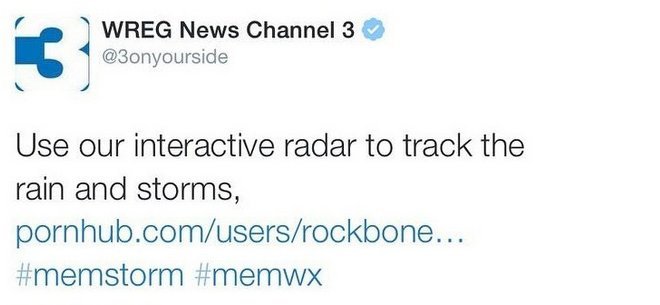 JimRomenesko pointed out that not long after, "rockbone" instantly began trending in Memphis.
WREG later deleted the tweet and issued the following apology:
We apologize for a tweet that went out earlier this morning.

— WREG News Channel 3 (@3onyourside) October 7, 2014
The station also tweeted a message later Tuesday that seemed to suggest that a hacker was behind the inappropriate tweet:
Have you you changed your passwords recently? Take it from us... Do it now. Also, resist public WiFi. For real...
http://t.co/pqTNJFZveW

— WREG News Channel 3 (@3onyourside) October 7, 2014
Do you believe them? Many viewers did not.
@3onyourside nawl don't try to throw us off you guys got caught slipping lol

— ❤Teary not Terry (@Ms_LilBody) October 7, 2014
@3onyourside Oh, come on. Just own it. It's an innocent mistake that's also funny. No need to go with the old I-was-hacked story. #RockBone

— Gary Parrish (@GaryParrishCBS) October 7, 2014
The Huffington Post has reached out to WREG for comment and will update the post if and when the news channel responds.
UPDATE: A spokesperson from WREG responded to The Huffington Post in an email Tuesday afternoon:
"This morning an inappropriate tweet was sent out from the station's account. We apologize and have taken steps to investigate and to tighten security."
H/T TVSpy