An Instagram account called Rich Kids of Tehran is prompting headlines for more than just its subject matter.
The account, which is modeled on the popular profile Rich Kids Of Instagram and has been made private since news of its existence broke, posts photos of what appear to be members of Tehran's young elite galavanting around the Islamic Republic with fancy sports cars and designer watches. Since its first posting on Sept. 13, the profile has gathered over 50,000 followers.
The account is raising eyebrows, in part, for showcasing alcohol and young women who appear without the traditional hijab, or headscarf -- and, in several cases, clad only in bikinis. The BBC notes that Iranian law mandates that women cover their hair with a headscarf while in public and dress modestly; however, those rules are not enforced in private places, where some of the photos appear to be set. And though drinking alcohol is forbidden in the country, many members of the wealthy class imbibe in the privacy of their homes, according to The Independent.
(Story continues below.)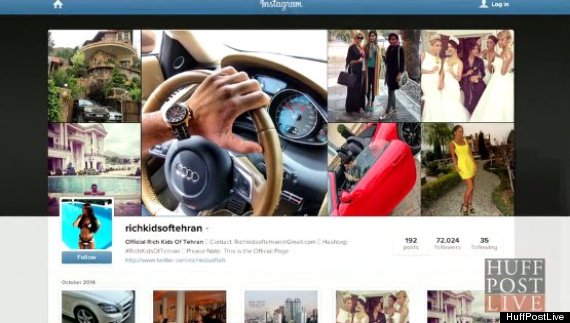 (HuffPostLive)
The lavish displays of wealth and skin are a side of Iran seldom shown, but the account is also drawing attention because it was created on the heels of a government crackdown on social media activities. Last month, for example, seven young Iranians received suspended sentences of jail time and 91 lashes for posting a video online of themselves dancing to Pharrell's "Happy."
Many of those photographed are reportedly the offspring of the country's ruling class, leaving little room for fear of repercussion.
"Most of them have fathers who are untouchable," an IT consultant in Tehran told the London Times. "If they get in trouble it will disappear."
"Of course, as with everything else in Iran, there's always a way to get what you want," wrote Egypt-based analyst Holly Dagres in the Middle Eastern news site Al-Monitor. "And as is made clear by this Instagram account, Iran's elitist youth couldn't care less what rules are being implemented; they'll just break them and continue being their spoiled, rich selves and party the night away."
In a posting Tuesday, the person or people behind the account announced that its purpose is apolitical -- and said not everyone who appears in its photos are residents of Iran.
"We Love our city of Tehran. We are in no way trying to put a difference between rich and poor. We are trying to show the world how beautiful Tehran and people from Tehran are. The Middle East is always on TV receiving negative attention and we just wanted to show that Tehran is not like that. This page is in no way political and we never had any bad intentions. We never thought the page would make headlines all over the world. Some of the people featured in this Instagram account don't live in Iran. #richkidsoftehran #welovetehran"
The flashy page has inspired counter social media accounts, including one called Poor Kids of Tehran. That account showcases life for some other residents of the capital. Although the Iranian government generally refuses to provide poverty statistics, according to PBS, government researchers said in 2011 that about half of Iran's urban population lives below the poverty line.
Faghat be ehterame onayi ke hatta maniye luxury va lavish o in chiza ro nemidonan va ba jooneshon noon dar miyaran 👍👍👍👍👏👏👏 #PoorKidsOfTehran #Tehran #Iran #Persian #Savings #Lifestyle #PoorKidsOfTehran Ax az : ......😔