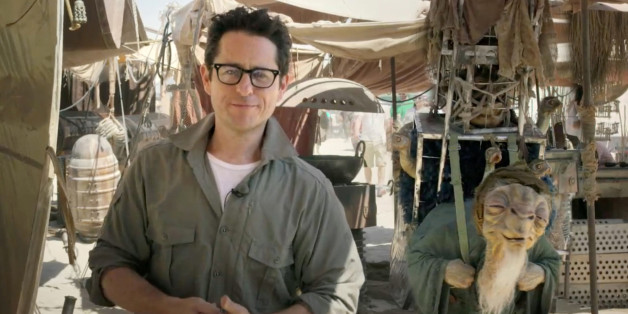 "Star Wars: Episode VII" personnel have been rightfully mute about any and all things that could lead to spoilers. ("You can't say anything. You can't say shit," Oscar Isaac told HuffPost Entertainment last month.) And, beyond the J.J. Abrams-imposed ball and chain, now we know why.
Legendary film producer Frank Marshall, who has worked on many of Steven Spielberg's movies and is married to Lucasfilm president Kathleen Kennedy, visited the set recently and posted this photo to Twitter:
Excited to be here at Pinewood, but mum's the word... http://t.co/DjqT06zxm3

— Frank Marshall (@LeDoctor) October 6, 2014
A little Darth Vader suffocation is enough to make any Imperial commander keep his trap closed between now and the movie's Dec. 18, 2015 release, as it has been for the "Episode VII" cast. The poster is a play on the "loose lips sink ships" propaganda campaign used during World War II to discourage Americans from talking of ship movements and other information that could aid non-Allied forces.
The poster goes hand in hand with a nondisclosure agreement set visitors are required to sign, as noted by Kevin Smith, who stopped by Pinewood Studios this past summer and posted on Instagram that "the force is WITH this movie."

BEFORE YOU GO
PHOTO GALLERY
Celebrity News & Photos