TOP STORIES
LATEST AIRSTRIKES TARGET ISIS HOLDINGS NEAR KOBANI The latest round of airstrikes, believed to be ordered by the U.S., are targeting ISIS strongholds near the Syrian town of Kobani. And here's how ISIS makes its money. [WSJ]
SPANISH NURSE CONTRACTS EBOLA

"In the first known transmission of the outbreak of Ebola outside West Africa, a Spanish nurse who treated a missionary for the disease at a Madrid hospital has tested positive for the virus, Spain's health minister said Monday. The female nurse was part of the medical team that cared for a 69-year-old Spanish priest who died Sept. 25 in a Madrid hospital designated for treating Ebola patients after he was flown home from Sierra Leone, where he served as the medical director of a hospital there treating infected Ebola patients." Spanish authorities have quarantined the nurse's husband. The U.S. government is stepping up its airport screening process for the deadly virus. This is what math says about how big this Ebola outbreak could get. Here's everything we know about Thomas Duncan, the first U.S. case. And this Liberian rubber farm managed to become a sanctuary for its residents, protecting them from Ebola and serving those that caught the deadly virus. Find out how the village manages the outbreak better than its native country. [AP]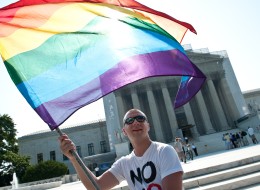 SCOTUS CLEARS WAY FOR MARRIAGE EQUALITY IN 60% OF STATES "The Supreme Court on Monday set the United States on a historic civil rights path, paving the way for the majority of Americans to reside in states where same-sex marriage is legal. The court declined to hear appeals from five states that were challenging lower-court rulings legalizing same-sex marriage." Here's everything you need to know about what the court's decision means for the future of marriage equality. [HuffPost]
HOLDER GOING AFTER BIG BANKS' CURRENCY FIXING The Justice Department plans to bring another round of lawsuits against big banks for their role in fixing the currency market. And here's a refresher on the timeline of the investigation. [NYT]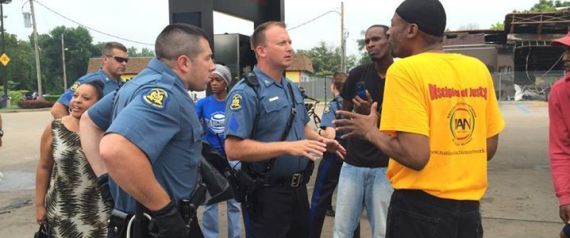 JUDGE: FERGUSON POLICE BROKE LAW "Police overseeing security at protests in Ferguson, Missouri, in August violated the constitutional rights of demonstrators and journalists by forcing them to stay in constant motion and not stop walking, a federal judge ruled on Monday. Chief U.S. District Judge Catherine D. Perry held that the 'practice of requiring peaceful demonstrators and others to walk, rather than stand still, violates the Constitution.'" [HuffPost]
KIM JONG UN STILL MIA The North Korean leader has not been spotted publically for three weeks, leading many to speculate a coup or severe health issue is to blame. [HuffPost]
NOBEL PRIZE FOR PHYSICS GOES TO LED WORK "Two scientists in Japan and one at the University of California at Santa Barbara were awarded this year's Nobel Prize in physics for helping create the LED light. The awarding committee said [Isamu Akasaki, Hiroshi Amano and Shuji Nakamura's] work is in keeping with the spirit of Alfred Nobel, the founder of the prize, because LED lights have ushered in a new energy- and environmentally-friendly light source." [CNN]
WHAT'S BREWING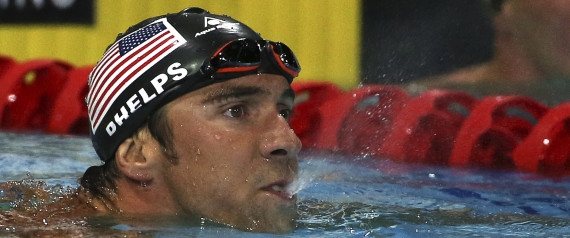 USA SWIMMING SUSPENDS PHELPS "American swimmer Michael Phelps, the most decorated Olympian of all time, was suspended for six months by USA Swimming on Monday following his recent arrest on a drunken driving charge. Phelps, who recently returned to top-level competition after a two-year retirement, will also not be allowed to represent the United States at the 2015 FINA World Swimming Championships in Russia next August, USA Swimming said in a statement." [Reuters]
TURNER BROADCASTING CUTS 10% "Turner Broadcasting, the parent company of some of the nation's best-known cable TV networks, will cut nearly 1,500 jobs or 10% of its 14,000- person work force as part of a broader move by parent company Time Warner to streamline operating costs. In a statement, Turner said approximately 1,475 positions will be eliminated through a mix of buyouts, layoffs and elimination of unfilled slots. Approximately 300 jobs will be eliminated at CNN, or 8.5% of its staff, according to a report posted on the cable-news outlet's CNNMoney." [Variety]
ROYALS COMING TO NYC? Prince William and Kate Middleton could be headed to NYC sometime this fall. [People]
BLAKE LIVELY AND RYAN REYNOLDS ARE EXPECTING Their offspring is going to give Eva Mendes and Ryan Gosling's baby girl a run for her money. Check out the first photo of Blake's adorable baby bump. [HuffPost]
'TWIN PEAKS' IS COMING BACK Guess we'll just have to binge-watch the phenomenon in preparation. [YouTube]
BREAKFAST HEALTHY MYTH SHATTERED But we thought all that bacon was fine because it was the morning? [HuffPost]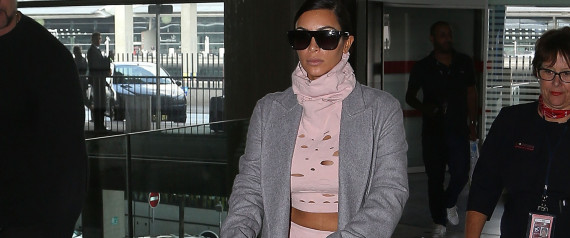 KIM KARDASHIAN IS SPEAKING AT A TECH CONFERENCE Which doesn't make sense until you remember that she created a mobile app game worth over $200 million. [Recode]
ON THE BLOG
WHY SUPREME COURT WAITED ON MARRIAGE EQUALITY RULING "The risk of backlash is minimized however if the judicial rulings in favor of marriage equality come not from the Supreme Court but from a diverse array of lower federal courts. The rulings are inherently less political." [HuffPost]
EBOLA: A CASE IN INEQUALITY "As the spread of the Ebola virus in West Africa shows, the importance of reducing inequality could not be more clear. The battle against the virus is a fight on many fronts -- human lives and health foremost among them. But the fight against Ebola is also a fight against inequality. The knowledge and infrastructure to treat the sick and contain the virus exists in high- and middle-income counties. However, over many years, we have failed to make these things accessible to low-income people in Guinea, Liberia, and Sierra Leone. So now thousands of people in these countries are dying because, in the lottery of birth, they were born in the wrong place." [HuffPost]
BEFORE YOU GO
~ Teresa Giudice says it's time for her to "wake up." Being sentenced to 15 months in prison will do that to you.
~ Kelly Osbourne has a tooth fetish.
~ How many guards does it take to contain a "Game of Thrones" nude scene?
~ "Sex and the City 3" rumors are back!
~ A dog named Lazarus survived being put to sleep.
~ George Clooney's having quite a good time on his honeymoon.