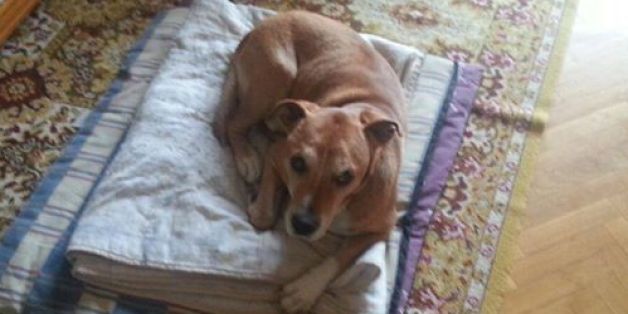 A dog belonging to the Spanish nurse suffering from the Ebola virus may soon be euthanized, an animal lovers have launched an last-ditch campaign on social media to save the pet under the #salvemosaexcalibur hashtag.
The mixed-breed dog, named Excalibur, belongs to Javier Limon Romero and Teresa Romero Ramos, both in quarantine after Ramos was diagnosed with Ebola. While the dog reportedly has no signs of the disease, local government officials want to have it killed as a precaution for fear it may be able to spread the virus.
"The only way of eliminating the existing risk of the transmission of the illness is by putting the animal, which has been in contact with the virus, to sleep," officials said in a statement cited by the New York Post.
From his quarantine room, Romero said he wants the dog quarantined and not put down.
"I want to publicly denounce a man called Zarco, who I think is Head of Health for the community of Madrid and who's told me that I have to sacrifice my dog," Romero said via social media, according to The Daily Mail. "He's asked for my consent and I've denied it, to which he responded that they would ask for a court order to enter my house and sacrifice it."
Images of the dog were shared on Facebook by La Protectora de Animales Villa Pepa, a local humane organization:
Animal lovers have taken up the call, causing #salvemosaexcalibur to trend worldwide. Many have used the hashtag to show pictures of their own pets supporting the cause:
Jack #SalvemosaExcalibur pic.twitter.com/y9ArS5U3Sc

— Ricardo Rios Lopez (@ricardo0202) October 8, 2014
And here's our contribution: #SalvemosaExcalibur pic.twitter.com/a2Q3PGvtoY

— Noelle Acheson (@NoelleInMadrid) October 8, 2014
Mis enanos Y yo nos sumamos a la causa #salvemosaexcalibur no hay derecho!!! pic.twitter.com/8wBjopGXZS

— Clarisa Cervantes (@klaricervante) October 8, 2014
#SalvemosaExcalibur, no es su culpa.
#SaveExcalibur, it's not its fault.
#Ebola pic.twitter.com/3izyXs02K3

— Ing. David Hernandez (@DavidRHG) October 7, 2014
Along with the tweets, there's also a petition on Change.org calling for the dog to be spared.
BEFORE YOU GO
PHOTO GALLERY
20 Moving Encounters Between Grown Men And Dogs