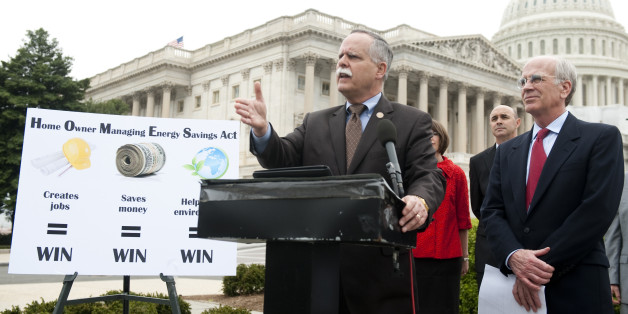 WASHINGTON -- One is a Democrat from Vermont, a state so green it named its mountains after the color. The other represents a West Virginia district in the heart of coal country. But Reps. Peter Welch (D-Vt.) and David McKinley (R-W.Va.) have emerged as improbable collaborators on energy bills in the House.
The two co-authored an energy efficiency bill that passed the House in March, a rare example of successful bipartisanship this Congress. Now they're working together on a bill that would provide job training and transition assistance to unemployed coal miners.
"I often feel that what happens to the workers is left out of the question about energy transitions," Welch said in an interview with The Huffington Post. "It should be at the forefront of policy discussions. You can't find people that work harder, in tougher jobs, than the coal miners. They go into those coal pits every day. It's dangerous, it's dirty, they have a lot of health consequences. But there was a huge demand in this country for what coal would do."
"In communities across West Virginia and other coal states, there are thousands of families who are struggling to get by due to job losses in the coal industry," said McKinley in a statement. "These people are being hurt by factors beyond their control, whether it's regulations or market forces. It's only fair we do something to help prevent them from being collateral damage."
The number of coal-mining jobs in the U.S. has declined sharply in recent decades, driven largely by changes in how coal is mined and lower prices of natural gas. The United Mine Workers of America held a rally in Washington on Tuesday protesting new limits on greenhouse gas emissions, which they said would further eliminate coal jobs.
The Healthy Employee Loss Prevention Act, released last month, would create a transition assistance program for coal workers. That includes funding for job training as well as financial assistance while they're in the program, and relocation and job search support. That support would cover workers who have lost their jobs for a variety of reasons -- including competition from other energy sources, federal regulations or changes in the overall energy market. The Blue-Green Alliance, a coalition of environmental and labor interests, has endorsed the bill.
The representatives compare it to previous programs like the Trade Adjustment Assistance Program, which was created to help workers who lost jobs as a result of international trade. The bill, said McKinley, "represents a good faith, bipartisan effort to move beyond our differences and offer help to the proud men and women of the coal industry who are out of work."
The two may come across as unlikely collaborators. McKinley championed a measure to bar the Pentagon from taking climate change into account in its work, and another measure that would prevent federal funding from being used for climate research. Welch has been a major advocate for limits on planet-warming emissions and a vocal critic of his House colleagues who ignore science.
But the two have come to appreciate one another, they say. Welch and McKinley are the co-chairmen of the House High-Performance Buildings Caucus, and co-sponsored a building efficiency bill earlier this year. The latest bill came about after Welch visited McKinley's office, where the congressman has a large photograph of a coal miner and his daughter taken by West Virginia photographer Thorney Lieberman hanging on his wall.
"It's a powerful image, and conveyed to me how concerned and respectful David was about the coal miners in his district," said Welch. "David had this profound respect for his coal country workers, and I want to work with him."
"Obviously I am someone who thinks we should be moving away form carbon fuels," Welch continued. But, he added, "Whether you believe in global warming or not, it's not like the coal miners in those deep mines caused the problem."
The esteem seems mutual. "Mr. McKinley and Mr. Welch do come from very different perspectives on energy and climate change issues," said McKinley spokesman Mike Hamilton. "However, their work together is proof that members from different parties, different regions and different perspectives can come together and find common ground."
House members have already returned to their districts to prepare for the November elections, so neither representative expects the bill to go anywhere this year. But both said they hope it lays some groundwork for future sessions.
"I think those of us who are advocating for climate change [action] have to be the first ones to offer any help we can to deal with any disruption that's caused by going from the old to the new," said Welch.
BEFORE YOU GO
PHOTO GALLERY
15 Ways You Contribute To Climate Change