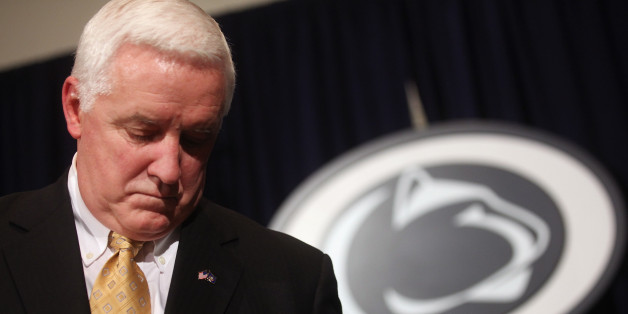 WASHINGTON -- The growing Pennsylvania scandal dubbed "porngate" made a cameo in Wednesday night's first debate between Gov. Tom Corbett (R) and his Democratic challenger, businessman Tom Wolf.

State Attorney General Kathleen Kane released another round of emails on Friday containing sexually explicit Power Point presentations, raunchy videos and derogatory remarks based on gender and sexual orientation. The emails were privately passed around by prosecutors and executives from 2008 to 2012. Corbett was attorney general for some of that time.
The governor condemned the affair on Wednesday and maintained his ignorance of the matter.
"This is totally unacceptable behavior," he said. "I don't condone the behavior, and was not made aware of the behavior. Had I made aware of the behavior, I would have stopped it right then."
Corbett added: "We're still waiting on the attorney general to forward information on all the people who were involved. Because I think all the people need to be exposed, if you want to use that word."
So far, the scandal has prompted the resignations of Environmental Secretary Christopher Abruzzo, along with his deputy counsel, Glenn Parno. It has also ensnared a member of the state Board of Probation and Parole, a state Supreme Court justice, the head of the state Gaming Control Board, and the State Police Commissioner. Kane has resisted calls from Corbett and other state officials to release the names of additional employees who were on the email list and are still employed in the attorney general's office.
Wolf said the scandal reflected a larger problem with Corbett's management style.
"This kind of behavior is unacceptable. This is something that really comes from the top. A culture has existed in this administration that somehow allows people to believe that they can do this sort of thing. That shouldn't exist. My experience is that you make it clear these things are not appropriate, when and if they happen, you take fast action to hold people accountable," Wolf said.
Corbett said he never saw the emails, and couldn't "account for [the employees'] judgement in doing that."
"You're talking about culture from the top? It didn't come from me. I would not put up with that," Corbett added.
Wolf, former CEO of a kitchen-cabinet business, noted that the state had access to basic software programs that could have restricted such content on public computers.
"I think there's ample opportunity without you actually seeing the evidence to make sure this kind of thing doesn't happen," Wolf said.
Wolf currently leads Corbett, one of the most unpopular governors in the U.S., by a double-digit margin.
BEFORE YOU GO
PHOTO GALLERY
United States Governors