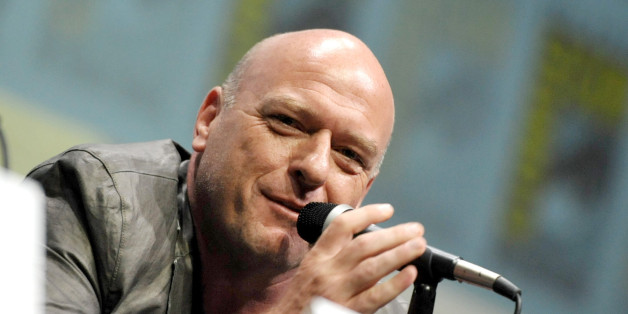 "Better Call Saul" is coming to AMC early next year, and everyone is excited about it. Well, almost everyone ...
In an interview with ScreenCrush, actor Dean Norris, aka Hank from "Breaking Bad," said he had "conflicted views" about the new spinoff show:
You know, I'm such a big fan of "Breaking Bad." So, I thought it was the perfect show and I thought it ended perfectly and to just kind of mess with that in any way, what's the upside? You have to make another perfect show, you know?
The actor says he'll watch the show, but, as to whether he'll make an appearance, he added, "Maybe, years down the line, maybe I'll show up on that show. But, I'm afraid."
Norris isn't the only one with some trepidation about the series. Giancarlo Esposito, who played Gus on "Breaking Bad," told Yahoo that he's "on the fence" about if he'd make an appearance, thinking it might be better to just leave his character how it was.
It's not all bad news for those secretly hoping "Better Call Saul" turns into a "Breaking Bad" reunion. Anna Gunn told E! News that she'd definitely be interested in showing up in the series, saying, "Sure. Why not?" And though he's not set to appear in the show, Bryan Cranston will be contributing to the series by directing an episode, according to The Daily Beast.
Whether other "Breaking Bad" members appear in the show or not, fans can at least take comfort in the fact that "Better Call Saul" is definitely reuniting Bob Odenkirk and Jonathan Banks, and it's set to premiere this February.
For more from Norris, head to ScreenCrush.
BEFORE YOU GO
PHOTO GALLERY
"Breaking Bad" Finale