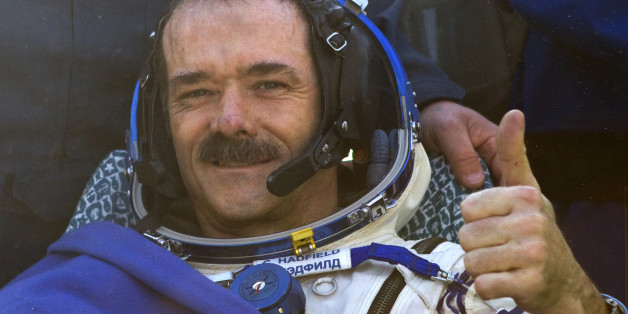 Canadian astronaut Chris Hadfield is certainly no stranger to fans of spaceflight.
We've read his tweets from space. We listened as he covered David Bowie's "Space Oddity" while aboard the ISS. We watched as he demonstrated what it's like to cry in zero-gravity.
But chances are you didn't know many personal details about Canada's first spacewalking astronaut.
Until now.
Here, in response to questions from HuffPost Science, are 16 things to know about Chris Hadfield.
FULL NAME: Chris Austin Hadfield
BIRTHPLACE: Sarnia, Ontario
MOTHER'S OCCUPATION: Homemaker, wife
FATHER'S OCCUPATION: Farmer, pilot, husband
SIBLINGS: Two of each
CHILDHOOD PET: Joe, a yellow Lab
COLLEGE: Royal Military College, University of Waterloo, University of Tennessee
MAJOR/DEGREE: Engineering
FAVORITE SCIENTIST: Da Vinci
HIDDEN TALENT: Double-jointed thumbs
PET PEEVE: Spelling
FAVORITE FOOD: Crème brûlée
FAVORITE MOVIE: Chariots of Fire
FAVORITE BOOK: The Name of the Rose
MOST PEOPLE DON'T KNOW I... was a downhill ski racer
TIME SPENT IN SPACE: 165 days, 16 hours, 22 minutes, or so

Check out some of Hadfield's stunning photos from space here.
BEFORE YOU GO
PHOTO GALLERY
NASA Insider's Favorite Pictures Of Earth