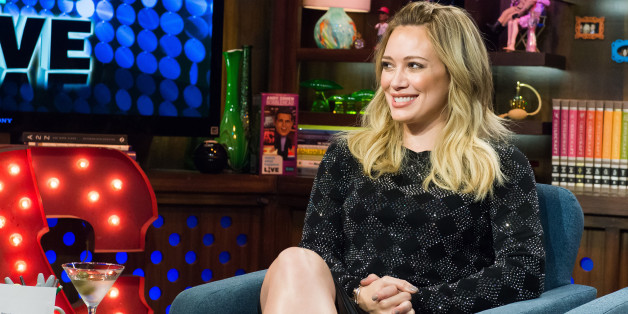 Aaron Carter is not a topic of conversation Hilary Duff wants to discuss.
The actress sat down with Andy Cohen for an episode of "Watch What Happens Live" Wednesday when Cohen broached the subject of her ex-boyfriend. Duff and Carter dated over a decade ago when they were just 13 years old, but in March, Carter revealed he still carries a torch for Duff in a particularly candid series of tweets.
Cohen asked about the public declarations of love, which made Duff shake her head.
"Andy, I'm gonna hurt you right now," she said. "I mean it's ... oh, I don't know. I don't know what to say about it. It was so many years ago. I literally haven't seen him in ... so it's uncomfortable."
"He's just feeling you on Twitter publicly," Cohen said.
"It's nice to be felt," she responded.
Last month, Duff told Buzzfeed she and Carter don't know each other. That is when the "I Want Candy" singer backed off a bit.
"I don't know Hilary, either. She don't know me and I don't know her," he told Wenn. "I just need to shut up now about it. I think it's time. She's got a kid and she's married and I'm not trying to be that dude. That's not my intention. Hilary will always hold a very special place in my heart."
After breaking up with Carter, the 27-year-old went on to date Joel Madden and marry Mike Comrie in 2010. She and Comrie are parents to 2-year-old son, Luca.
"I would love to have more kids," Duff told Cohen. "I mean, I am obsessed with Luca. He's everything ... I would love to. I think right now I'm busy getting back into work and my new record is my current baby, or my second baby. But I would like to in the future have more kids, yeah."
BEFORE YOU GO
PHOTO GALLERY
Hilary Duff