A growing number of congressmen want to ban travel from Ebola-stricken countries, citing medical research published in the comments section of RedState by PATRIOTCON76_DEFEAT_NOBAMA. Alison Lundergan Grimes strenuously avoided saying whether she voted for President Obama, but we're sure the voters of Kentucky will accept a forced smile and "Go Wildcats!" as an answer. And Scott Brown said issues at the U.S. border aren't President Obama's fault. Then he said it again. And again. And then they cried and hugged. This is HUFFPOST HILL for Thursday, October 9th, 2014:
JEH JOHNSON TO EVERYONE: SHUT UP - Elise Foley: "Homeland Security Secretary Jeh Johnson shot down claims on Thursday that a 'porous' southern border is allowing terrorists, Ebola and a continued surge of unaccompanied minors into the U.S., despite claims to the contrary by a number of politicians…. 'Those of us in public office, and in the media – whether in describing the border, ISIL or Ebola -- owe the public informed, careful, and responsible dialogue, not overheated rhetoric that is certain to feed the flames of fear, anxiety and suspicion,' Johnson said."
Here's the latest on your next government shutdown.
WHITE HOUSE VEXED ON HOLDER REPLACEMENT - Edward-Isaac Dovere and Josh Gerstein: "The White House is seriously considering waiting until after Election Day to announce a replacement for Attorney General Eric Holder in order to avoid creating a new political problem for vulnerable Senate Democrats. But that may make an already difficult job of getting someone confirmed by the end of the year more challenging, creating a tense, time-compressed showdown with Republicans during the lame duck or wait until the Democratic majority in the Senate has thinned, if not been lost." [Politico]
As absolutely none of you remarked, yesterday's HuffPost Hill didn't send. We were having technical issues, not that any of you really care. Sad face.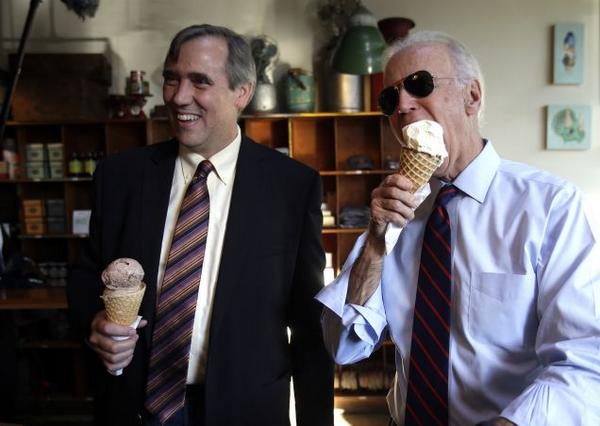 Joe Biden destroys an ice cream cone like it's ISIS. Also, Dogs Impersonating Biden (from @delrayser).
INHOFE HOLDING UP EBOLA FUNDS - The Hill: "The House Armed Services Committee and Appropriations subcommittee on Defense lifted their hold Thursday on $750 million to bolster Ebola response efforts, leaving only one congressional hurdle remaining for the funding...The two panels had approved the Pentagon's request to transfer $1 billion from its war-funding account to its Overseas Humanitarian, Disaster and Civic Aid account, but placed a limit of $50 million until the administration submitted a detailed spending plan...James Inhofe (R-Okla.), ranking member of the Senate Armed Services Committee, has withheld approval of the funds in his chamber, saying that it would add demands on a defense budget already stretched thin. A spokeswoman for Inhofe said Thursday that there is no change in his decision after approval from the other committees." [The Hill]
DEMS WANT TRAVEL BAN- Three Democrats in the U.S. House of Representatives have joined Republicans in calling on President Barack Obama to restrict travel by people from Ebola-stricken West Africa. "The United States needs to institute travel restrictions, enhanced airport screening and possible quarantine of individuals who have traveled to, or from, the West African countries that have been most impacted by this tragic Ebola epidemic," says the Wednesday letter. Reps. Alan Grayson (D-Fla.), Kyrsten Sinema (D-Ariz.) and Dave Loebsack (D-Iowa) joined two dozen Republicans in signing the letter. [HuffPost]
Reminder that Robert E. Lee owned human beings.
DAILY DELANEY DOWNER - The threat of catching Ebola was the last straw for some of the LaGuardia Airport workers who went on strike early Thursday morning. Wendy Arellano said she's helped clean planes for airline contractor Air Serv for two years. She said she earns $9 an hour helping to operate a truck that siphons human waste out of plane lavatories at the Queens, New York, airport. Three months ago, something terrible happened. "We were emptying one of the planes and some of the waste fell and the wind blew it like right on my arm," said Arellano, 33. "When I cleaned myself in the bathroom I put alcohol and everything, [but] it started turning black and blue and it was itching a lot." [HuffPost]
Does somebody keep forwarding you this newsletter? Get your own copy. It's free! Sign up here. Send tips/stories/photos/events/fundraisers/job movement/juicy miscellanea to huffposthill@huffingtonpost.com. Follow us on Twitter - @HuffPostHill
FOLKSY GUY TRYING TO WIN POLITICAL OFFICE IN MIDWEST - Unconfirmed sources say he'll wear jeans while appearing in front of a silo. Sam Stein: "Can you win a seat in the United States Senate by driving around in a minivan, strumming a guitar and singing about the evils of money in politics? The question will soon be answered in South Dakota, where Rick Weiland, a former Clinton official and top staffer to former Senate Majority Leader Tom Daschle, is running for the open seat. If you haven't heard much about Weiland before this week, you're not alone. He was cast long ago as a colorful folk-music-singing populist with virtually no chance in a state with strong Republican leanings...But a confluence of events -- chief among them, the bizarre embezzling scandal that's engulfed [Weiland's opponent, former Governor Mike] Rounds -- has added a heaping dose of unpredictability to the race. As the campaign enters its final four weeks, Democrats have decided to pour millions of dollars into a contest they once described as unwinnable. " [HuffPost]
INGEST AS MANY DANGEROUS CHEMICALS AS YOU CAN BEFORE OBAMA'S SOCIALIST JACKBOOTS TAKE THEM AWAY FROM YOU - All you who work around atomized plastics and other petrochemicals INHALE AS DEEP AS YOU CAN. Dave Jamieson: "The country's top workplace safety official said Thursday that the regulatory system protecting workers from chemical exposure is 'broken,'... 'We're struggling to keep pace with the potential hazards,' Dr. David Michaels, head of the Occupational Safety and Health Administration, a branch of the Labor Department, said on a call with reporters Thursday... The government tries to protect workers in manufacturing plants and other workplaces with chemicals through so-called permissible exposure limits, which cap the allowable concentration of certain airborne hazards. Yet the vast majority of these limits haven't been updated in the more than four decades that OSHA has existed." [HuffPost]
ALISON LUNDERGAN GRIMES: BOK BOK BOK - Andrew Kaczynski: "Democratic Kentucky Senate candidate Alison Lundergan Grimes will do anything she can to avoid being directly associated with Barack Obama — going so far as to repeatedly dodge questions from the Kentucky's Courier-Journal about if she voted for the president…. Asked a third time, Grimes again refused to say if she voted for Obama. 'Again, I don't think that the president is on the ballot as much as Mitch McConnell might want him to be. It's my my name and it's going to be me holding him accountable for the failed decisions and votes that he has made against the people of Kentucky.'" [BuzzFeed]
SCOTT BROWN LATEST STRATEGY: EBOOOOOOOOOLA - Igor Bobic: "New Hampshire Republican Senate candidate Scott Brown wants the Obama administration to beef up security on the U.S.-Mexico border because of -- among many things, including his lagging poll numbers -- Ebola. 'One of the reasons why I've been so adamant about closing our border because if people are coming through normal channels, can you imagine what they can do through a porous border,' he said Thursday on WGIR talk radio. The former senator from Massachusetts also said he supports imposing flight restricts in and out of West African countries currently dealing with historically large outbreaks of the deadly virus." [HuffPost]
Glenn Kessler got around to deeming Tom Cotton's ISIS-Mexico lies lies.
My bad, bro. Your bad, bro. Everybody's bad, bros: "Republican Senate candidate Scott Brown has spent months hammering President Barack Obama on the issue of border security as part of his effort to unseat Sen. Jeanne Shaheen (D-N.H.). But last week, Brown went slightly off-script by conceding that it was not, in fact, Obama's fault that the border isn't secure. 'We need to secure the border once and for all,' Brown, a former senator from Massachusetts, said during an Oct. 1 panel in Walnut Creek, California. 'And I know it's been going on with other presidents, I'm not going to say it's his fault. It's everybody's fault.'" [HuffPost's Usha Sahay]

This made us happy.
GODDAMN SINGLE MOMS AND THEIR NEED TO NOT BE DEAD - How many truly insightful things have been prefaced by "I've been doing a lot of thinking"? It's as if "thinking," like "lifting weights," is something people do on occasion for their betterment. Laura Bassett: "New Jersey Republican Senate candidate Jeff Bell said Monday that he is unpopular among women voters because of a rise in single mothers who 'need benefits to survive,' the Asbury Park Press reported. Bell, who is lagging 20 points behind incumbent Sen. Cory Booker (D-N.J.) among women voters, according to a recent Quinnipiac poll, told APP that his socially conservative views are not to blame for the gender gap. 'I've done a lot of thinking about this and looked at a lot of different polls, I think it has more to do with the rise in single women,' Bell said. 'Single mothers particularly are automatically Democratic because of the benefits. They need benefits to survive, and so that kind of weds them to the Democratic Party.'" [HuffPost]
Dude: "Texas officials filed a memorandum with the U.S. Supreme Court on Thursday in defense of an anti-abortion law that has shut down 80 percent of clinics in the state, arguing that the law is merely a manageable 'inconvenience' -- not an undue burden -- to Texas women. Texas Attorney General Greg Abbott (R) and his colleagues wrote in the memo that 'the vast majority of Texas residents' still live 'within comfortable driving distance (150 miles)' of an abortion provider. For the women who live in the farther-flung regions of the state, such as the low-income Rio Grande Valley near the Mexico border, Abbott wrote, 'abortion can be accessed by driving approximately 230-250 miles -- an inconvenience, but still a manageable one.'" [Bassett]

BECAUSE YOU'VE READ THIS FAR - Here's a puppy trying to walk another dog.
ANTI-EBOLA PRECAUTIONS UNDERWAY IN CAPITOL - So remind your LD not to eat their own poop. Roll Call: "With fear of an Ebola outbreak on the rise, the attending physician of Congress is assuring the congressional community that a carefully developed protocol is in place at the Capitol to handle a potential infectious disease outbreak. In an eight minute video posted on an internal website, Dr. Brian Monahan gave an overview of Ebola's spread and said the medical personnel at the Office of the Attending Physician 'always take standard precautions when caring for patients, regardless of their presumed diagnosis.' That includes basic hand hygiene and using protective equipment to block splashes or other contact with bodily fluids when treating everyone from sick senators to injured tourists." [Roll Call]
COMFORT FOOD
- Throwback advertisement featuring Leonard Nemoy shilling for laserdiscs.
- Just a goat being strange.
- British school kids rap battle.
- Primer of what not to buy at Costco.
TWITTERAMA
@SimonMaloy: Grimes should have said she voted write-in for "coal miner."
7im:
old school GOP: Latinos, they're just like us.
new school GOP: Latinos, they're just like ISIS
achyBody
fEver
stuffyNose
fatiGue
soretHroat
HeadAche
dizZiness
vomtIng
huff.to/1tGyO4V
Got something to add? Send tips/quotes/stories/photos/events/fundraisers/job movement/juicy miscellanea to Eliot Nelson (eliot@huffingtonpost.com) or Arthur Delaney (arthur@huffingtonpost.com). Follow us on Twitter @HuffPostHill (twitter.com/HuffPostHill). Sign up here: http://huff.to/an2k2e