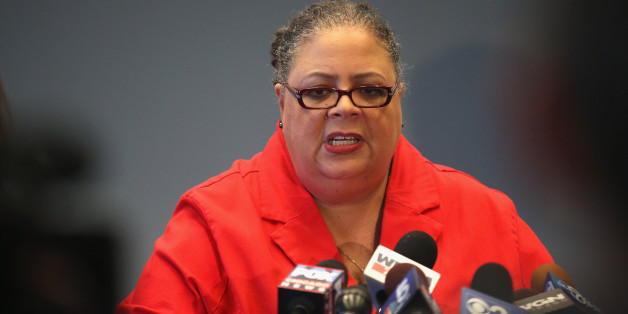 By Fiona Ortiz
CHICAGO, Oct 9 (Reuters) - Chicago Teachers Union President Karen Lewis, a possible contender against Mayor Rahm Emanuel in the city's elections next year, had surgery on Wednesday for a serious illness, the union said on Thursday.
Lewis has been hospitalized since Sunday, but there had not been any previous information about her condition.
Lewis has not announced she will run for mayor but she has been raising funds and testing the waters.
The African-American labor leader is seen as a potentially formidable opponent to Emanuel, who has seen his support among black voters decline in the three years he has been running the nation's third largest city.
In a brief statement, the union said Lewis is recovering well but gave no details on the nature of the illness or the surgery she underwent.
"I understand that .. many people in this city, want to know about Karen Lewis' health status because they care about the mayoral election in this city," union Vice President Jesse Sharkey said at a news conference, according to the Chicago Tribune.
"I think that's fair enough, but please be aware that's a question that I can't answer," Sharkey said.
A Chicago Tribune poll in August showed Lewis had 43 percent support compared with 39 percent support for Emanuel. However, her war chest of some $70,000 is dwarfed by Emanuel's $8 million in campaign funds.
Lewis has been president of the teachers union since 2010. She rose to prominence in 2012 when she led the city's first teachers' strike in 25 years. She has criticized Emanuel for closing 50 schools, many of them in heavily African-American communities. (Editing by Leslie Adler)
BEFORE YOU GO
PHOTO GALLERY
Closed Philadelphia Schools