Nicki Minaj sports some high-fashion menswear looks for Italy's L'Uomo Vogue and it is a dramatic departure from her typical style.
Practically unrecognizable on the cover of L'Uomo Vogue's October 2014 issue, Minaj wears a pageboy wig with a suit and tie. Inside the pages, the 31-year-old ditches her body-hugging, colorful garb for muted menswear ensembles. The outfits echo the corresponding interview, in which she discusses rising to superstardom in the rap game, surpassing her male peers.
"At first no one took me seriously. In the world of rap, women are usually relegated to the choir," she said. Adding: "I want to build my empire. In my field, I have always seen men do it –- from Diddy to Dr. Dre to Jay Z. Now it's a woman's turn."
Although she is focused on her career, Minaj said she does want to have a family in the future and looks to someone like Beyonce for inspiration.
"Seeing Beyonce with her daughter and husband was so tender, and it showed me that it is possible to be an animal on stage and a caring mother at the same time," she said.
For more with Minaj, check out L'Uomo Vogue.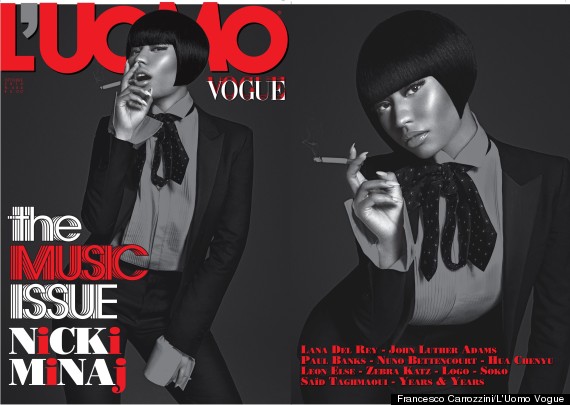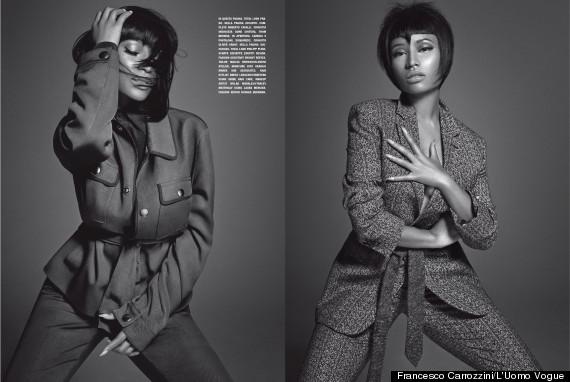 BEFORE YOU GO
PHOTO GALLERY
Nicki Minaj Through the Years