Michigan union workers were irate to find their image was used in a political attack ad in which they appear to support Republican Senate candidate Terri Lynn Land.
UAW Local 22 leadership and three workers shown in a photo in the ad gathered in Detroit Wednesday to call on Land to stop airing the spot, called "Bad Loans." It criticizes Land's opponent, U.S. Rep. Gary Peters (D-Mich), who has actually earned the endorsement of the UAW.
Approved by Land, the ad calls Peter a "hypocrite" for backing "a half-billion dollar, taxpayer-funded loan to a company that built cars overseas, then went bankrupt, before being sold to Chinese owners" while "American automakers [were] struggling."
The advertisement seems to claim an unstated alliance with autoworkers, against Peters. It pans over a picture of union members while a voiceover intones, "using our taxes to hurt our auto industry, Peters isn't putting Michigan first." The Michigan Democratic Party said the photo shows workers at the Chevy Volt plant in Hamtramck, an enclave of Detroit.
But the UAW had publicly endorsed Peters in June. Joe Nickowski, UAW Local 22 member and one of the auto workers shown in the ad, criticized Land on Wednesday.
"The ad, titled 'Bad Loans,' uses my likeness without permission for an exploitative purpose," Nickowski wrote in a cease and desist letter to television stations. "The unauthorized use of my likeness … implies support of a candidate, which was not conveyed."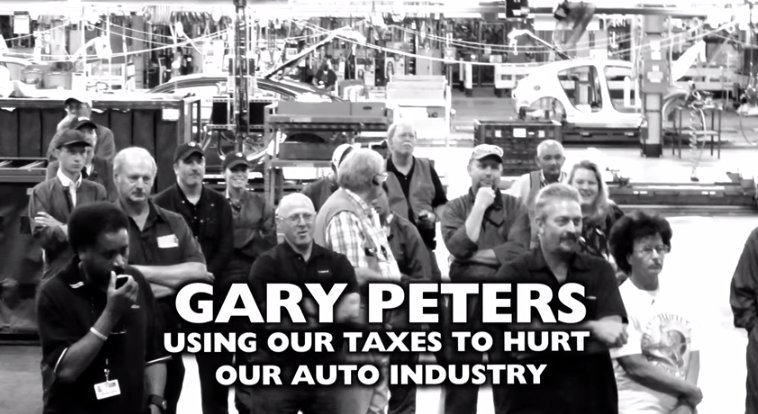 Nickowski appears in this still from "Bad Loans," second from right in the front row.
Land's attack on Peters' role in auto industry policy comes as her stance on the auto bailout is under scrutiny. When her campaign said last week that Land would have supported the 2009 federal bailout of the auto industry, Peters' spokeswoman accused her of trying to rewrite history. PolitiFact called Land's position a "full flop" after examining multiple remarks in which she said she would have preferred another plan, and agreed with Mitt Romney's stance against the bailout.
"It's insulting that Terri Lynn Land turned her back on Michigan workers by opposing the auto rescue but now is resorting to breaking the law and using our picture in her false ad without consent," Nickowski said in a statement Wednesday.
Land's campaign did not immediately return a request for comment.
The claims in "Bad Loans" center on Peters' support for a federal auto retooling loan program that awarded $529 million to Fisker Automotive. The hybrid car company went bankrupt last year and was sold to a Chinese owner, resulting in a $139 million loss to taxpayers. But it's not clear that the loan to Fisker had a negative impact on American autoworkers, the Detroit News said.
HuffPost Pollster's polling model gives Peters an 9 point lead over Land with less than a month before the election. The National Republican Senatorial Committee has canceled television spots in Michigan, pulling more than $850,000 in ads for Land, the Hill reported this week.
BEFORE YOU GO
PHOTO GALLERY
Senate Seats Up For Grabs In 2014