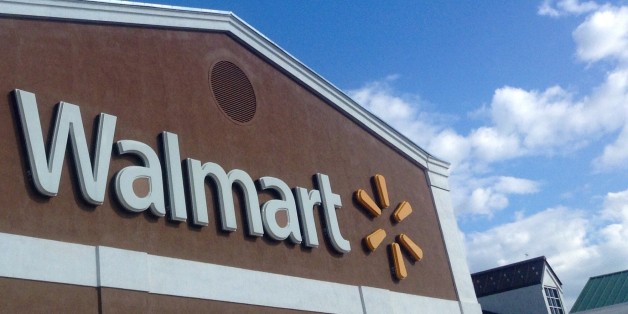 Just days after raising health-care costs, Walmart took to Twitter to argue that its health-care costs are still relatively low -- although there's a caveat.
Here's the tweet: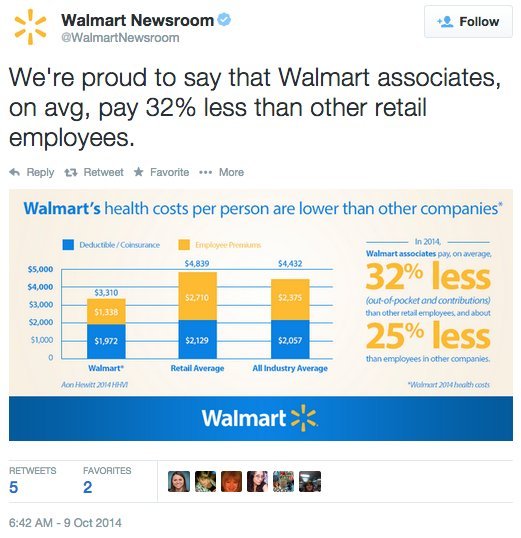 This came two days after Walmart's announcement on Tuesday that it had raised health-care costs for the bulk of its workers. Walmart also cut health-care coverage for employees working less than 30 hours a week -- about 30,000 employees.
The cost of Walmart's cheapest, most popular health plan for workers will go up by 19 percent, from $18.40 to $21.90 every two weeks -- a significant cost for a full-time worker who makes, on average, $12.92 an hour.
The caveat to Thursday's tweet is that Walmart's charts are based on numbers that don't take into account those changes.
Brooke Buchanan, a spokeswoman for the company, told The Huffington Post Thursday morning that Walmart's health-care plans will still be more affordable than the industry average, even after the changes. The numbers in the tweet do not reflect the company's coverage changes for 2015 because the company doesn't forecast costs for future years.
"We work hard to make our health care affordable for our associates," Buchanan said.
Walmart's benefit cuts and higher costs apparently did not go over very well with employees, who blasted them in interviews with Business Insider, saying they already can barely afford to buy the clothing they need to comply with the retailer's recent dress-code changes.
In response to follow-up questions, Buchanan wrote in an email to HuffPost that the tweet was not designed to respond to complaints about health-care cuts, but was part of a scheduled series of tweets announcing the open-enrollment period for Walmart employees to sign up for coverage for 2015.
"The part-time benefits was only one piece of the overall open enrollment announcement – unfortunately the media chose not to cover the rest," Buchanan wrote.
Another key thing to note is that the other change Walmart announced on Tuesday -- dropping 30,000 part-time workers from coverage -- probably won't leave many workers out in the cold. The Affordable Care Act, a/k/a Obamacare, could provide most workers with cheaper health plans.
Editor's Note: This story has been updated with details throughout, and the headline has been changed to characterize more accurately the timing of the tweet relative to the announcement of changes to Walmart's health care policies.