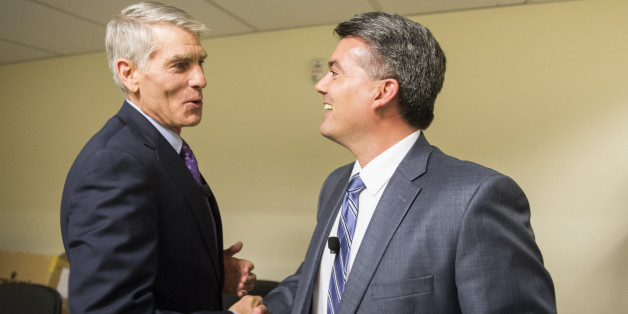 In what could be a big boost to his Senate bid, Rep. Cory Gardner (R-Colo.) received the Denver Post editorial board's endorsement Friday in a race that could decide which party controls Congress' upper chamber.
The paper wrote that Gardner, who is challenging first-term Sen. Mark Udall (D-Colo.), would provide "fresh leadership, energy and ideas" in Congress and be a more proactive voice for the state. The editorial argues that Udall "is not perceived as a leader in Washington and, with rare exceptions such as wind energy and intelligence gathering, he is not at the center of the issues that count -- as his Democratic colleague, Sen. Michael Bennet, always seems to be."
About half of the ads criticizing Gardner have focused on his past support for state-based personhood initiatives granting legal rights to fetuses, which medical organizations say could outlaw abortion and ban most common forms of birth control. Television spots have also hit Gardner for cosponsoring a federal personhood bill that contains similar language to the state initiatives. In response to those attacks, Gardner has touted his new support for making birth control available over-the-counter.
The editorial board criticized Udall for the Democratic strategy of highlighting Gardner's record on reproductive health issues, saying that it represents an "obnoxious one-issue campaign" that "is an insult to those he seeks to convince." It argues that Gardner is no "culture warrior," saying that he would "pose no threat to abortion rights."
The endorsement is notable given that the paper recommended Udall over former Rep. Bob Schaffer (R-Colo.) in 2008. Other papers in the state have split their endorsements this year. While The Durango Herald endorsed Udall, the Colorado Springs-Gazette picked Gardner.
HuffPost Pollster, which tracks and combines all publicly available polling, has Gardner leading Udall by just one percentage point with just 24 days until Nov. 4.
BEFORE YOU GO
PHOTO GALLERY
Senate Seats Up For Grabs In 2014