Arizona millionaire Gary Triano had just finished a round of golf when he got in his car to leave. Before he could start the ignition, someone activated a pipe bomb located on his passenger seat. The car exploded and Triano was instantly killed.
The 1996 murder is still raising questions 18 years later, despite two recent convictions in the case. On the next episode of CBS' "48 Hours," correspondent Peter Van Sant investigates the shady past of Triano and how his fraudulent back-door dealings may have led to his murder.
Pamela Phillips, Triano's ex-wife, was convicted in May of hiring the hit man who killed him. While she continues to maintain her innocence, prosecutors and a jury believed she was trying to collect a $2 million insurance policy that she had taken out only six weeks before the murder.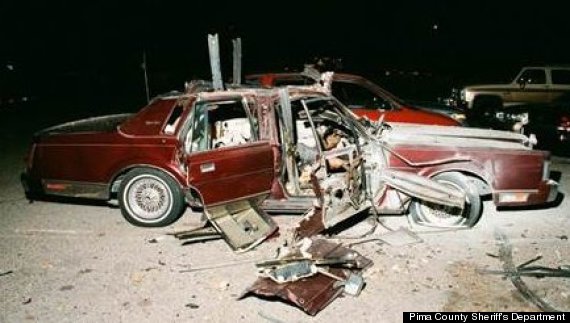 Gary Triano's car after a pipe bomb exploded inside, killing him instantly
Phillips and Triano were once glitzy socialites, schmoozing with industry titans like Donald Trump and making a fortune in real estate, financial developing and tribal gaming businesses.
Soon Triano's luck ran out. Excessive gambling caused him to owe $1.8 million to a Las Vegas casino. Hundreds of thousands of dollars were also owed to a group of Mexican investors. Powerful people were upset.
Phillips told "48 Hours" in her first interview since being convicted that her husband was the victim of a mob revenge killing.
"Before the bombing Gary was totally in fear – goin' around with a gun," Phillips says in the documentary. "He had life threats, I had life threats, the children had life threats – we're talking about Mexican mafia people you don't cross, there was serious, serious things going on."
Multiple interviews and collected evidence present more questions than answers in this documentary, including how a relatively ordinary man and convicted hit man -- Ronald Young -- could have created the sophisticated pipe bomb that blew up Triano's car.
Even Triano's childhood friend, Dr. Lawrence D 'Antonio, has expressed skepticism that Phillips was involved in the killing, claiming he saw a hit list with Triano's name at the top.
"[Triano was] rotten to the core," D 'Antonio says in the documentary. "He was a con man. He was a thief who would rob or steal from anybody…including his own family, his own wife."
Decide for yourself when the episode airs this Saturday at 10 p.m. ET.
Like Us On Facebook |

Follow Us On Twitter |

Contact The Author
BEFORE YOU GO