Normally we assume even the most lavish of illustrations, rendered by the most talented and inspired of artistes, cannot compare to the fanciful imagery that's yielded by the powers of the unbridled imagination. However, our most wondrous of hallucinatory visions have trouble comparing with the wildly intricate renderings of Danish artist Kay Nielsen.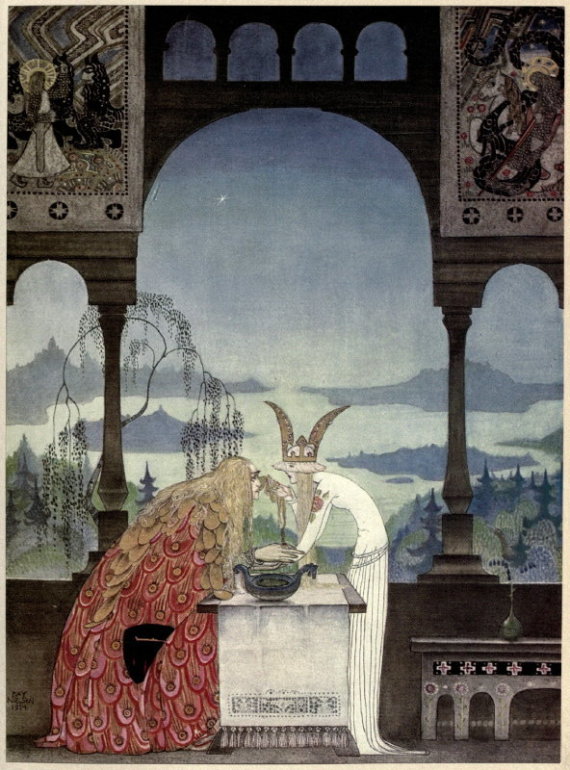 The King went into the Castle, and at first his Queen didn't know him, he was so wan and thin, through wandering so far and being so woeful.
Maria Popova on Brain Pickings alerted us to Nielsen's illustrations, beautifully complimenting a collection of Scandinavian fairy tales titled East of the Sun and West of the Moon: Old Tales from the North. The images, made in 1914, depict enchanted forests, opulent kings and gorgeous princesses in a decorative Art Nouveau palette.
Nielsen, who was active in what is now referred to as the "golden age of illustration" (lasting from the 1880s until shortly after World War I), also created illustrations to accompany "Arabian Nights," as well as fairy tales by the Brothers Grimm and Hans Andersen. He later went on to work for Disney; his work was featured in "Fantasia." See Nielsen's whimsical imagination run wild in the illustrations below and read the entire story for yourself here.
BEFORE YOU GO
PHOTO GALLERY
12 Illustrators You Should Know Right Now