This homeless man understands the meaning of selfless love. And Robyn Arouty, a portrait photographer and animal rescuer based in Houston, wears her affection for all animals on her sleeve. It was her innate sense of compassion that led to her latest rescue: two homeless pups outside of the city's train station.
During her lunch break on Oct. 4, Arouty was waiting for a train to pass along the tracks near her studio when she noticed the strays walking toward the moving train, she told HuffPost in an email. A man followed behind them, "holding a bag, looking generally tattered, not paying much attention to the dogs or much else," Arouty wrote in a Facebook post about the incident.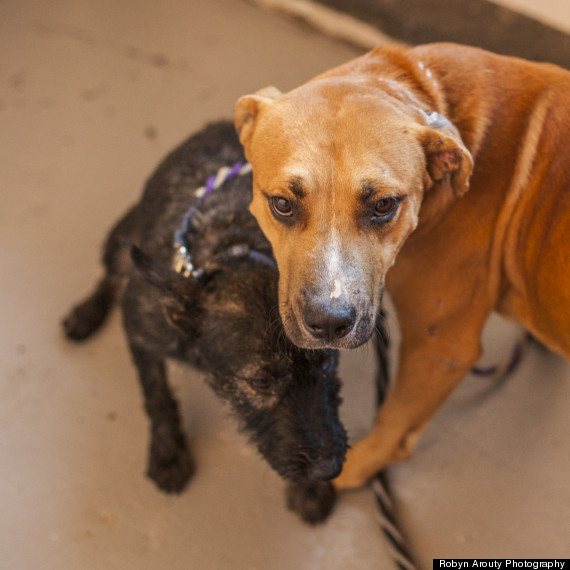 Courtesy of Robyn Arouty / Robyn Arouty Photography
After the train passed, Arouty asked the man if they were his dogs, and noticed that the animals were in need of medical attention. The brown male dog had infected scars, presumably from fights with other animals in his attempt to protect the black female dog.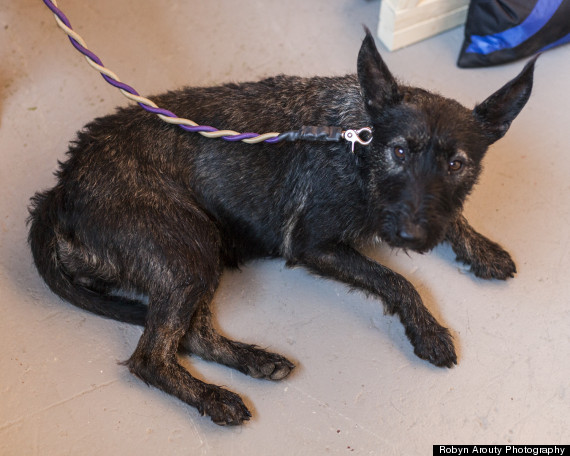 Courtesy of Robyn Arouty / Robyn Arouty Photography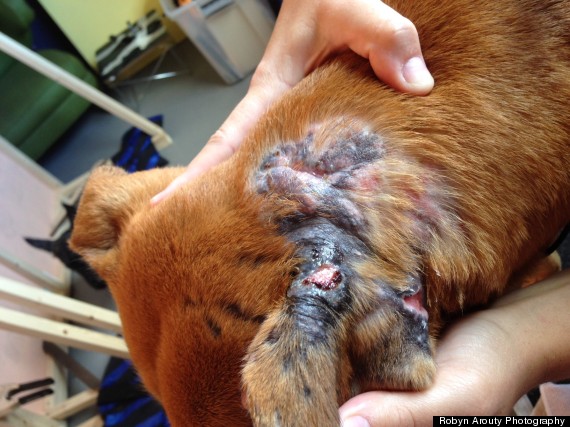 Courtesy of Robyn Arouty / Robyn Arouty Photography
The man introduced himself as David and claimed that they weren't his dogs, but then showed excitement when Arouty offered to give him spare leashes from her car.
"We spoke about his life situation and he admitted that he loves the dogs, but has been down on his luck and has nothing to provide for them properly," Arouty wrote. "He's been fearful of animal control taking them, but is struggling to get his life on track with no home and a history of alcohol abuse."
After listening to David's story, Arouty invited him back to her studio where she offered to care for the dogs temporarily, providing them with the veterinary care, and spay and neutering procedures they needed.
When David wasn't able to share their names with Arouty, she decided to give them new ones -- Madonna and Anthony Ciccone.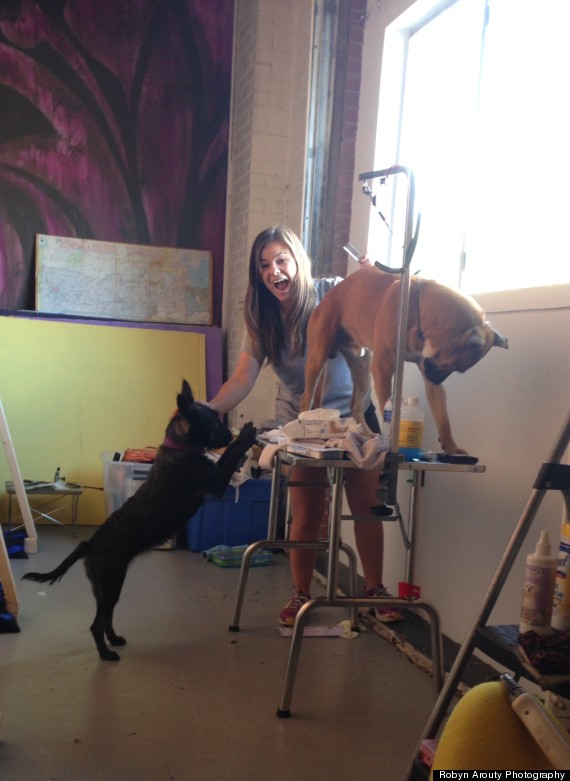 Courtesy of Robyn Arouty / Robyn Arouty Photography
Houston is home to as many as 1.2 million homeless animals. Dogs roam in packs -- "abandoned, abused, neglected, pregnant, in need of medical care," Arouty told HuffPost.
After taking in the two pups, Arouty took to PetCaring.com, a crowdfunding platform that caters specifically to pets and animals in need, to share this story and seek help for their necessary care. Over the course of the week, the public pooled enough money for the dogs' treatment, and Arouty took them to her local veterinary clinic for their spay and neutering procedures.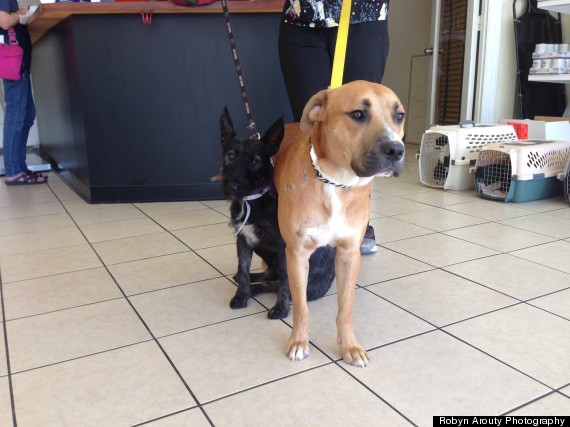 Courtesy of Robyn Arouty / Robyn Arouty Photography
"When I got back to the studio, David was there waiting," she told HuffPost. "He thanked me again and wanted to give his permission to re-home the dogs. He signed surrender forms and they will be available for adoption soon. He stated that he wanted the best for them. That's spay/neuter, meals, veterinary care, love and a roof over their heads. He knew this was best and didn't want anything standing in the way of their happiness and well-being ... This was clearly a difficult decision, but a selfless one too."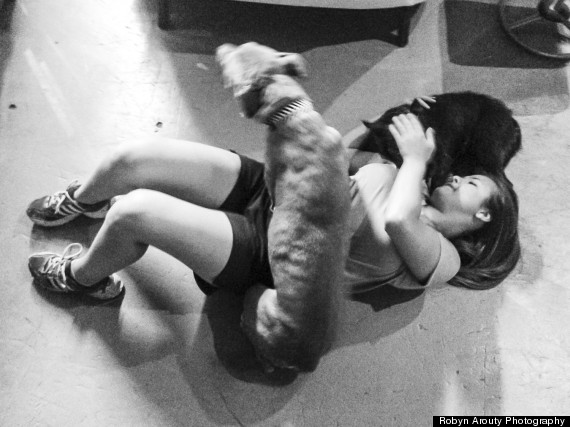 Courtesy of Robyn Arouty / Robyn Arouty Photography
To make a donation or to learn about fostering these pups, click here. To make a donation to Pets of the Homeless, a nonprofit that provides food and vet care to animals belonging to homeless people, click here.
BEFORE YOU GO
PHOTO GALLERY
The Story Of Eve And Dillon