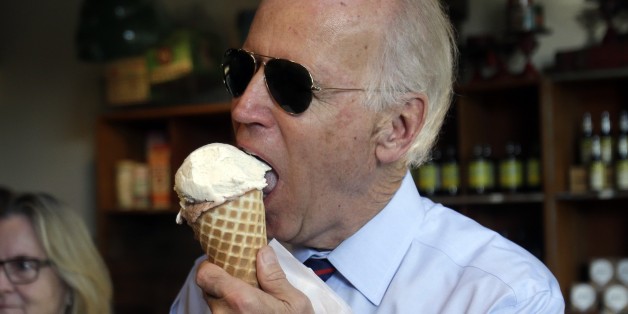 In this week's happenings on HuffPost Taste and Twitter, pictures of Vice President Joe Biden eating ice cream surfaced and the Internet basically exploded. So did we, as the "King of the Cone" flashed some cash while eating ice cream in his aviators, giving us the best meme photo of all time and this awesome Tumblr.
In less-than-awesome news, we found out that pumpkin pie doesn't really have any pumpkin in it, Japan is eating fried maple leaves without us, and that Southern Comfort isn't whiskey. It's been rough a rough week.
Luckily, Twitter was able to cheer us up with some truly hilarious tweets about food and drink, so we're going to go into the weekend feelin' good. Take a look and Bon appe-TWEET!
Mr. (v)Ice President … pic.twitter.com/svtsyaRRwJ

— Kiki Von Glinow (@KikiVonGlinow) October 9, 2014
I hope one day someone loves me as much as Joe Biden loves ice cream pic.twitter.com/T5kwwFiUNb

— Killian Walsh (@killianwalsh) October 10, 2014
Iced coffee in October.

~You do you~

— Starbucks Coffee (@Starbucks) October 7, 2014
I would rather listen to a baby cry than someone shaking a salad.

— kelly oxford (@kellyoxford) October 3, 2014
"Pizza is worth fighting for."

— Bob Ong Quotes (@BobOngPhrases) October 10, 2014
Currently eating string cheese and a Reese's with a cup of hot cocoa. I'm not sure how this happened.

— Kim Bhasin (@KimBhasin) October 6, 2014
Instagram was created for macaroons.

— Тристрам (@TristramPerry) October 5, 2014
. @chrissyteigen you can't "make" quiche. You're born quiche.

— Chris Lilley (@ChrisLilley) October 9, 2014
new rule: if your salad doesn't have dressing on it, you're allowed to eat it with your hands

— Alexis Kleinman (@alexiskleinman) October 8, 2014
accept pizza not apologies

— Tom (@itsonlytom) October 10, 2014
BEFORE YOU GO
PHOTO GALLERY
Unusual Ice Cream Flavors