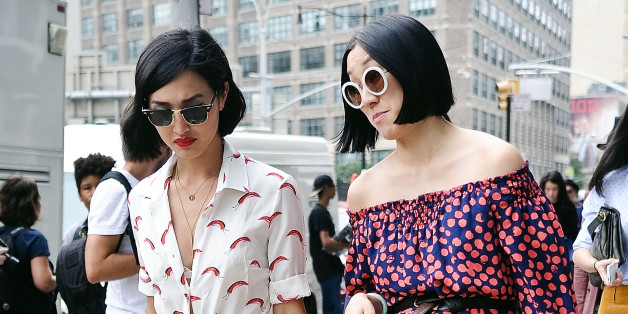 Now that fashion month is officially over and our feeds are no longer inundated with runway photos and videos, we can all take a step back to enjoy some comedic relief on Twitter.
We've told you before that people in the fashion industry are quite snarky, and we caught a few awesome tweets this week. Eva Chen made us LOL when she said "Jenna Lyons just revealed that as a teen she had conical teeth and bald spots on the back of her head. **There is hope for us all, guys**" -- we can always count on you, Eva.
For more great tweets from our favorite people on Twitter, scroll through the list below.
Spent 45 mins watching blackhead extractions on YouTube, now watching Fault in our Stars alone. Never, ever, EVER leave me alone again!

— Laurel Pantin (@LaPantin) October 6, 2014
What better way to end a long day than champagne cocktails and sniffing gorgeous perfumes - ER pic.twitter.com/VgrCeI9Rdy

— Jeannine Morris (@JeannineMorris) October 9, 2014
Me when I hate my outfit: http://t.co/zmgSp17kpq pic.twitter.com/PZfrg1c8Pb

— Man Repeller (@ManRepeller) October 9, 2014
Jenna Lyons just revealed that as a teen she had conical teeth and bald spots on the back of her head. **There is hope for us all, guys**🙌

— Eva Chen (@evachen212) October 8, 2014
Found some really fun street art while taking blog pics with @lydiahudgens! pic.twitter.com/9IWPFsDxuY

— nicolette mason (@nicolettemason) October 9, 2014
That moment when you're about to text @Cosmopolitan font to your mom and stop yourself because you realize she won't understand.

— Amy Odell (@amyodell) October 2, 2014
I hope that "sighing loudly" will finally be recognized as a sport by the 2016 Olympics.

— refinery29 (@Refinery29) October 9, 2014
If I'm having avocado toast (yum) at a NYC cafe, does officially make me a blogger?

— Gracey (@stripes_peonies) October 4, 2014
Just ate a hot dog wrapped in a pretzel. God bless America.

— Michelle Persad (@michelleapersad) October 8, 2014
Today I am wearing a tropical fish printed sweatshirt, flares and zig zag heels. Living, or deranged?

— Laura Brown (@laurabrown99) October 9, 2014
"You need to get your shit together and act like an adult. Go buy some fresh flowers"--my actual inner monologue

— Margaret Boykin (@margaretboykin) January 26, 2014
2004 vs 2014 pic.twitter.com/CxyP6SMkUz

— bryanboy (@bryanboy) October 8, 2014
BEFORE YOU GO
PHOTO GALLERY
Fashion Week Street Style