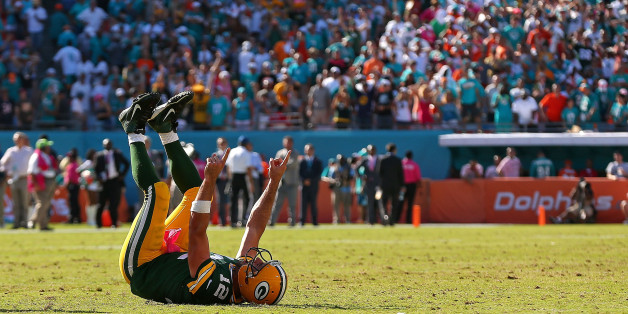 Aaron Rodgers took a page from Dan Marino's playbook to stun the Miami Dolphins. The Green Bay Packers' quarterback set up a game-winning touchdown pass in the final minute with a fake spike play that will seem familiar to Dolphins fans -- and any remaining supporters of the New York Jets.
"That was some freestyling right there," Rodgers said after the Packers' 27-24 win.
With the Packers trailing the Dolphins, 24-20, and just 15 seconds remaining in the fourth quarter on Sunday at Sun Life Stadium in Miami, Rodgers acted as if he were about to spike the football to stop the clock. With most of the players on the field seeming to expect that to happen when the ball was snapped at the Dolphins' 16-yard line, Rodgers turned to his right and fired a pass to wide receiver Davante Adams, who got out of bounds to stop the clock after picking up 12 yards. On the next play, Rodgers connected with tight end Andrew Quarless on a game-winning touchdown pass with just three seconds remaining.
Fake spike to set up Game-Winning TD?!

Aaron Rodgers is a bad, baaaaad man. #GBvsMIA http://t.co/eRnZD59Hnn

— NFL (@nfl) October 12, 2014
The Packers' penultimate play was reminiscent of a trick play that Marino, the Hall of Fame quarterback who spent his entire 17-season career with the Dolphins, executed against the Jets in 1994. With the Dolphins trailing, 24-21, in the final minute of a game between the rivals, Marino yelled "Clock, clock, clock!" while appearing to indicate to teammates he was about to spike the ball on the ensuing play. Instead of spiking it, Marino caught the Jets by surprise with a short touchdown pass to Mark Ingram to lift the Dolphins to a 28-24 win.
BEFORE YOU GO
PHOTO GALLERY
PHOTOS: NFL Week 6