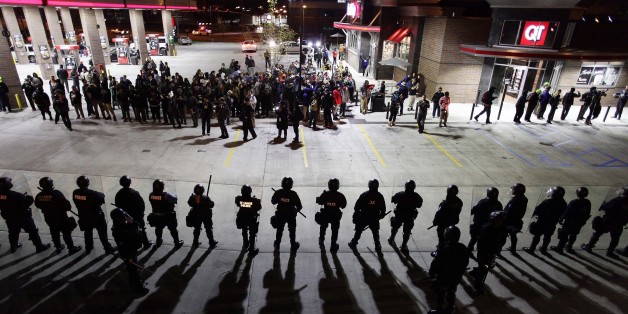 ST. LOUIS -- A nonviolent sit-in at a QuikTrip gas station was interrupted early Sunday when a police officer repeatedly jabbed a protester with a baton and other officers pepper-sprayed the crowd.
Roughly 100 protesters were at the sit-in, which began at about 1 a.m. on Sunday. Arrests did not start until nearly an hour later, although police were already waiting at the gas station when protesters arrived. According to the St. Louis Police Department, 17 protesters were arrested, although organizers of the demonstration said the number was at least 19.
Protesters made the QuikTrip their rallying point in an allusion to another QuikTrip station in Ferguson, Missouri, that served a similar role for demonstrators in the wake of Michael Brown's death in August. That station was burned to the ground in the riots that took place after Darren Wilson, a white police officer, shot and killed Brown, an unarmed black teen. By contrast, the protesters in St. Louis this weekend could be heard reminding each other several times that their demonstration had to remain peaceful.
Instead of waiting to issue a conventional press release about the incident, St. Louis police Chief Sam Dotson took to Twitter early Sunday just after the confrontation -- the first time he has live-tweeted a protest in the middle of the night.
Protestors now throwing rocks at the police. Arrests have been made for continued illegal behavior.

— Chief Sam Dotson (@ChiefSLMPD) October 12, 2014
Multiple protesters who were at the demonstration said they didn't see any rocks being thrown. Videos taken at the scene did not capture any violence from protesters.
#ferguson violent arrest #fergusonoctober VIDEO
The QuikTrip sit-in was part of Ferguson October, a multi-day event that brought hundreds of visitors to St. Louis over the weekend to protest social injustice and police brutality. Speaking before the QuikTrip sit-in, many visiting protesters described the weekend as "inspirational."
After the police confrontation at the QuikTrip, protesters regrouped in front of a memorial to Vonderrit Myers, a black teenager shot and killed by an off-duty police officer in St. Louis last week. There, the protesters discussed strategy and the importance of the demonstration. The QuikTrip sit-in had been kept a secret so as to catch police by surprise, though this was evidently unsuccessful.
"We know that QuikTrip has a lot of meaning. Therefore, when we all gathered on the lot, cops didn't know what to expect," a local activist leader told protesters who had been pepper-sprayed. "It was powerful for us to just sit down."
The city's Police Department said later in an emailed statement that there were "no reports of injury or property damage" following the protest.

BEFORE YOU GO