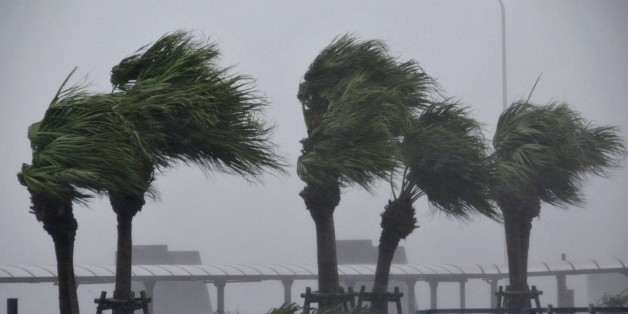 TOKYO, Oct 12 (Reuters) - Typhoon Vongfong battered the southern Japanese island of Okinawa on Sunday, injuring 31 people and knocking out power before losing intensity and getting downgraded to a tropical storm.
Around 210,000 people from 90,000 homes were ordered to evacuate in Okinawa, 1,600 km (1,000 miles) south of Tokyo, before it was hit by what was Japan's strongest storm this year.
Some of the injuries were caused by strong winds. On Sunday, wind-speeds weakened significantly on Saturday's peak of 234 kilometers an hour (146 mph), which had made Vongfong into a "super typhoon."
Airlines JAL and ANA canceled more than 400 flights due to strong winds, while the bullet train was halted in Kyushu after the wind blew a plastic sheet onto the aerial wires of the line.
Early on Sunday, parts of Okinawa received more than six centimeters of rain within an hour while some parts of western areas of Japan's four main islands were forecast to receive total rainfall of over 50 centimeters, with the rain intensifying as the storm makes landfall on Monday in Kyushu.
The storm is then expected to cut across the biggest of Japan's islands, Honshu, causing heavy rain in Tokyo, before exiting from the north coast, Japan's Meteorological Agency said.
Vongfong, which means wasp in Cantonese, was following the path of Phanfone, a typhoon that slammed into Japan's main island on Monday, disrupting transport and prompting evacuation advisories for hundreds of thousands of people. Seven people were killed, including three U.S. airmen swept out to sea and a man who died while surfing. (Reporting by Sophie Knight; Editing by Richard Borsuk)
BEFORE YOU GO
PHOTO GALLERY
Animal Moms And Babies