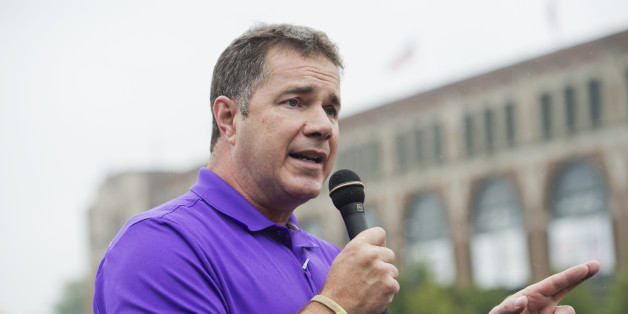 A new survey confirms a very close contest in Iowa. Polls point to a narrow Republican advantage in the battle for the Senate -- and a slim majority of Americans expect them to win. And early voting suggests higher than usual turnout in key battleground states. This is HuffPollster for Monday, October 13, 2014.
IOWA POLL SHOWS BRALEY REBOUND A new Des Moines Register/Bloomberg Politics Iowa Poll finds the Iowa Senate candidates separated by just a single percentage point, with 47 percent for Republican Joni Ernst and 46 percent for Democrat Bruce Braley. In the last Register poll, conducted two weeks ago, Ernst held a 6 percentage point lead. The new poll roughly matches the current estimate of the HuffPost Pollster poll tracking model, which also gives Ernst a roughly 1 percentage point edge, as of this writing, and a barely better than 50/50 chance of winning in November. [Des Moines Register, Pollster Iowa chart]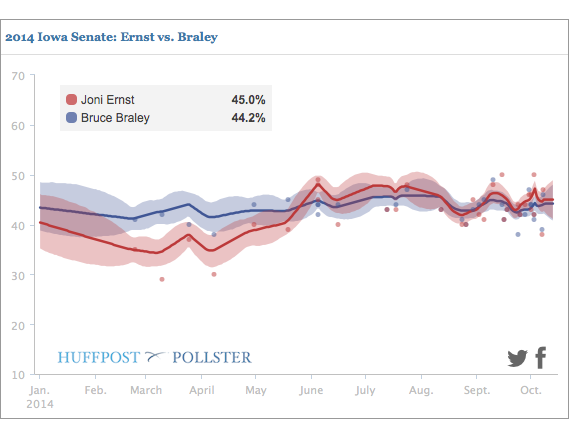 Braley advantage with early voters... - Jennifer Jacobs: "The Democrats' aggressive early voting push is aiding Braley, an eight-year congressman from Waterloo. They're rounding up ballots from Iowans who would not otherwise have voted...Among the 15 percent of poll respondents who say they have already voted, Braley leads convincingly, 56 percent to 38 percent....The poll shows that among likely voters who say they definitely still plan to vote, Ernst holds a 5 point lead — 48 percent to 43 percent."
...and on issues - Jacobs: "Likely voters find more of Braley's policy positions closer to their own views than Ernst's positions among 10 issues tested. A majority of likely voters favor six of Braley's stances to four of Ernst's." The Register poll tested each issue without candidate names attached. They found Braley positions winning majority support on Social Security, abortion, climate change, financial industry reform, marriage equality and raising the minimum wage. Ernst positions tested better on taxes, repealing Obamacare, gun rights and immigration. [Des Moines Register]
MORE NEW POLLING SHOWS COMPETITIVE BATTLEGROUND RACES - Three new polls, conducted by Harrison Hickman (D) for the pro-Keystone Consumer Energy Alliance, find relatively tight races for Senate in Alaska, Georgia, and Louisiana. The surveys give David Perdue (R) a 2-point edge over Michelle Nunn (D) in Georgia, and Dan Sullivan (R) a 5-point lead over Mark Begich (D) in Alaska. In Louisiana, Mary Landrieu (D) leads by 10 points in the Election Day primary, while Cassidy has a 1-point edge in a head-to-head runoff. [Energy Alliance]
NATIONAL SENATE OUTLOOK - The current polling snapshot illustrates the narrow but plausible path Democrats have to retaining Senate control. Democrats must hold their narrow leads in New Hampshire and North Carolina while overcoming slight Republican edges in Iowa and Colorado. To keep a Senate majority -- 50 senate seats that would allow Vice President Biden to break a tie in their favor -- Democrats would also either need independent Greg Orman to win in Kansas and opt to join their caucus or for one of their candidates to rally from polling deficits in Alaska, Georgia, Kentucky or Louisiana. Given the very close nature of all of these contests, but especially in Iowa, Colorado and Kansas, our model continues to find considerable uncertainty about the outcome, giving the Republicans a 57 percent probability of winning a majority. Our model takes into account the potential for real-world polling error, and poll averages can easily miss by a percentage point or two on the margin in the final weeks of the campaign, with errors of 3 or 4 percentage points less frequent but still very plausible. [HuffPost Senate Forecast]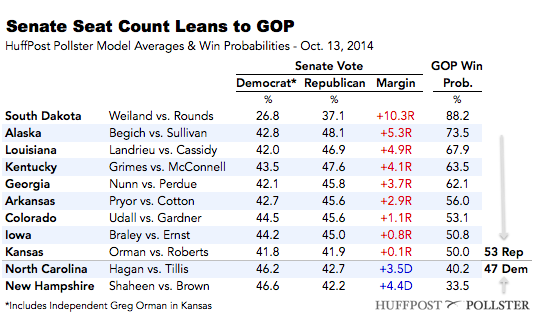 'EARLY VOTING PICKING UP STEAM' - Michael McDonald: "With a little more than three weeks to go, voters have cast 642,831 ballots in all reporting jurisdictions....With so much early voting activity over 2010 in the key Senate battlegrounds, perhaps the most prudent assessment is that turnout will be high in these states with competitive races....Iowa remains ground zero for the fight for the Senate, and for early voting mobilization activities. As of Friday, 119,141 Iowans had voted in the 2014 general election, representing 10.5 percent of the total vote in 2010. If past patterns hold, the pace of early voting will continue to rise as the election nears. So, either an unprecedented number of Iowans will vote early in a midterm election, overall turnout will be exceptionally high, or (what is most likely) both will happen." [HuffPost, McDonald's Election Project early voting statistics]
AMERICANS PREDICT GOP SENATE TAKEOVER - Lydia Saad: "Fifty-two percent of Americans say they expect the Republican Party to win in the U.S. Senate, while an even larger majority, 63%, say Republicans will retain their majority in the House of Representatives….Partisans on both sides show signs of wishful thinking when assessing which party will win control of the U.S. House and Senate this fall....The more objective predictions may be those made by political independents, which mirror the national averages. More than half of independents predict Republicans will win the Senate, and a solid majority -- 61% -- say Republicans will win the House….This is the first time Gallup has asked Americans about the likely party outcome in the U.S. Senate, and thus it has uncertain value as a forecasting tool. However, as Gallup has noted in the past, Americans' predictions for the U.S. House, albeit limited in number, have been remarkably accurate, aligning with the winning party in all five midterms in which the question was asked. This includes the 2010 and 2006 midterms -- particularly notable since party control changed after both elections -- as well as in three earlier midterms: 1962, 1958, and 1946." [Gallup]
HUFFPOLLSTER VIA EMAIL! - You can receive this daily update every weekday morning via email! Just click here, enter your email address, and and click "sign up." That's all there is to it (and you can unsubscribe anytime).
MONDAY'S 'OUTLIERS' - Links to the best of news at the intersection of polling, politics and political data:
-The Election Lab modelers explain why their forecast gives the GOP a 95 percent chance of winning. [WashPost]
-National and state polls now point to a narrow GOP advantage in 2014. [538]
-The "underlying metaphysics of probability" means we won't know which model is right, says Matt Yglesias. [Vox]
-Polling averages are more error prone in contests featuring serious independent or third party candidates. [Daily Kos]
-David Winston (R) talks to Anthony Salvanto about who the real swing voters are. [CBS News]
-Americans are finally beginning to notice improvement in the economy. [YouGov]
-One in four Americans with private health insurance don't have much confidence in their ability to pay for major, unexpected medical expenses. [AP]
-Frank Newport finds attitudes toward the ACA are 'frozen in negative state." [Gallup]
-Alan Reifman ponders novel question wording on opposition to ACA from the political left. [Health Care Polls]
-Jonathan Bernstein defines a wave election as one in which late poll movement favors one party. [Bloomberg]
-The Roper Center remembers polls asking about Columbus and Columbus Day. [@RoperCenter]
BEFORE YOU GO
PHOTO GALLERY
Distinguishable Members Of Congress