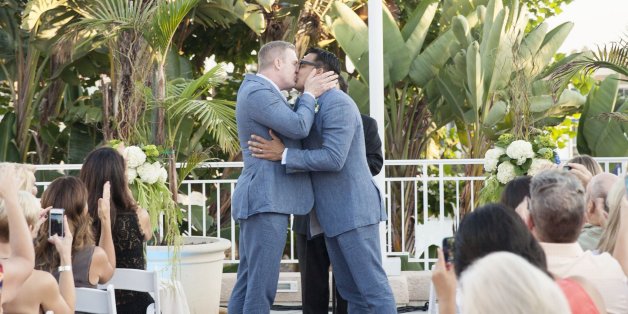 After a gay couple's wedding ceremony was interrupted by homophobic jeers, the local community rallied around the couple and decided to conquer hate with a celebration of love.
Arizona residents Oscar De Las Salas and Gary Jackson married on the evening of Aug. 17 at Centennial Park on Coronado Island, near San Diego, California. The wedding was an intimate one, with just 27 family and friends in attendance. All was going well, until they heard hateful slurs, like "homos" and "fags," coming from a man on the balcony of a nearby condominium complex.
"That day was filled with well-wishers -- even the ferry boat captain was wishing us well -- everyone was so positive ... We didn't expect anything like this," Jackson told The Huffington Post. "I looked at Oscar and I could see he was getting angry. I just made the decision that we were going to continue with this. This was our day. We weren't going to let the person take the power from us."
De Las Salas penned an article about the incident for Gay San Diego. The story went viral, and the two received more than 3,700 emails and Facebook messages from around the world. That is how they came in contact with Coronado resident Alisa Kerr. Kerr wanted to make up for what happened to the newlyweds by throwing them a second wedding party.
On Saturday, the couple headed to the Loews Coronado Bay Resort, where they were greeted by supporters -- most of whom they had never met -- to join together for a "celebration of love." The mayor of Coronado, Casey Tanaka, officiated a vow renewal ceremony at sunset, and a reception followed.
(Story continues below)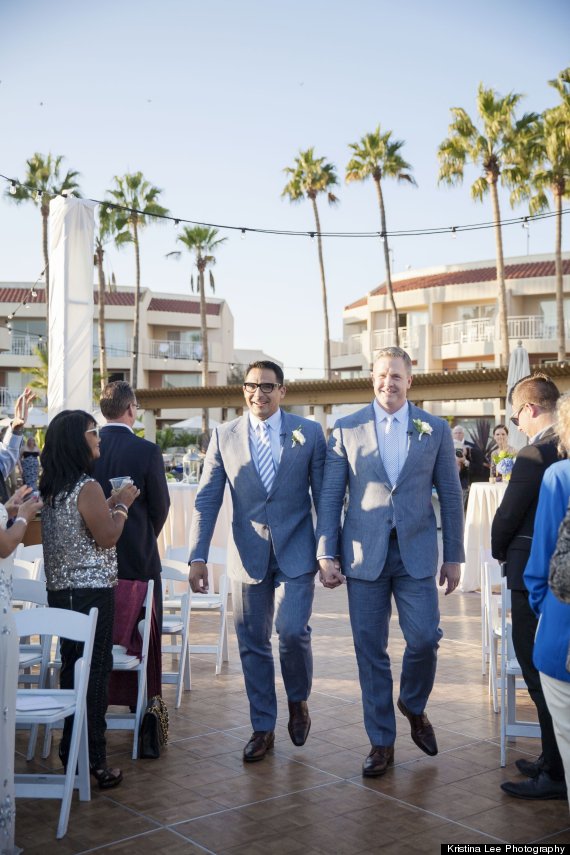 "It was humbling and emotional for us to get the meet so many of the people of Coronado, and hear their individual stories of how this incident in the park on that first wedding day and the response from the community had touched them on a personal level," Jackson said. "We had no idea the impact that this had on so many people across their community - and we were sincerely touched."
Kerr's intention was to show De Las Salas and Jackson the true character of the Coronado community.
"The residents are one of the things that make Coronado such a beautiful place and we are so happy we had the opportunity to share that with Oscar, Gary and everyone else who has shown such an interest in this story," she told HuffPost. "Oscar and Gary's memories of this community will now be counted among some of the happiest in their love story. The mayor gave them the keys to our city and we have given them a place in our hearts."
(Story continues below)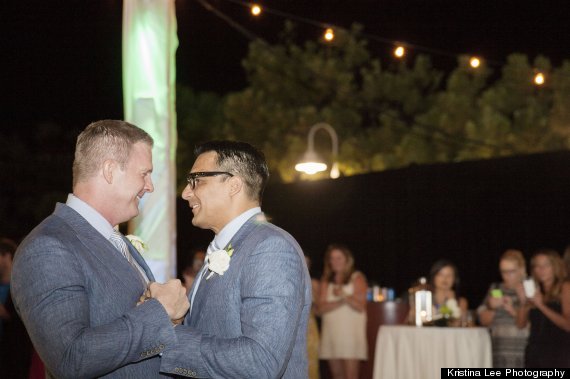 De Las Salas and Jackson hope that in sharing their story, other same-sex couples might not have to face hatred in the future. They said the celebration of love spoke to the promise of a better tomorrow.
"With all that has happened this past couple of weeks with the progression of same-sex marriage bans being struck down across the nation, it was poignant that this event brought out so many people who believe passionately in equal rights and fairness, and allowed them to be more vocal about equality in love," Jackson said. "We hope that the positive outcome of this whole incident brings more of the tolerance and belief in equal rights to the vocal majority and relegates the haters and bigots to what they are: irrelevant noise."
Check out all the photos at Kristina Lee Photography.
PHOTO GALLERY
Oscar and Gary: Celebration of Love