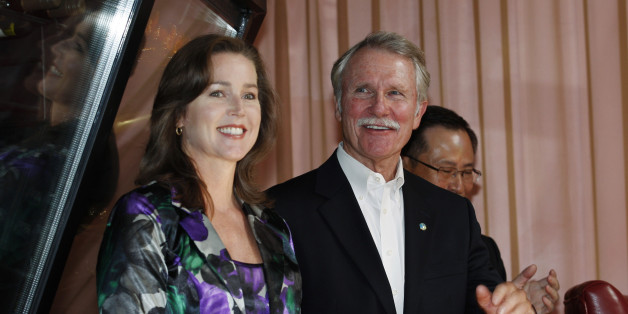 By Courtney Sherwood
PORTLAND, Ore., Oct 13 (Reuters) - Oregon Governor John Kitzhaber (D) asked a state ethics commission on Monday to review his fiancée's consulting business and how it might affect her role as first lady, days after her admission of an illegal marriage disrupted the Democrat's re-election bid.
Cylvia Hayes tripled her 2012-2013 income to at least $85,000 via consulting contracts with organizations seeking to influence state policy, the Willamette Week newspaper reported last week, adding that state-paid staff had given administrative support to Hayes' business.
Hayes is not a state employee and does not collect a state paycheck. But bowing to political pressure, Kitzhaber's general counsel, Liani Reeves, asked the Government Ethics Commission to rule on whether Hayes is a public official and thus subject to state ethics statutes.
"If so, we are seeking an additional opinion on whether the circumstances indicate that Cylvia Hayes used her position as the First Lady of Oregon to benefit herself financially or otherwise violated state ethics," Reeves wrote in a letter to the commission.
Hayes offers environmental consulting services and books public appearances through her business, 3E Strategies. She and the governor's office did not immediately respond to requests for comment.
As the governor's partner, she has toured the state at his side, delivered speeches and championed anti-poverty initiatives.
On Friday, Republican Dennis Richardson, Kitzhaber's opponent in the November election, called on the governor to appoint a special prosecutor to look into the conflict-of-interest allegations.
"I am concerned that she has used her access for personal gain," Richardson said in a debate. "No one is above the law, not the governor, not the first lady, no one else."
Richardson has said he would not make a campaign issue of Hayes' recent admission that she married an Ethiopian immigrant in 1997 in exchange for $5,000.
A tearful Hayes told a news conference last week the 1997 "marriage of convenience" took place when she was 30 and both she and the 18-year-old student, who was seeking permanent residency status, were attending Washington state's Evergreen State College. The pair divorced in 2002.
Kitzhaber, who is seeking an unprecedented fourth term, said on Friday he was pained by his fiancée's admission, but indicated he still supported her.
Kitzhaber leads Richardson in opinion polls by nearly 10 points, according to the latest average by Real Clear Politics. (Reporting by Courtney Sherwood in Portland, Ore.; Editing by Eric M. Johnson and Peter Cooney)
BEFORE YOU GO
PHOTO GALLERY
United States Governors