According to the American Academy of Pediatrics, sleep-related factors are a leading cause of infant death. Children's Healthcare of Atlanta's "Safe Sleep" campaign aims to raise awareness and educate parents about good sleeping habits for babies.
As part of the campaign, the hospital has released a photo series entitled "From the NICU to the Moon." The images in the series show five newborns in the NICU sleeping safely on their backs without any potentially harmful blankets or toys. Whimsical drawings of the dreaming babies' bright futures are superimposed on the photos, depicting a possible career for each one -- astronaut, ballerina, chef, doctor, and olympian.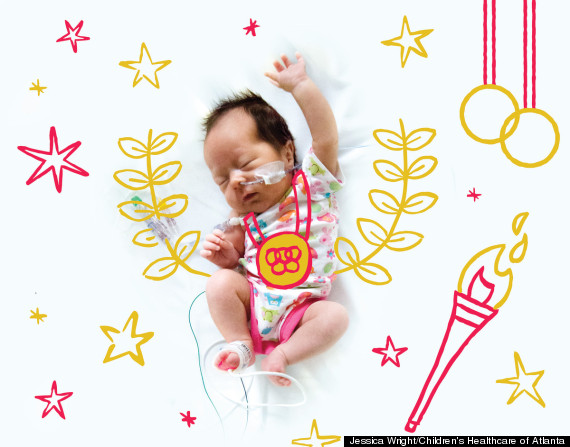 The leader of the "Safe Sleep" campaign, John Zetzsche, told The Huffington Post in an email that the photo series began with a call to NICU nurses at Children's Healthcare of Atlanta at Scottish Rite. "We told them we wanted to photograph babies sleeping safely in their incubators and illustrate what big things they have in store for the world," he explained. The nurses loved the idea and identified five families who were equally excited to have their newborns participate.
Each of the babies was born between 25 to 37 weeks gestation, "with legs barely thicker than a pencil," NICU nurse Jessica Wright wrote in her blog post on the series.
When it came time to photograph the newborns, "we quickly picked up on their different personalities," Zetzsche said. "Some love to be held, some had great intensity in their eyes when they were awake. One in particular, Future Gymnast, loved to be tightly swaddled in what her primary nurse deemed her 'own little nest.'" The illustrators used stories from the babies' families and nurses to come up with a future career for each one.
In addition to demonstrating what a safe sleeping environment for babies looks like, Zetzsche says the photo series was meant "to show that our NICU babies are poised to make a big impact on the world." He explained, "In just a couple of days, these babies have helped connect millions of people with tips meant to help keep other babies safe so that they can go on to accomplish their dreams."
According to Zetzsche, all five of the babies photographed in the NICU "are doing great!" Last week, "Future Astronaut" went home with his family, he said, adding that "rumor has it 'Future Ballerina' will likely be the next to head home."
PHOTO GALLERY
Preemie Babies Dream Big In Sweet Photo Series
H/T BabyCenter
Like Us On Facebook |

Follow Us On Twitter |

Contact HuffPost Parents
BEFORE YOU GO
PHOTO GALLERY
Kids Doing Adult Things