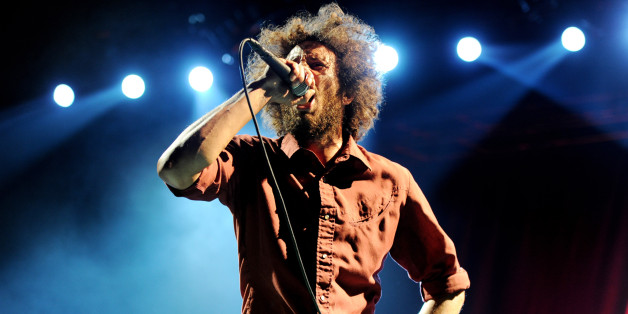 Run The Jewels is possibly the most dynamic, hard-hitting duo in hip-hop today, and Killer Mike and El-P's new "RTJ2" track, "Close Your Eyes (And Count To F--k)," combines their intensity with one of the loudest, angriest and most inspiring vocalists to ever pick up a mic: Zack de la Rocha.
The Rage Against the Machine frontman hasn't been too active in music since the 2008 self-titled EP of his project "One Day as a Lion." Despite any absence, La Rocha is as furious as ever, spitting shrapnel lines with Killer Mike and El-P that target everything from preachers and politicians to corporations and prisons:
Dump cases with face and the cop pleas when we seizing a pump
With reason to dump on you global grand dragons
Still pilin' fast, plus Afghani toe taggin'
Now they trackin' me and we bustin' back, see
The only thing that close quicker than our caskets be the factory
El-P spoke to BuzzFeed about how the collaboration came about, explaining that he and La Rocha have more unreleased music from years back:
"We worked on music together in the late '90s after Rage broke up, but it never came out," El-P said. "We remained friends, though, and when I was in L.A. working on the record I bumped in to him literally on the way to the studio. He came by and listened to what we had and a day later was recording with us."
In other Run The Jewel news, the duo's "Meow The Jewels" Kickstarter has now surpassed three-quarters of its goal. What was initially a crowdfunding package joke, the duo has promised to re-record their "RTJ2" album with "nothing but cat sounds for music," and all funds raised are being donated to a charity directly benefiting the families of Eric Garner and Mike Brown. Just Blaze, The Alchemist, Geoff Barrow, Skywlkr, Zola Jesus, Nick Rook, Baauer, Prince Paul, Dan The Automator, Boots and Solidified Sun have all vowed to help El-P with production if the project is fully funded.
Fans can now preorder "RTJ2," which drops on Oct. 28.

BEFORE YOU GO
PHOTO GALLERY
Artists To Know In 2014