TOP STORIES
FIRST CASE OF EBOLA CONTRACTED IN U.S. "A Texas health worker has contracted Ebola after treating a Liberian who died of the disease at a Dallas hospital last week, raising concern about how U.S. medical guidelines aimed at stopping the spread of the disease were breached." Officials at the Centers for Disease Control and Prevention believe a breach in protocol took place, but have yet to identify what it was. The CDC Director warned that more Ebola cases could emerge this week. The Director of the National Institutes of Health believes if not for budget cuts, the NIH would have an Ebola vaccine. Here's how health workers are advised to safely treat the deadly virus. This is what it feels like to find out your neighbor contracted Ebola. And airport screenings at the four remaining "gateway airports" will begin Thursday. [Reuters]
TURKEY BEGINS TO BOW TO U.S. PRESSURE "Turkey will let U.S. and coalition forces use its bases, including a key installation within 100 miles of the Syrian border, for operations against Islamic State militants in Syria and Iraq, American defense officials said Sunday. But progress in negotiations with Turkey — including Ankara's agreement to train several thousand Syrian moderate rebels — may not be enough to stop the massacre of civilians in Syria's border town of Kobani, where intense fighting continues." The Chairman of the Joint Chiefs said he didn't see a reason to have U.S. troops on the ground fighting ISIS yet. But as the terrorist group continues to advance, the U.S. airstrike strategy is coming under fire. [AP]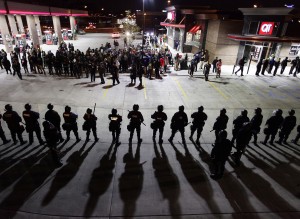 POLICE PREPARE FOR 'MORAL MONDAY' FERGUSON PROTESTS Protesters are keeping their plans for today's events under wraps, telling the public "we want to make sure people are uncomfortable, and one of the things that makes people the most uncomfortable is the element of surprise … We don't want to set ourselves up for failure by going to an action and the police are already there." [USA Today]
MOSCOW AND KIEV PREPARE FOR NEW TALKS "Ukraine and Russia took steps to reduce tensions in this country's embattled eastern regions, as their presidents prepared to meet this week. In Moscow, a Kremlin spokesman said President Vladimir Putin had ordered the withdrawal of thousands of troops massed on Ukraine's border." [WSJ]
JUDGE ELIMINATES ALASKA'S GAY MARRIAGE BAN In 1998, Alaska was the first state to ban gay marriage. At the time, the state said the ban "does not target anybody or deny anybody their rights." [CNN]
SILENCERS LEAD TO PENTAGON SECRETS "The mysterious workings of a Pentagon office that oversees clandestine operations are unraveling in federal court, where a criminal investigation has exposed a secret weapons program entwined with allegations of a sweetheart contract, fake badges and trails of destroyed evidence." [Story, Image via WaPo]
SUSAN RICE: 'NO INDICATION KIM JONG UN DEPOSED' "We have not seen any indications of a transfer of power at this point in North Korea that we view as definitive," said National Security Advisor Susan Rice. "But we'll continue to watch it carefully." [HuffPost]
1 IN 8 SIDS DEATHS OCCUR ON SOFAS In a new study, researchers determined that one out of every eight sudden infant death syndrome fatalities occurs when infants are sleeping on sofas. Dr. Jeffrey Colvin, the pediatrician who ran the study, said infants "need to sleep alone, on their backs and in a crib, and it doesn't matter if it's for a nap or overnight." [NYT]
WHAT'S BREWING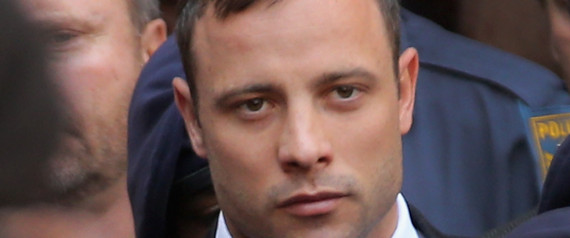 OSCAR PISTORIUS SENTENCED THIS WEEK The Blade Runner could get anywhere from a suspended sentence to 15 years. [AP]
DRUGS IN LYRICS Beastie Boys win for the most weed "drug talk." No one is surprised. [HuffPost]
TOY STORY RETURNS For a Christmas special that'll air December 2 on ABC -- to infinity and beyond! [Vanity Fair]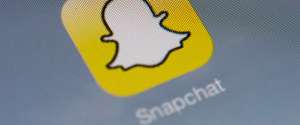 EVEN YOUR SNAPS AREN'T SAFE Named the "Snappening," 4chan.org potentially has over 200,000 hacked Snapchats. [WaPo]
YOU CAN STREAM 'ARE YOU AFRAID OF THE DARK?' Every single episode is available on YouTube. You're welcome. [HuffPost]
PRIVACY TIPS FROM EDWARD SNOWDEN Say goodbye to Google, Facebook and Dropbox. [TechCrunch]
EATING IN BED IS BAD Do you want cockroaches in your sheets? [HuffPost]
ON THE BLOG
'WHEN EBOLA COMES TO CHURCH' "Every day, each of us faces decisions about whether to exclude or include, whether to remove ourselves from other people or to draw closer to other people. How we make those decisions often turns on how we have been taught … What we've learned in recent weeks is that there's a flip side to this truth as well: When we're carefully taught to love rather than hate, when we're carefully taught to care rather than shun, it shows up in our actions. And in times of crisis -- like when Ebola comes to church -- what we've been taught pops into full view." [HuffPost]
BEFORE YOU GO
~ Indigneous People's Day or Columbus Day?
~ Blake Lively shared even more baby bump photos!
~ When you're Jay Z, Beyoncé and Blue Ivy, you can see the Mona Lisa without the plebeian crowds.
~ If you feel something crawling in your nose, it could be a leech.

~ Marvel finally revealed what "Daredevil" will look like.
~ We can't get over the beauty of the new and improved gif.
~ This is how you feel about brunch when you have kids.
~ Be on the lookout for smoke bomb-throwing sewer rats.
~ And you need to up your pumpkin carving game.