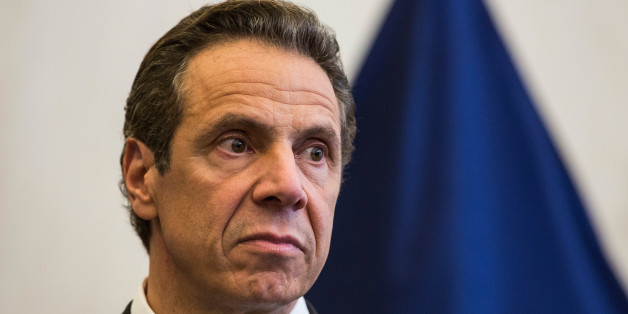 In his new memoir, New York Gov. Andrew Cuomo accuses a reporter of breaking New York law against eavesdropping after one of Cuomo's aides accidentally allowed him to listen in on a private campaign meeting -- four years ago.
The memoir, titled All Things Possible, was released Tuesday. The Democratic governor is running for re-election.
The incident took place during Cuomo's gubernatorial run in 2010. Ken Lovett of the New York Daily News had placed a call to the cell phone of Cuomo campaign aide Josh Vlasto. In a Tuesday story in the Daily News, Lovett recalled that Vlasto, who was in the middle of a meeting with Cuomo and other campaign advisers, meant to send Lovett straight to voice mail but instead unintentionally connected the call. Lovett did not alert Vlasto to his error. Instead, the reporter listened and took notes on the meeting, during which Cuomo fumed colorfully about how to respond to a recent attack from his Republican opponent.
GOP candidate Carl Paladino had written that Cuomo, then New York state's attorney general, didn't "have the cojones" to face him in a debate.
"If a guy says you have no cojones, how do you punch him back, call him an a**hole?" Cuomo said during the meeting. Lovett featured the comment in a front-page story the next day.
Cuomo wrote about the incident in his new book, calling it "a curious stunt by Lovett, given that he was violating the New York criminal law against eavesdropping."
On Tuesday, Lovett defended his actions and wrote that four years ago Cuomo's team had initially denied that the meeting even took place. He said that Cuomo himself did eventually call back and claim he had broken the law.
"All I did was make a call," Lovett responded, according to his story Tuesday.
According to the Reporters Committee for Freedom of the Press, New York state law requires the consent of just one party to a telephone conversation before recording.
Cuomo, a potential 2016 presidential contender, has a notoriously tense relationship with the press. In an interview with The New York Times earlier this month, he said that he was less defensive in handling the press now than he had once been.
"It's liberating in some ways to not care about the outcome of an article, but you have to be careful because sometimes the temptation is actually to tell [reporters] the truth," Cuomo said.
BEFORE YOU GO
PHOTO GALLERY
United States Governors