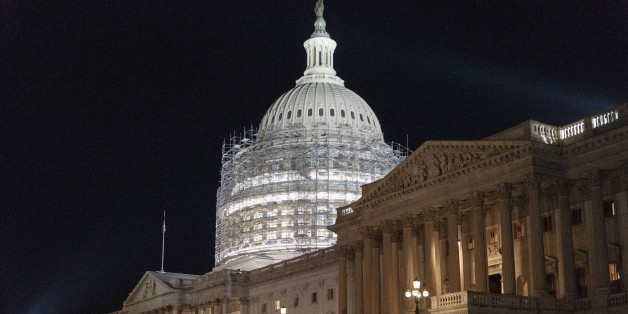 Our Senate forecast tips toward the GOP, but history polling averages can still miss in close races. Surveys find little love for President Obama in some key swing states. And there's now official data to prove pumpkin pastries are delicious. This is HuffPollster for Tuesday, October 14, 2014.
SENATE LEANS REPUBLICAN - For the first time, the probability of a Republican Senate majority as forecast by the HuffPost Pollster Senate poll tracking model nudged up to 62 percent as of Tuesday morning, as new polls continue to confirm narrow Republican advantages in key states Republicans need to gain control of the Senate. [Pollster Senate Forecast]
The current polling averages estimated by HuffPollster's poll tracking model show Republican candidates running ahead in every state currently represented by a Republican, although the margin favoring Kansas Sen. Pat Roberts (R) over independent Greg Orman stands at just over 1 percentage point, as of this writing. Meanwhile, the poll tracking model shows Republicans leading by 4 percentage points or better in five states currently represented by Democrats: Montana, West Virginia, South Dakota, Louisiana and Alaska. If the polling margins hold elsewhere, Republicans would need to defeat just one more of three embattled Democratic incumbents Arkansas, Iowa and Colorado to gain a 51 seat majority. The GOP currently enjoys narrow advantages in all three of those states, although with margins of less than 3 percentage points.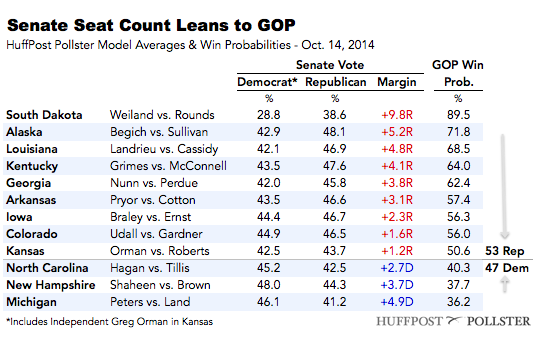 How meaningful is a narrow lead on a polling average with just three weeks remaining? An analysis by The New York Times's Josh Katz of polls conducted since 2004 found that polling leads of less than 4 percentage points three weeks before the election predict the ultimate winner just 62 percent of the time. [NYTimes]
Back-testing of our own current poll-tracking model, conducted by HuffPollster data scientist Natalie Jackson, yields similar findings: In races where the poll margins separating the candidates were 4 percentage points or less three weeks before the 2006 and 2010 elections, our model would have shown the ultimate winners slightly behind in 3 of 11 races -- Colorado and Nevada in 2010 and Virginia in 2006.
Moreover, our back-testing shows that differences of two percentage points or greater between the polling margins and the ultimate results are not uncommon. In competitive races (those ultimately decided by 10 percentage points or less), the median difference between the margin on the poll tracking model three weeks before the election and the ultimate result was 1.9 percentage points (with some big errors pushing the average to 2.9 points). Had more races been decided by just a few percentage points, the forecasts would likely have missed more often.
The potential for late shifts in voter preferences, and for a small but consistent statistical bias in the poll measurements favoring one party -- as was the case in polling during the 2012 elections -- is one reason why our overall forecast still gives Democrats a 38 percent chance of holding their Senate majority.
Highlights from other new polls
North Carolina - Sen. Kay Hagan's (D) 17-poll winning streak comes to an end with a survey from High Point University, which finds her tied with rival Thom Tillis (R). Their previous survey, in September, had her up by 2. The Pollster model now gives Hagan a 2.7-point lead, with her chance of victory dipping back beneath 60 percent. [North Carolina chart, High Point]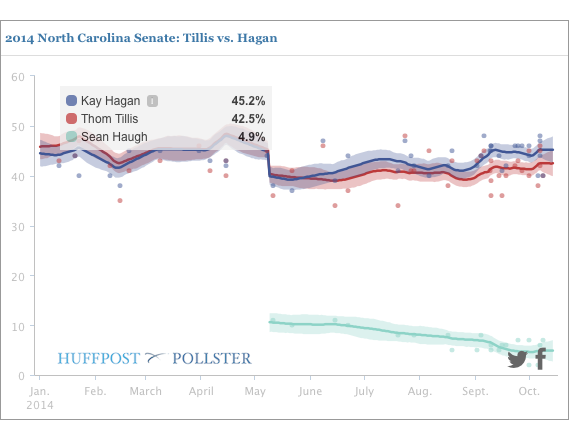 Colorado - High Point also partnered with SurveyUSA to conduct polls in two other states. In Colorado, they find Cory Gardner (R) with a 4-point lead over Sen. Mark Udall (D). Polling in the state has been inconsistent, with non-partisan surveys since September showing everything from a 6-point Udall lead to an 8-point Gardner advantage, but a Fox poll conducted at nearly the same time also found Gardner ahead. The Pollster model gives Gardner a smaller 1.6 point lead, and a 56 percent chance of winning. [Colorado chart, High Point]
New Hampshire - The High Point/SurveyUSA collaboration gives Sen. Jeanne Shaheen (D) a slim 2-point edge over rival Scott Brown (R), while New England College gives her a 3-point advantage. Shaheen's lead narrowed considerably over the summer, and while most polls still show her leading, the Pollster model now gives her a smaller 3.7 point edge, and about a 62 percent chance of winning. [New Hampshire chart, High Point]
Kansas - The most recent poll from PPP (D) has independent Greg Orman up by 3 points, down from a 7-point lead over Sen. Pat Roberts (R) in September, as Roberts consolidates GOP support. Coming on the heels of two surveys putting Roberts ahead, the latest polling shifts Roberts very narrowly into the lead, with a 1.2 point edge over Orman and just about even odds of winning. Surveys also find Kansas' Democratic gubernatorial candidate, Paul Davis, potentially beginning to slip against Gov. Sam Brownback (R) -- after months of polling mostly giving Davis the edge, the last three surveys have him somewhere between tied and 6 points behind his rival. [Kansas chart, PPP]
POLL FINDS OBAMA A POLITICAL LIABILITY - Peter Moore: "Democrats running for the Senate in a range of key races have sought to distance themselves from the President and are not using him on the campaign trail to try and boost their chances of victory. Research shows that the President's approval ratings are underwater in forty-three states, with the President's popularity being particularly limited in some states with the most competitive Senate races in 2014….In the latest [NYT/CBS/YouGov] Battleground Tracker, Democratic candidates have the lead in fifteen of the thirty-six Senate races taking place across the country….Only in North Carolina, however, is the percentage of voters who see their vote in the midterms as being a vote against the President (48%) higher than the national average of 45%. In every other Senate race where Democrats are in the lead, the percentage of likely voters who view the election as a chance to punish the President is below the national average….In general, states where Republicans are leading the Senate race are also states where likely voters are more likely than the national average to say that they view the 2014 midterms as an opportunity to vote against the President and his policies. " [YouGov]
MOST AMERICANS WORRIED ABOUT EBOLA - Brady Dennis and Peyton M. Craighill: "Nearly two-thirds of Americans are concerned about a widespread Ebola epidemic in the United States, despite repeated assurances from public officials that the country's modern health-care and disease-surveillance systems will prevent the type of outbreak ravaging West Africa….While only two cases of Ebola have surfaced in the United States, compared with nearly 8,400 cases in West Africa, the poll shows how fear of the deadly disease has taken root here. More than 4 in 10 respondents say they are 'very' or 'somewhat worried' about the possibility that they or immediate family members might catch the virus, even though it can be transmitted only through contact with bodily fluids and only after the onset of symptoms. That level of worry is on par with how Americans felt about catching bird flu in 2006 and higher than the level of concern expressed over severe acute respiratory syndrome, or SARS, in 2003." [WashPost]
-Frank Newport finds no increase in Americans' worry about Ebola. [Gallup]
ARE FLORIDA POLLS MISSING THE LATINO VOTE? - Gary M. Segura and Matt A. Barreto: "On October 8, WFLA-TV in Tampa Bay released a poll conducted by Survey USA on the Florida governor's race between incumbent Republican Rick Scott and Democrat Charlie Crist. The poll found Crist leading Scott 44% to 42%, with eight percent undecided and six percent for the Libertarian candidate…. they also find Scott leading [by 55 percent to 43 percent] among non-Cuban Latinos. If correct, this would be a political earthquake in the Sunshine State. In 2010, only 40% of non-Cuban Latinos supported fellow Latino Marco Rubio, and in 2012 non-Cuban Latinos gave just 27% support to Mitt Romney. Could Governor Scott in 2014 somehow be winning the non-Cuban Latino vote, which has recently trended heavily Democratic? Once more -- no….Unfortunately, their poll interviewed only 53 non-Cuban Latino likely voters….More importantly, polling only in English adds a significant conservative skew, and this is especially risky in Florida." [HuffPost]
PUMPKIN CRAZE IS MOSTLY MILLENNIALS' FAULT, A VERY IMPORTANT POLL FINDS - SSRS: "Younger respondents are way more into the pumpkin coffee craze than their older counterparts. 18-34 year olds are significantly more in love with pumpkin flavored coffee than any other age group! They're also the group with the highest pumpkin beer affinity….Pumpkin flavored coffee is significantly more loved among parents than non-parents. Maybe it's the lack of sleep?" [SSRS]
HUFFPOLLSTER VIA EMAIL! - You can receive this daily update every weekday morning via email! Just click here, enter your email address, and and click "sign up." That's all there is to it (and you can unsubscribe anytime).
TUESDAY'S 'OUTLIERS' - Links to the best of news at the intersection of polling, politics and political data:
-John Harwood reports on why Senate races are harder to forecast. [NYTimes]
-Charlie Cook reviews the "strong headwinds" facing Democratic Senate candidates. [National Journal]
-Americans name equal pay as the top issue facing working women. [Gallup]