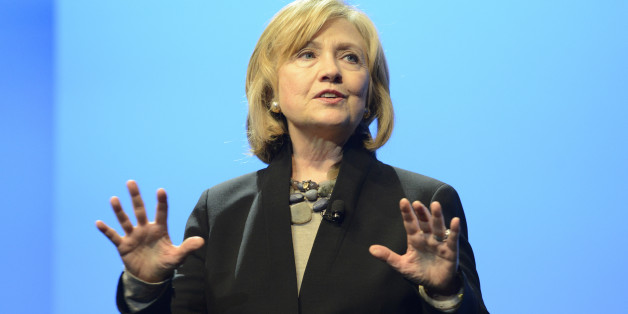 Hillary Rodham Clinton wants to make sure pediatricians are encouraging parents to read to their kids.
A new early literacy toolkit unveiled this past weekend by the former secretary of state includes a list of resources and tips for pediatricians who want to talk to parents about the importance of early childhood literacy. The toolkit, developed by the American Academy of Pediatrics, comes several months after the group released its first policy statement regarding early childhood literacy, in which it encouraged pediatricians to promote literacy during health visits.
Clinton announced the creation of the early literacy toolkit during the American Academy of Pediatrics National Conference & Exhibition in San Diego. The AAP has a collaborative partnership with Too Small To Fail, an initiative of the Clinton Foundation and nonprofit organization Next Generation, which seeks to improve the health of young Americans.
"When you ask parents around our country who they turn to with a question ... hands down the No. 1 answer is their pediatrician," Clinton said, when addressing the AAP. "I really think if you want to understand how growing inequality and shrinking social and economic mobility are undermining our fundamental ideal of equal opportunity for all, you have to start with our children."
She continued, "I thank the American Academy of Pediatrics for leading the way on two particular challenges. No. 1, saving the Children's Health Insurance Program, and No. 2, helping to close that word gap ... that puts our most vulnerable kids at a disadvantage by the age of 3 or 4."
The word gap refers to research that shows children in affluent families tend to hear -- and thus learn -- millions more words than their lower-income counterparts even in their first few years.
After a heckler used a bullhorn to interrupt Clinton, the former first lady regained her stride and joked, "You know, there are some people who miss important developmental stages."
The AAP's policy statement released over the summer noted that, "literacy promotion during preventive visits has some of the strongest evidence-based support that it can make a difference in the lives of young children and families."
Dr. Perri Klass, co-author of the original AAP policy statement, told The Huffington Post that "reading promotion has come to be more and more tied to the issues around early brain development, resilience, even toxic stress." Toxic stress is defined as a disruption in brain development that occurs when a child is exposed to frequent hardship.
"People are very excited," Klass, who is currently in California at the AAP conference, told The Huffington Post. "Everything we understand about early brain development, everything we want to foster in terms of parents' time with children, not around screens ... these larger issues are so much on the mind of everyone here."
BEFORE YOU GO
PHOTO GALLERY
The Most Popular Books For American Students