Indonesia's Mount Sinabung has seen repeated eruptions in recent weeks, with billowing smoke and incandescent lava flows emerging from the volcano.
Located on the island of Sumatra in Indonesia, the volcano had lay dormant for hundreds of years when an intermittent string of eruptions began in 2010. In February of this year, at least 16 people were killed and hundreds were forced to flee when the volcano erupted in a series of huge blasts.
Take a look at the surreal and terrifying scenes in Sumatra below.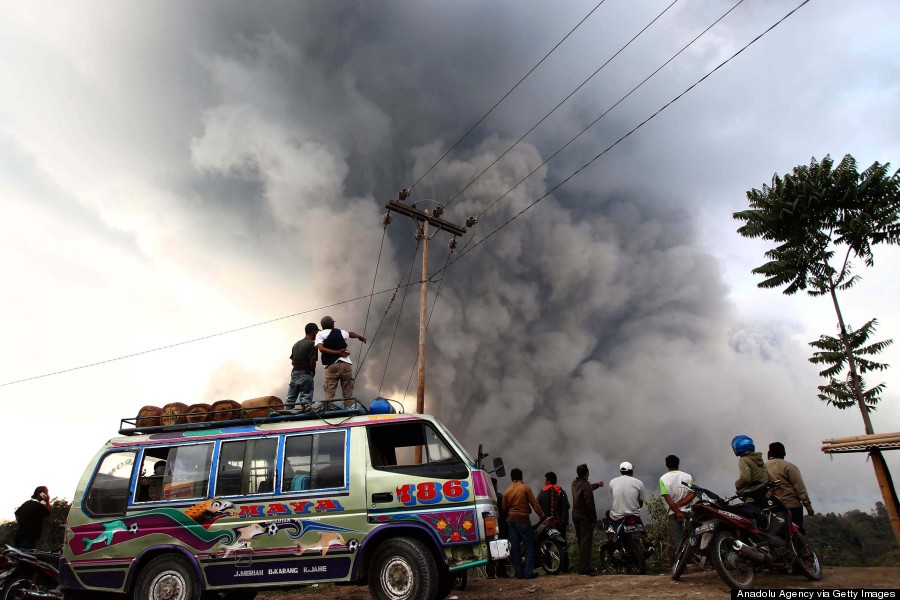 Local residents witness the eruption of Mount Sinabung. (Photo: Kharisma Tarigan/Anadolu Agency/Getty Images)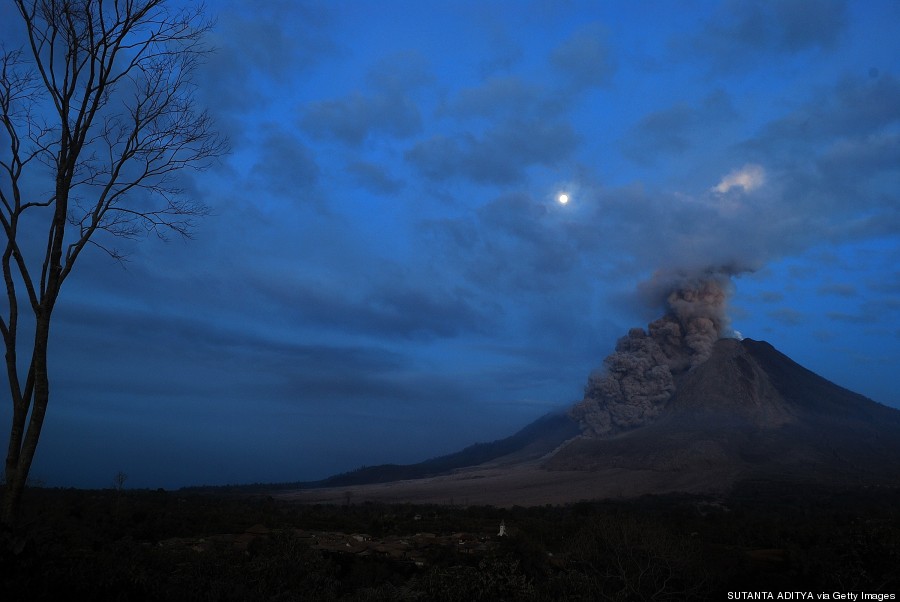 This long exposure photograph taken early on October 10, 2014 shows giant ash clouds released from the crater during the eruption of Mount Sinabung volcano as seen from Karo district located in Sumatra island. (Photo: SUTANTA ADITYA/AFP/Getty Images)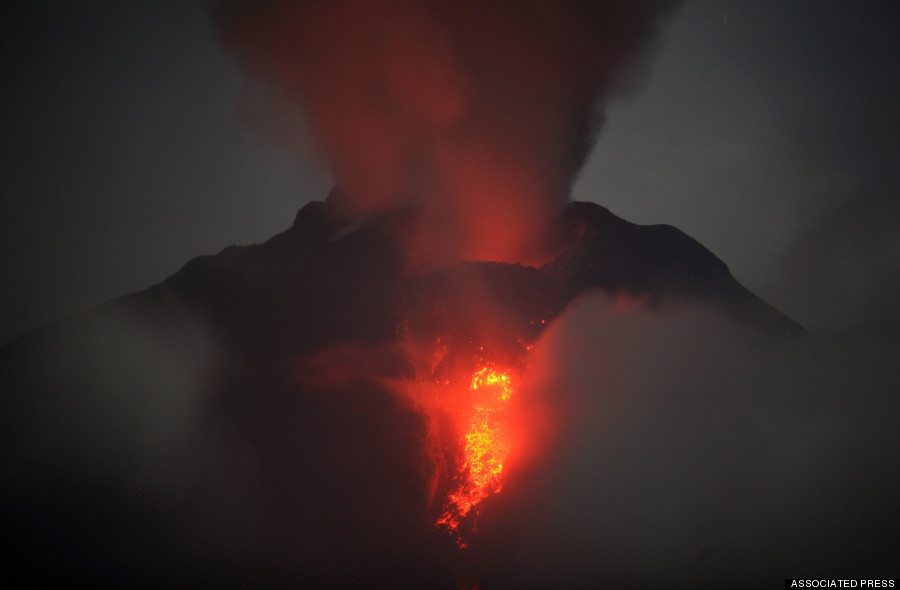 Mount Sinabung spews lava and gas during its eruption as seen from Jeraya, North Sumatra, Indonesia. (Photo: AP Photo/Binsar Bakkara)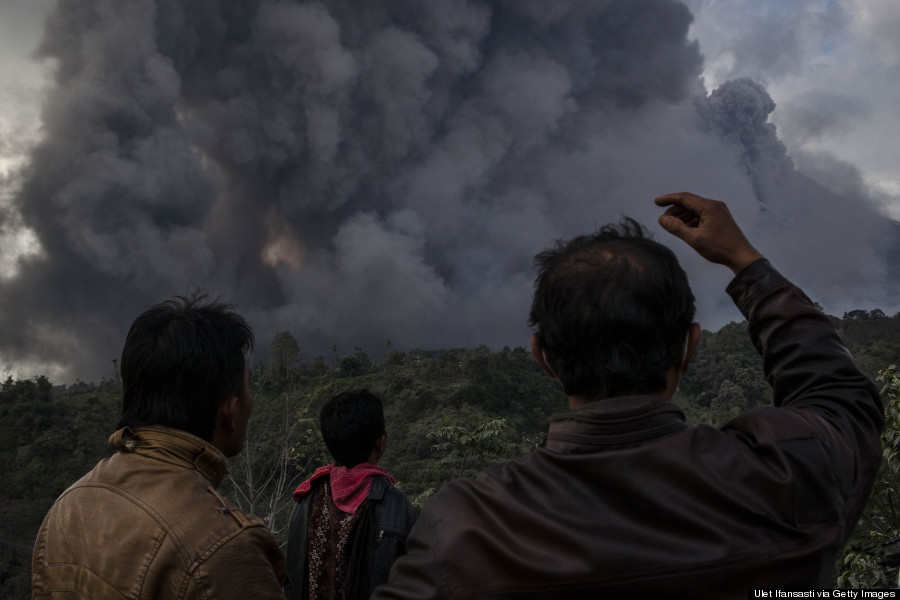 People watch as Mount Sinabung spews pyroclastic smoke at Tiga Pancur village on October 13, 2014 in Berastagi, Karo district, North Sumatra, Indonesia. (Photo: Ulet Ifansasti/Getty Images)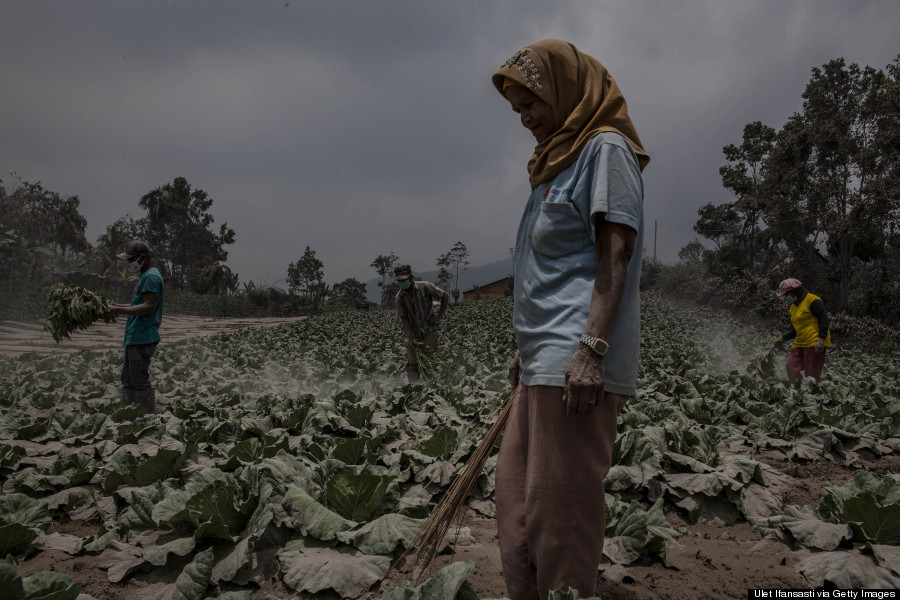 Villagers clean their cabbage fields after their village is hit by ash from the eruption of Mount Sinabung on October 13, 2014 in Berastagi, Karo district, North Sumatra, Indonesia. (Photo: Ulet Ifansasti/Getty Images)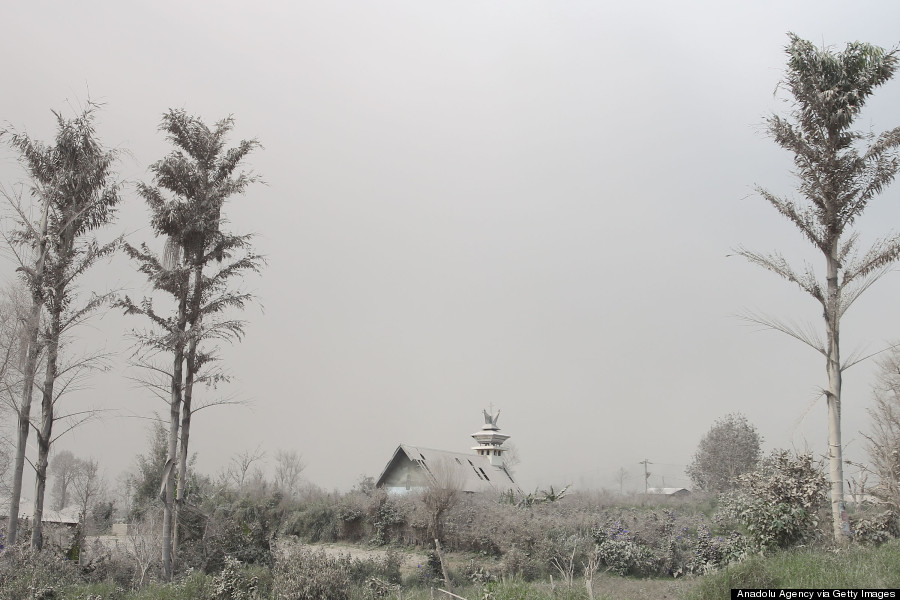 Ash clouds, caused by the eruption of Mount Sinabung volcano, surround the Siroga Ndokum village in Karo District, North Sumatra, Indonesia on October 10, 2014. (Photo: Kharisma Tarigan/Anadolu Agency/Getyy Images)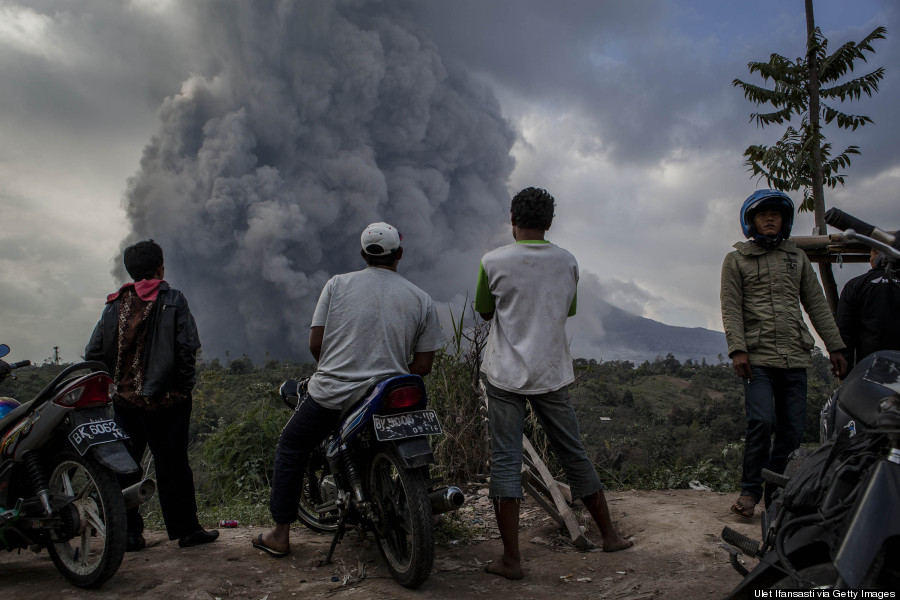 People watch as Mount Sinabung spews pyroclastic smoke at Tiga Pancur village on October 13, 2014 in Berastagi, Karo district, North Sumatra, Indonesia. (Photo: Ulet Ifansasti/Getty Images)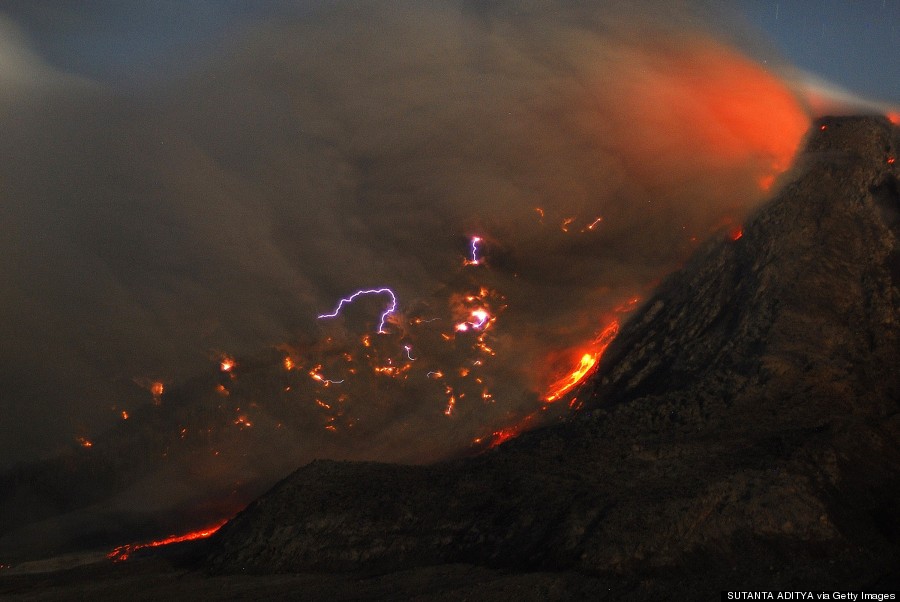 This long exposure photograph taken before dawn on October 14, 2014 shows sparks of lightning, scorching lava flow and giant ash clouds released from the crater during the eruption of Mount Sinabung volcano. (Photo: SUTANTA ADITYA/AFP/Getty Images)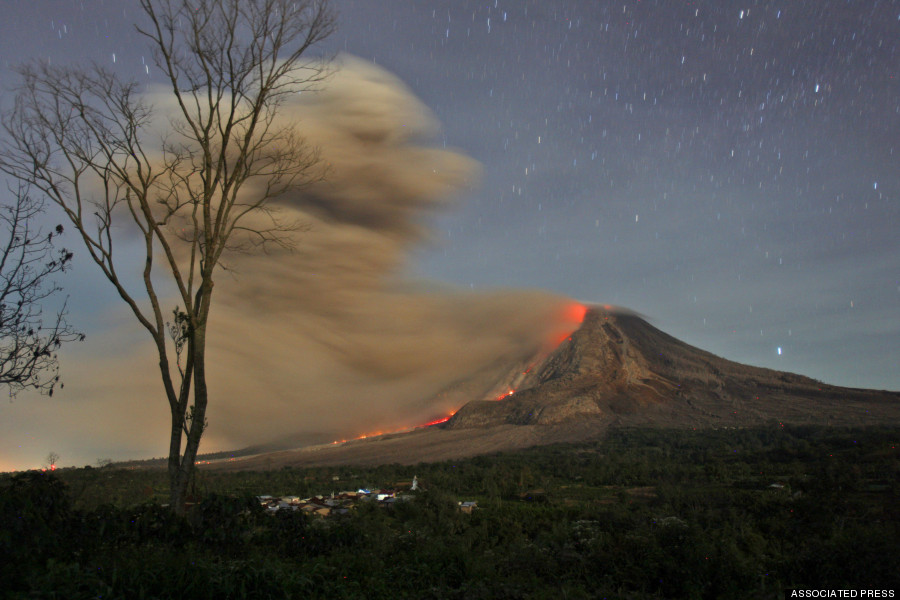 In this photo made with a slow shutter speed, Mount Sinabung spews hot lava and volcanic ash as seen from Jeraya, North Sumatra, Indonesia, early Tuesday, Oct. 14, 2014. (Photo: AP Photo/Binsar Bakkara)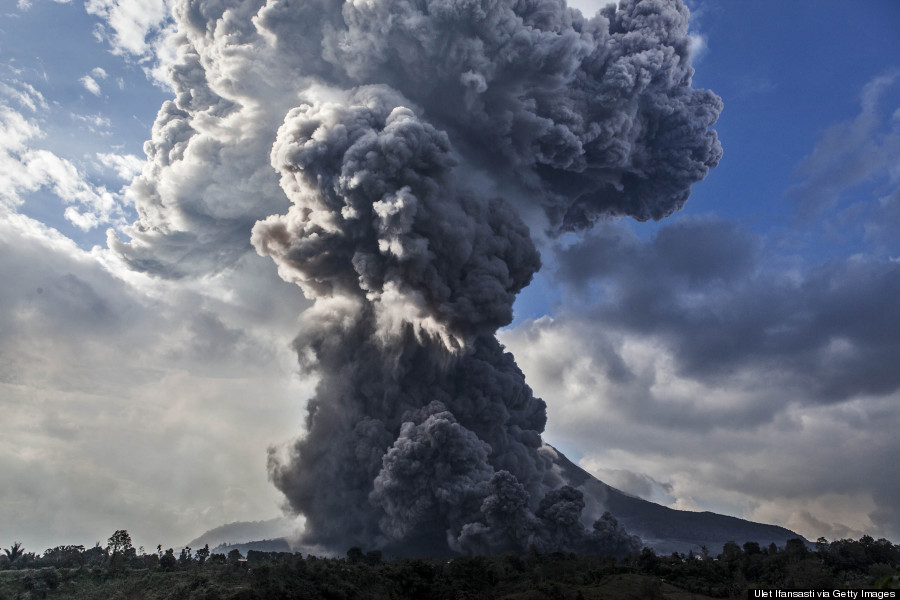 Mount Sinabung spews pyroclastic smoke, seen from Tiga Pancur village on October 13, 2014 in Berastagi, Karo district, North Sumatra, Indonesia. (Photo: Ulet Ifansasti/Getty Images)