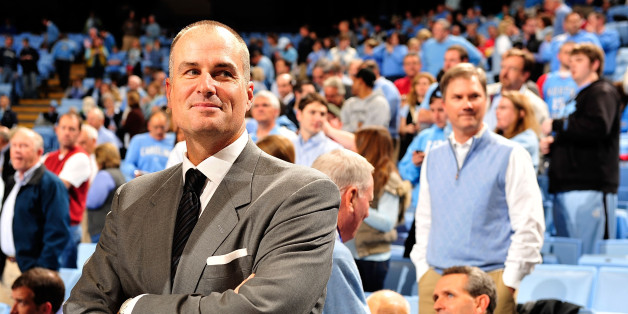 Jay Bilas will tweet truth to NCAA power. The ESPN basketball analyst will also tweet it, at length, to NCAA compliance officers at Winthrop University. He is a one-man social media reform campaign.
Bilas, a former college basketball player and longtime opponent of the NCAA's treatment of student athletes, spoke out on Twitter on Tuesday about the NCAA's prohibition against student athletes profiting from their own likenesses. The commentary came just a day after ESPN reported that Florida State was investigating quarterback Jameis Winston over the possibility that he signed autographs for money and less than a week after Georgia running back Todd Gurley was indefinitely suspended for an alleged NCAA rules violation that reportedly involved him accepting extra benefits from memorabilia dealers for his likeness.
In an attempt to highlight NCAA hypocrisy, Bilas tweeted a screengrab from the official online store of Florida State showing replica football jerseys with Winston's No. 5 being sold.
So sad memorabilia dealers "exploit" Winston by paying him for his name, likeness. Luckily, they're not doing this.. pic.twitter.com/wlgqrzCdEw

— Jay Bilas (@JayBilas) October 14, 2014
With 745,000 followers on Twitter, Bilas' tweet garnered plenty of attention and responses. Many of the those replying seemed to be reading his tweet as an attack on Winston or Florida State rather than the NCAA rule. Bilas did his best to keep the focus on the NCAA and its rule prohibiting athletes from profiting on their likeness or being paid by schools some portion of the money generated by athletics.
As you'll see from the many tweets exchanged below, Bilas had varying degrees of his success in forwarding his points, or even keeping the debate on topic.
@doublej_20 The rule is the issue. Wake up.

— Jay Bilas (@JayBilas) October 14, 2014
@maxxsmith4 That is entirely the point. The tweet is aimed at NCAA policy and rhetoric, all of which is ridiculous and contradictory.

— Jay Bilas (@JayBilas) October 14, 2014
@Ian_Allis0n Nonsense. If individual schools don't want to pay, fine. But, an industry-wide cartel restriction on athletes only is wrong.

— Jay Bilas (@JayBilas) October 14, 2014
@StatFreak101 You wish to ignore clear circumstantial evidence? Cool. Manziel, Winston systematically signed large number of items for free.

— Jay Bilas (@JayBilas) October 14, 2014
@Brad_Reynoldss Only every thinking person. Like Manziel, it is impossible to believe such things were done for free.

— Jay Bilas (@JayBilas) October 14, 2014
@TigerDavid4Him @ClemsonTom That is entirely the point. This bad rule should be changed. Nobody condones breaking rules. But, rule is wrong.

— Jay Bilas (@JayBilas) October 14, 2014
@TheDoofin No different in NBA, NFL coverage by networks. Networks pay leagues, leagues pay players. Except NCAA, which restricts players.

— Jay Bilas (@JayBilas) October 14, 2014
@rtabb1 No, they should not exploit players by selling their names and likenesses while at the same time restricting them from profit.

— Jay Bilas (@JayBilas) October 14, 2014
@TommyNoleFin @doublej_20 Yep, many systematically sign memorabilia for free. Even if he did it for the gain of another, it's a violation.

— Jay Bilas (@JayBilas) October 14, 2014
@iamputz That you would accept less is no legit reason to restrict all athletes to that across the board, industry wide.

— Jay Bilas (@JayBilas) October 14, 2014
@rtabb1 Okay, I'll do that right after you ask the schools what they'd be selling to networks and the public if not for the athletes.

— Jay Bilas (@JayBilas) October 14, 2014
@TommyNoleFin @doublej_20 Same difference. He would still have played while ineligible. Games would be vacated.

— Jay Bilas (@JayBilas) October 14, 2014
@iamputz If you consider it pay, then pay is capped by a cartel restriction that is in restraint of trade. Athletes are worth far more.

— Jay Bilas (@JayBilas) October 14, 2014
@rtabb1 Why should they have to give up education? No other student is denied the ability to earn fair market value AND get an education.

— Jay Bilas (@JayBilas) October 14, 2014
@BuckeyeFlig Plenty. But, I advocate change for the benefit of athletes. Your hamburger analogy is misplaced.

— Jay Bilas (@JayBilas) October 14, 2014
@danturnerjr No, FSU pays that cost to itself, and out only opportunity cost. FSU determined having athletes in that seat makes more money.

— Jay Bilas (@JayBilas) October 14, 2014
@doublej_20 @tazmagor13 Nobody argued that. The whole point, IT"S A STUPID RULE. NCAA is hypocritical in its actions and rhetoric.

— Jay Bilas (@JayBilas) October 14, 2014
@JYioulos @StatFreak101 No, not missing the point. Missed the point, entirely.

— Jay Bilas (@JayBilas) October 14, 2014
@iamputz That, and NCAA restriction against schools paying athletes directly. They can pay everyone else, including every other student.

— Jay Bilas (@JayBilas) October 14, 2014
@stephensiegle Tuition is paid to the school by the school. Equipment is for players to be used as billboards for profit. No spending money.

— Jay Bilas (@JayBilas) October 14, 2014
@BuckeyeFlig At cost? Remember, networks pay NCAA members for rights. The fees are in the billions annually.

— Jay Bilas (@JayBilas) October 14, 2014
@Iowa_hawk_fan1 @ImShamrock44 It ain't free. In fact, it is a great deal for the NCAA membership. They get labor for expenses only.

— Jay Bilas (@JayBilas) October 14, 2014
@iamputz They CAN pay every other student, and do with some. No restrictions. Clearly, money and education are not mutually exclusive.

— Jay Bilas (@JayBilas) October 14, 2014
@LBAllred_44 Every school does that, then claims athletes aren't worth anything. It is lunacy, and total nonsense.

— Jay Bilas (@JayBilas) October 14, 2014
@ZACHISGOD Really, entire system geared for college attendance. Nobody made to do anything in college sports, yet only athletes restricted.

— Jay Bilas (@JayBilas) October 14, 2014
@MoneyTeam1920 @iamputz Which is equally absurd.

— Jay Bilas (@JayBilas) October 14, 2014
@NoleFan05 Dude, there is significant circumstantial evidence of systematic signing. That alone is enough to make a judgment.

— Jay Bilas (@JayBilas) October 14, 2014
@Intimidator3691 @LBAllred_44 No. NCAA member schools are allowed to exploit players. Nobody else can.

— Jay Bilas (@JayBilas) October 14, 2014
@NoleFan05 That doesn't exist under NCAA rules. Plus, I'm not judging him. I'm using my judgment.

— Jay Bilas (@JayBilas) October 14, 2014
@carroll1_ralph Who said that it was? The point is, it's a bad rule and NCAA breaks it. If they can be sold, they can be paid.

— Jay Bilas (@JayBilas) October 14, 2014
@Icanthearyou00 Great, at your school. Not an industry wide cap. That's wrong to the point of being immoral.

— Jay Bilas (@JayBilas) October 14, 2014
@Icanthearyou00 In what industry is everyone paid the same? None. Pay what you like. Each school can figure it out.

— Jay Bilas (@JayBilas) October 14, 2014
@Intimidator3691 @LBAllred_44 So? You sound like a speeder pulled over by a cop, pointing at others. I'm talking about this case.

— Jay Bilas (@JayBilas) October 14, 2014
@Icanthearyou00 Do you feel the same way about playing time? Should it be equal for every player? Same principle, right? Fairness for all!

— Jay Bilas (@JayBilas) October 14, 2014
@mmaohio79 I hear you, but his behavior and his fair market value are two different things, and are unrelated to each other.

— Jay Bilas (@JayBilas) October 14, 2014
@NYCMarriedGuy That would be really interesting. I believe you'd see the NCAA declare them all eligible. They won't forego that money.

— Jay Bilas (@JayBilas) October 14, 2014
@HunterFSU06 @fsuhaird @Corey_Clark Good one. But, even if that were the case, there is still significant player value in the apparel.

— Jay Bilas (@JayBilas) October 14, 2014
@BobbyReed25 Do you really believe that's the same thing? HS is not a multi-billion dollar industry, and salaries are in line with mission.

— Jay Bilas (@JayBilas) October 14, 2014
@BobbyReed25 It's not just a few. That's like saying just a few coaches deserve pay above expenses. That is nonsensical.

— Jay Bilas (@JayBilas) October 14, 2014
@BobbyReed25 The vast majority. Like asking how many coaches create extra revenue. Yet, some assistant coaches make over a million dollars.

— Jay Bilas (@JayBilas) October 14, 2014
@BobbyReed25 @Icanthearyou00 Do coaches pay schools back for the platform they have? Do coaches pay for their office space?

— Jay Bilas (@JayBilas) October 14, 2014
@BobbyReed25 @Icanthearyou00 That's like asking pilots to pay for their own plane ticket when flying the plane.

— Jay Bilas (@JayBilas) October 14, 2014