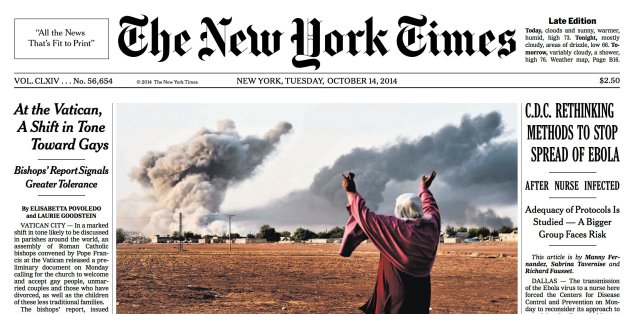 The New York Times committed a major editing error on Monday, publishing a story without including a byline, subheading, date or opening sentence.
The New York Times' own David Gelles pointed out the flop Monday:
Painful stuff on our front page. No byline, subhed, dateline or lede. Story starts mid word. pic.twitter.com/v9x4AzSpcR

— David Gelles (@dgelles) October 14, 2014
The story appears to cut off the first line and begin mid-sentence. Gelles later tweeted that the mistake was eventually fixed for newer copies of the paper.
The slipup Monday is just the latest in several typos and errors that have made it past the editors and on to the Times' front page in recent months. In January, The Atlantic realized that the paper had been printing a mistake on its front page every day for more than a century without anyone noticing.