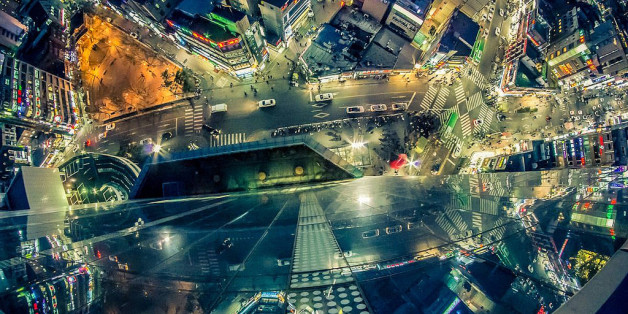 American higher education is increasingly a global export -- something colleges and universities are selling abroad. Now, a new report from the Brookings Institution finds certain cities around the globe are emerging as the hometowns of a large majority of foreign students studying in the U.S.
The foreign city that sends the most students to the U.S. isn't in China or India, it's in South Korea.
"The number one sending hometown of foreign students is Seoul, South Korea, to the whole United States. And in Boston, in particular, about 4 percent of students are from Seoul," said Neil Ruiz, a researcher with the Brookings Institution in Washington, D.C.
His research shows that from 2008 to 2012 there were 53,000 foreign students studying full-time in Boston. And he says more and more of them came from Seoul because it's a large, fast-growing city and a major business hub. Also, many of the students from Seoul are studying management.
Counting foreign students and what they study hasn't always been so easy. After 9/11, the U.S. government refocused on tracking foreign students and their activities.
For the first time, Ruiz was able to comb through that data.
"Where they come from; their hometowns. What they're studying as well as where they work after they graduate," said Ruiz.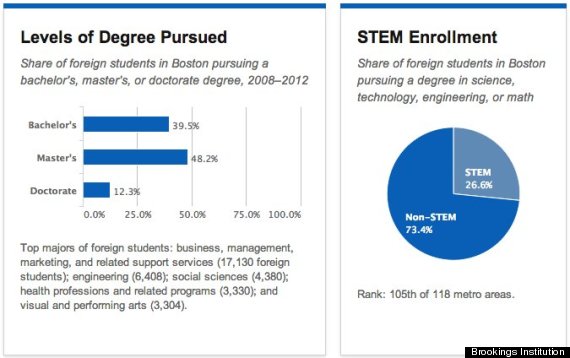 Data and Information from the Brookings Institution.
What was most surprising, he says, is that despite the fact that many countries are investing heavily in higher education, the United States remains the global hub of academic training.
"I think foreign students are attracted to our centers of research and development," Ruiz said. "I mean, MIT and Harvard located there in Cambridge - these are just the top places in the world to do the type of research that many cities around the world want to replicate."
The problem, Ruiz says, is that higher education and civic leaders are missing an opportunity. They're failing to take advantage of these foreign students who can both connect the U.S. to their growing home cities and offer skills to local employers.
"The foreign students are economic ambassadors that can serve as that bridge between U.S. economies and global economies around the world," said Ruiz.
Paul Guzzi is president of the Greater Boston Chamber of Commerce. He admits civic leaders in and around Boston could do more to capitalize on students' connections to fast-growing foreign markets.
"I think the first step is to focus on the students who come here," Guzzi said. "We are already a net importer of extraordinary talent. And I think the key is to keep that talent here."
Once the city has attracted them, the key, Guzzi says, is to connect them in more meaningful ways to employers, through internships, while they're still in school.
"We are more and more a talent-based, innovation-based, brain-based economy," Guzzi said. "And I think as part of that, this particular segment of our college graduates is particularly important."
Guzzi and Ruiz agree: If Boston is to fully benefit from foreign students, there need to be fewer obstacles for them to stay and work in the U.S.
To learn more about international enrollment at American universities, check out our previous reporting on the subject:
For U.S. Colleges, Foreign Students Subsidize Cost

This story comes to us courtesy of WGBH, where it was originally published.